Oregon State University Ecampus • OSU Degrees Online
---
Ecampus fact
Ranked top 10 in the nation
Ecampus earned a top 10 ranking for the fifth year in a row on a list of America's best online bachelor's programs.

OSU E-News
"Your Electronic Link to Learning at a Distance"

Published by: OSU Extended Campus
Oregon State University, Corvallis, Oregon; Vol. 6, #6
September 23, 2004
http://ecampus.oregonstate.edu --> Check us out!
800-667-1465
It's fall again! Seasons are changing and often our priorities are changing, too. That can mean exciting
new challenges, like going back to school. So, whether you're returning to school after a hiatus, or you
were in classes all summer, we wish you a very productive and fun term this fall. Remember to e-mail
your feedback and ideas for E-News to the editor at Linda.Wallace@oregonstate.edu.
---
IN THIS ISSUE ~ Fall 2004
CALENDAR
BULLETIN BOARD
- Important Info for Registered Students
- Time to Update Your Contact Info?
- Reduced Rates for DVD/Video Rentals
- Take a Fun, Non-Credit Course this Fall (QuickSkills Online)
STUDENT RESOURCES
- New E-Sources and E-Services at the Library
COURSE HIGHLIGHTS
- There's Still Time to Register for Fall Courses
- New Courses in Education
ECAMPUS NEWS
- New Online Ed.M. in Education ("Mentored Masters")
- Graduate Certificate Status Awarded to Health Care Administration Program
- Does "Real Learning" Take Place Online?
OSU NEWS
- OSU's President Gives Annual Address at University Day
OSU TRIVIA
- The History of Mascots at OSU
---
CALENDAR
Please keep the following dates and deadlines in mind for fall and winter terms:
September 27: Fall classes begin; late registration fee assessed
October 3: Last day to add a class by Web
October 8: Last day to drop a class by Web
October 8: Last day to register or add a class (requires instructor approval)
November 12: Last day to withdraw from a course
November 14: Priority registration begins for winter term
(see priority registration schedule)
November 25-26: Thanksgiving holiday (University holiday)
December 3: Continuing registration for winter term
December 6-10: Finals week, end of fall term
December 15: Fall grades available by Web
January 3: Winter term begins
---
BULLETIN BOARD
- Important Information for Registered Students
If you are a registered Ecampus student for fall term, you should be receiving a few items from us in the
mail to help you get started. You'll receive our step-by-step Guide to Getting Started, the fall 2004
academic calendar, and the OSUware CD, with anti-virus software, Internet browsers, e-mail programs
and other Internet utilities.
If you have not received the Guide to Getting Started, you can access it here. If you do not receive your
OSUware CD within the first two weeks of the term, or if you have any questions about the information,
please contact the Student Services Center at 800-667-1465 or ecampus@oregonstate.edu.

- Time to Update Your Contact Info?
Communication is key when you are taking classes from a distance, so please take the time to check that
your contact information is correct and up-to-date.
From the OSU homepage, go to the Student Online Services
link: http://oregonstate.edu/students/onlineservices/
and log in at "Online Services Quick Login," then click on "Personal Information." Proof the information
and edit as needed.

- Reduced Rates for DVD/Video Rentals
Because it seems tuition and fees are ever increasing, we are pleased to announce that rental fees for
Ecampus videos and DVDs are actually going down! Sets are now priced according to the number of
tapes/DVDs in the set. We are continually working on converting our VHS tapes into DVDs since it is now
the preferred format. Keep watching for new courses with DVD options!
New rental fees are as follows:
- Small set (1-5 tapes/DVDs) = $25
- Medium set (6-10 tapes/DVDs) = $35
- Large set (>10 tapes/DVDs) = $45
Note: To avoid additional fees, please return your DVDs or videos by the date indicated on the video
return form. A $50 late fee is assessed for sets returned after the due date.

- Take a Fun, Non-Credit Course this Fall (QuickSkills Online)
Need to increase your skill level with a computer application? Could you benefit from a course on
personal finance or investment tips? Or, maybe you want to learn to design your own website?
If you don't have the time or finances right now for college credit courses, but would like some personal or
professional development, check out OSU QuickSkills Online for a flexible, inexpensive, non-credit
alternative. Ecampus staff and students who have taken these courses say they are well organized, and
met or exceeded their learning objectives.
Courses begin every six weeks, and normally range from $79 -$89 each. View the complete list of
courses at:
http://ecampus.oregonstate.edu/online-degrees/quickskills.htm

===============================================================================
STUDENT RESOURCES
- New E-Sources and E-Services at the Library
by Maureen Kelly
Extended Campus Librarian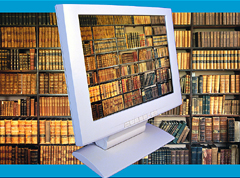 OSU Libraries has recently added several new electronic services and resources (read full article here).
When you need research help or have library related queries, try the L-Net virtual reference service. Librarians co-browse web pages with you to show how to perform effective research. Log in at L-Net
OSU between 12-6 PM Monday – Friday (PST) and an OSU reference librarian will guide you to the best sources for your projects. You can also e-mail your reference questions to
valley.reference@oregonstate.edu.

A new feature in the library catalog is Webbridge, which provides handy buttons that link you directly to relevant sources (based on subject headings) and lead you to an online version of the article, if available. It also links to the library catalog so you can search for the journal at OSU, and to Interlibrary Loan if the journal is not in the system.
New E-Sources - A number of new online dictionaries, encyclopedias, and databases are now accessible
from the OSU Libraries Research Databases page. Currently the library has 22,358 journals available
electronically; see OSU Electronic Journals. Subject Research Guides provide excellent suggestions for
starting your research. To talk with someone in library Circulation concerning checkouts or fines, e-mail
valley.circ@oregonstate.edu or call 541-737-2538.
Feel free to contact me at maureen.kelly@osucascascades.edu, 541-322-3110 (Bend Campus) with
library questions and concerns. For in-depth research help, consult your library Subject Specialist.
---
COURSE HIGHLIGHTS
- There's Still Time to Register for Fall Courses
Visit our Ecampus Schedule of Classes (SOC) and select Fall Term to see what is still available:
http://ecampus.oregonstate.edu/soc/default.htm
Visit the current issue of Course Flash to view new and highlighted courses this term:
http://ecampus.oregonstate.edu/enews/course-flash/fall_04.htm

- New Education Courses for Fall 2004
There are still available seats in these Education courses that are offered fall term, and required for the
new online Master's in Education, Ed.M., (see article under Ecampus News):
ED 599 Special Topics: Critical Issues in the Teaching and Learning of Mathematics
ED 599 Special Topics: Politics, Policy and Advocacy in Education
---
ECAMPUS NEWS
- New Online Ed.M. in Education ("Mentored Masters")
OSU's School of Education and Extended Campus have partnered to deliver a new online master's
degree program for classroom teachers. The Mentored Master's program will begin this fall and is
designed to help teachers meet their professional development needs while at the same time partnering
them with businesses and organizations that want to boost K-12 education.
"There is a serious issue – in Oregon and nationally – of helping teachers early in their careers when they
need the most help," said Sam Stern, dean of education at OSU. "Working classroom teachers don't have
the luxury of traveling to a campus for continuing education or professional development, " Stern
remarked, "because they are too busy trying to handle the day-to-day demands of teaching." Read more
of Stern's comments and the full article from OSU News & Communication Services:
http://oregonstate.edu/dept/ncs/newsarch/2004/Sep04/mentored.htm
More information on the Mentored Master's program, including a yearlong schedule of classes and
admission requirements, is available online at: http://ecampus.oregonstate.edu/mentored-masters/.
Interested students should contact OSU Extended Campus at 800-667-1465, or e-
mail:ecampus@oregonstate.edu

- Graduate Certificate Status Awarded to Health Care Administration Program
Participants in the Health Care Administration course sequence (who take the classes for graduate credit)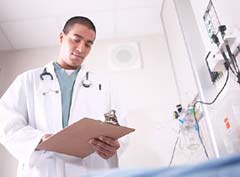 will now be able to receive a Graduate Certificate in Health Care Administration, per recent approval by the Oregon State Board of Higher Education. Graduate credits may also be applied toward a Master's in Public Health. If the classes are taken for undergraduate credit, they can apply to a bachelor's degree.

OSU Department of Public Health and Extended Campus have been offering this program through a partnership with regional health care organizations, as continuing education for full-time professionals
working in the health care industry. Participants in this program have praised its timely and practical curriculum and its convenient format, which combines online and weekend-intensive delivery.
This fall, Financial Management of Health Care Organizations (H457/557) is offered online and open to
anyone interested in this subject.
For more information, visit:
/online-degrees/graduate/healthcare/certificate/default.htm.
If you are interested in this program and would like updates emailed to you, please fill out our online "Send Me Info" form located on our Contact Us page:
http://ecampus.oregonstate.edu/forms/contact.htm.

- Does "Real Learning" Take Place Online?
Although the online learning environment is becoming more commonplace in academia both nationally
and worldwide, there is still the occasional skeptic. It may be a long-time classroom professor, or an
individual who wonders if paying for an education that's delivered online is as good an investment as the
education that takes place in the traditional classroom environment.
OSU Extended Campus recently undertook the task of addressing this issue, through a series of
videotaped faculty interviews and extensive research of this topic online.
In his interview, Ecampus instructor Guy Prouty remarked, "What's quite remarkable with online teaching
is that I have discovered there is a lot more interpersonal interaction between the instructor and the
students. With online education, students are freer to ask questions and participate with each other and
with me."
Please visit our Online Learning Effectiveness pages to find out more on this interesting subject: http://ecampus.oregonstate.edu/about/welcome/online-learning.htm
---
OSU NEWS
- OSU President Gives Annual Address at University Day
OSU's President Ed Ray gave his second inaugural address September 21, and set specific goals for the
university for the upcoming year. The first of his goals is academic excellence; "Doing better includes
reaching out to students who lack easy access to us. Through our distance learning programs we need to
engage traditional and non-traditional students throughout the state."
Read the entire speech here:
http://oregonstate.edu/osutoday/features/university.htm
---
OSU TRIVIA
The History of Mascots at OSU
by Niki Dowdell
Ecampus staff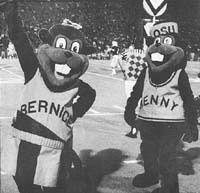 When most OSU fans conjure up images of our beloved school, the loveable Benny Beaver comes immediately to mind. What may come as a surprise to some OSU fans is that while Benny is the most popular and long standing mascot in the history of Oregon State, he is far from being the first. In fact,
throughout the history of the school the team mascot wasn't always a beaver – it wasn't even always an animal!
In 1892 when Oregon State was still known simply as "State Agricultural College" the school's mascot was a live coyote named "Jimmie." By 1894 the official school mascot was Corvallis resident and Presbyterian minister John Richard Newton Bell, OSU's first and only human mascot! Bell would march to the Mary's River after OSU Civil War victories to toss his top hat into the water in celebration, a tradition that turned into a much loved social event in the community.
In 1933 the first Beaver mascot appeared in the form of "Billy," a live beaver whose cartoon likeness
showed up in newspapers and other publications. In the early 1940's "Billy" began to be replaced by
"Benny", and there you have it! Benny has been the OSU mascot for over forty years, by far the longest of
any of the other mascots. From the early 1980's to the mid 1990's Benny was often accompanied by
"Bernice", a female beaver mascot, but Benny outlasted even his own female counterpart, and he
remains an instrumental part of Oregon State athletics today!
For more information on OSU mascots, visit: http://alumni.oregonstate.edu/eclips/history/sportshistory05.html
Photo courtesty OSUAA
---
Thank you for reading this edition of OSU E-News. If you know others who would enjoy receiving this
newsletter, please e-mail it to them, or tell them about our auto-subscribe function at:
http://ecampus.oregonstate.edu/enews/
OSU Extended Campus
http://ecampus.oregonstate.edu
800-667-1465

Got an idea for a future article, or feedback on past editions?
Please email our editor, Linda.Wallace@oregonstate.edu

Features and Navigation
Media inquiries
If your publication would like to feature an OSU Ecampus online program, student or instructor, please contact Tyler Hansen.
For journalists
Gather quick facts about OSU Ecampus, our history and students on our webpage for members of the media.
Award-winning electronic newsletter
Where Ecampus is making the news
Staff, student and course honors
Ranked top 10 in the nation
OSU Ecampus earned a top 10 ranking for the fifth year in a row on a list of America's best online bachelor's programs. Learn more »