Oregon State University Ecampus • OSU Degrees Online
---
Ecampus fact
110+ subjects to study
Explore all of Oregon State's online course offerings.

OSU E-News
"Your Electronic Link to Learning at a Distance"
Published by: OSU Extended Campus
Oregon State University, Corvallis, Oregon; Vol. 7, #6
September 23, 2005
http://ecampus.oregonstate.edu --> Check us out!
800-667-1465
---
Welcome to our fall edition of E-News. During the past few weeks, much of our energy as a nation has been focused on finding ways to help in the aftermath of Hurricane Katrina. With our online course delivery, Extended Campus hopes to assist those students who have been displaced and wish to continue their education from their new or temporary location.
If this devastating event has affected you or anyone you know, please visit the Extended Campus homepage, http://ecampus.oregonstate.edu, and the OSU homepage, http://oregonstate.edu for links to information on expedited admission procedures for fall term.
---
IN THIS ISSUE ~ Fall 2005
- Fall Term Notables
- Registration Info / Tuition Change for Fall 2005
- Registered Students – Information in the Mail
- Financial Aid Now Available for Ecampus Students
- Career Services Offers New Site for Online Students
- Video Reminder
- Check out the New Ecampus Course Demo!
- Ecampus Program Highlights
- New Natural Resources Advisor, and a Familiar Face Moves On
- Environmental Sciences Major Volunteers in Africa
- Improved Information on Online Testing
- More Tips for Using Your Online Library Services
- New and Highlighted Courses for Fall 2005
---
CALENDAR
Please keep the following dates and deadlines in mind for fall term:
Through Sept. 25: Open registration for fall term
Sept. 26: Fall classes begin
Sept. 26: Late registration ($50 fee) begins for fall term
Oct. 2: Last day to add a class by web
Oct. 5: Tuition bills mailed
Oct. 7, 11:55 pm: Last day to drop a class by web
Oct. 7, 5 pm: Last day to register or add a class (with instructor approval)
Nov. 11, 11:55 pm: Last day to withdraw from a course
Nov. 24-25: Thanksgiving Holiday
Dec. 5-9 Finals week
Dec. 9: End of term
Dec. 14: Grades available via web or kiosk
---
BULLETIN BOARD
- Registration Ongoing for Fall; 2005 Tuition Change
Remember, you can still register for fall courses through September 25, without a late fee.
To coincide with the tuition increase for OSU starting fall 2005, Ecampus has adopted new tuition rates as follows: Undergraduates: $196 per credit hour; Graduate students: $381 per credit hour. For the full breakdown of Ecampus tuition and fees, visit: http://ecampus.oregonstate.edu/services/tuition/.
- Registered Students – Information Packets & CD in the Mail
If you are a registered Ecampus student for fall term, you should be receiving some helpful information from us in the mail. You'll receive a step-by-step Guide to Getting Started, the fall 2005 academic calendar, and in a separate package, the OSUWare CD with anti-virus software, Internet browsers, email programs, and other Internet utilities. If you have not received this information by the end next week, please contact Ecampus at 800-667-1465 or ecampus@oregonstate.edu.
Blackboard Note: If you have registered for an Ecampus class and Blackboard does not yet recognize you, don't panic! Blackboard will update on the first day of classes, September 26.
- Financial Aid Now Available for Ecampus Students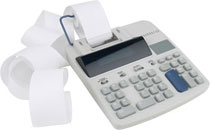 A need-based grant is now available to help further the careers of OSU students who are admitted and enrolled in a part-time or full-time program of study offered through Extended Campus. (A program of study is defined as an undergraduate or graduate degree program, undergraduate or graduate certificate program, or baccalaureate degree program.) For more information on this grant, visit:
http://ecampus.oregonstate.edu/services/tuition/financial-aid.htm
- Career Services Offers New Info for Online Students
OSU Career Services has created a new web section designed as "one-stop" shopping for students living off-site. The section is called "24-7 Career Resources" and is accessible off the Career Services homepage (www.oregonstate.edu/career) as the first link in the quicklinks section. Take a look at what is available to you from this important OSU resource.

-Video Reminder
Summer students: If you have not yet returned your video tapes, please contact Vickie.Bailey@oregonstate.edu. Unreturned videos will post a $50 fee to your student account.


---
ECAMPUS NEWS
- Ecampus Course Demo Demystifies Online Learning
Not sure if online learning is your cup of tea? Or, are you nervous that you will get "lost" on your first day of class? New and prospective students can now preview what an Ecampus online course looks and feels like in our recently launched Course Demo. The demo is a five-part, self-paced online orientation that includes the following:

-Welcome to Ecampus
-Introduction to Your Online Classroom
-Using Your Online Classroom
-Examples of Online Courses
-Getting Started
Discussion forums, taking exams, homework assignments and virtual labs are a few of the components showcased in this demo. The sample courses section also lets you try your hand at timed online quizzes, such as bingo and jeopardy games featuring topics in Sociology 472/572 (Giving and Volunteerism).
All five sections of the demo include a video introduction by Suzanne Flores, an OSU Ecampus Liberal Studies major, who started taking online courses because they allowed her to take classes while traveling. Because most Extended Campus courses are delivered online through Oregon State's Blackboard (Bb) Learning Portal System, you'll see how to login into Blackboard, and what sample classroom websites look like.
You'll also get a glimpse into myriad online resources and student services offered by Ecampus, including online tutoring, computer consulting, and the Virtual Valley Library. The demo is accessible by clicking on the Ecampus Course Demo icon from the Ecampus homepage, and from a footer link on every page on our website. Check it out here: http://ecampus.oregonstate.edu/demo.

- New Ecampus Program Highlights
OSU Selected as Program Provider for Interagency Fire Program Management.
Oregon State University has been selected by the US Forest Service and Bureau of Land Management Pacific Northwest Region as the provider of online courses and degree programs to fulfill the education requirements associated with the GS-401 Fire Management Specialist position. These courses can be used by fire technicians to maintain and upgrade their qualifications. For more information on this program and the courses required, visit our website
http://ecampus.oregonstate.edu/online-degrees/ifpm/ or see your agency human resources specialist.

Health Care Administration Graduate Certificate to be Offered in New Location
OSU Departments of Public Health and Extended Campus are once again offering the Health Care Administration Graduate Certificate program online and on-site in central and western Oregon. The six-course sequence is comprised of a hybrid online/on-site delivery. In addition to the existing on-site locations of St. Charles Medical Center in Bend and Samaritan Health Services in Corvallis/Albany/Lebanon, discussion is underway to begin offering this program at Asante Health Systems in Medford, (southern) Oregon.
For more information on the HCA program, visit our website and click on Degrees & Programs, and the Health Care link at left. More information will be added to this website as course schedule is confirmed for delivery at Asante.

TESOL Certificate (Teaching English to Adult Speakers of Other Languages) Now Offered Through Ecampus
The College of Education offers studies for English as a Second Language/Foreign Language (ESL/EFL) teachers leading to a TESOL Certificate. The program aims to produce practitioners equipped with a sound theoretical foundation and sufficient practical experience to be successful in the wide range of settings that offer adult ESL/EFL courses and programs. For more information, visit:
http://ecampus.oregonstate.edu/online-degrees/graduate/education/tesol/.

- New Natural Resources Advisor, and a Familiar Face Moves On
Ecampus Welcomes Marge Victor as NR Advisor
Marge Victor was recently hired as the new Ecampus Natural Resources advisor. Marge has a B.S. in Wildlife Biology and a master's in regional planning. She brings to the position a diverse work history in natural resources, including her work as a land use planner/analyst for the Siuslaw National Forest. She also has over 10 years of student advising and mentoring experience in university and public school settings.
Marge can assist you with anything related to your degree planning and completion, and with your PIN for registration. Email Marge for an appointment at Marge.Victor@oregonstate.edu, or call Ecampus at 800-667-1465 and we'll transfer you to her office. Our main office will still be your point of contact for questions regarding course navigation, Blackboard, admissions or registration, and web or faculty questions.
Ecampus Bids Farewell to Brett Jeter
Brett Jeter, our long time Student Services Specialist, has accepted a new position with OSU's College of Agricultural Sciences as the Assistant Director for Outreach. Brett will be traveling a lot and recruiting students for Ag and possibly Ecampus, too!
Many of our current and prospective students have spoken with Brett over the past months, and years. Brett started in Ecampus as a student worker, and then worked full-time in Student Services while completing his degree at OSU. Brett brought to his position a wealth of knowledge about OSU and Ecampus courses and programs, and a cheerful willingness to help our students succeed in attaining their goals. Now we can cheer Brett on in his career goals. Best of luck, Brett! (Note: Amy Folz will step in to provide student services beginning September 26th.)
---
STUDENT SPOTLIGHT
- Environmental Sciences Major Volunteers in Africa
Skye Richardson, an OSU Ecampus student from Redmond, Oregon, recently returned from a summer internship in Kenya. She first discovered the volunteer internship program on a flyer. "The company is called 'i-to-i'," Richardson said. "I contacted them and it sounded promising, so I signed up and they sent me to Kenya."
Not a declared International Degree student, Richardson calls herself an 'interested-in-international-affairs" student. The project she participated in was a reforestation program run by a small, non-profit community group. All workers there were volunteers. Besides reforesting damaged areas near the project site, volunteers also visited local schools to teach the children the benefits of conservation. (see photo).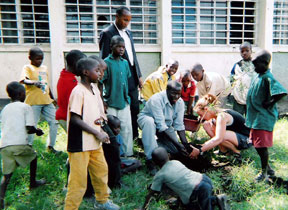 When asked how her education contributed to her international experience, Richardson replied, "I feel like my ES courses offered me an opportunity to lend some knowledge to the project while the project offered me numerous opportunities to expand my own knowledge of environmental issues around the world." The project site was located at Masai Mara, a national park in Kenya. The park is open to native residents to live in certain areas. Richardson said it was very interesting to see the difference in the areas where humans resided, as compared to the areas closed to people.
"This was a great eye-opening experience of how other people around the world function within their environment," Richardson said. "It was also a lesson in what can happen when a government cannot afford to provide environmental protection, and the inhabitants cannot afford to be environmentally sound. The people cut trees at a tremendous rate to fuel cooking fires throughout Kenya, and cattle grazing is done nearly anywhere, with little to no regulation…the people need to survive on something."
Richardson was also fortunate enough to experience the wildlife of Africa. She saw dozens of species of exotic birds and mammals like baboons, wildebeests, impalas, rhinoceros, and of course, lions and elephants. "I obviously enjoyed the opportunity to view one of the most diverse areas in the world and see wild animals that most people only dream of seeing."
Richardson is in her last year of Environmental Sciences degree studies; she'll graduate in June 2006. She hopes to land a job in her field that involves "actively working outdoors."
For information on internships that may be available in your field of study, contact your major advisor.
---
RESOURCES
- Need Tips for Online Testing? Visit our Improved Website
by Amy Folz, Ecampus Student Services and
Dianna Fisher, Asst. Director, Project Dev. & Training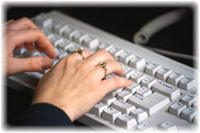 If you have any questions on the process of taking exams for your online courses, Ecampus Student Services is here to help! The Exams and Proctoring section of our website was recently updated with improved navigation and the addition of three new pages:

- Blackboard Test Help explains what to do if problems arise during your exam
- Guidelines for Proctored Examinations explains the responsibilities of Ecampus, the student, and the proctor in this process
- Academic Integrity statement reminds students that they follow the same guidelines that on-campus students do. We hope these pages will explain the process better and make it easier for students to find and sign up for a proctor. Take a look and see what's new! http://ecampus.oregonstate.edu/services/proctoring/
Additionally, Ecampus is working with other departments to develop a testing center at OSU that will serve the needs of Ecampus students on campus. Until that time, we are offering a limited number of group proctoring times, posted each term on our website along with instructions on how to sign up. This allows us to accommodate as many classes as possible during the time slots. If you are an online and on-campus student, keep an eye on our website for these to become available.
- Dial-up Users Testing Note: If you use a dial-up modem, your Internet Service Provider (ISP) may disconnect you after a certain amount of idle time, (which can occur when you are reading online or taking a Blackboard quiz). One way to prevent being disconnected is to keep a separate web browser with a website like CNN.com, open and minimized in the background. Sites like these automatically refresh at frequent intervals, and should be able to prevent your ISP from disconnecting you.
For more information on Blackboard technical/testing help, go to Exams and Proctoring and select Blackboard Test Help in the header links.

- Library Basics – More Tips for Using Your Online Library Services
by Maureen Kelly, Extended Campus Librarian
Need an article or book for a class and don't know where to start? The OSU Libraries is your gateway to the research world.
Where do I start?
Just click on the Library link on the left side of the OSU homepage at http://oregonstate.edu or go to http://osulibrary.oregonstate.edu
How do I find an article?
Click on the library link to article databases, or go to: http://osulibrary.oregonstate.edu/research.php/db.php?arg=all
Which database should I use?
A great place to start is the Academic Search Premier database. It covers all subjects and has many articles available online. If you want a database that is more specific to your discipline, use the pull down menu on the database page to select your subject, and use one of the comprehensive databases listed.
How about books?
Use the OSU Libraries catalog by clicking on the library link or going to oasis.oregonstate.edu. Click on the Request button on the upper left side of the screen and choose Extended Campus as your pickup location. If you don't find what you're looking for at OSU, click on the Repeat in Summit button to search academic libraries throughout the northwest. Click on the Request This Item link to borrow the book. Both OSU & Summit books will be FedExed to your home.
I need help!
The world of information is complicated; it's OK to ask for help. That's why we have librarians! Contact Extended Campus librarian, Maureen Kelly, maureen.kelly@osucascades.edu, 541-322-3110 (on the Bend campus) with your questions. And check out the additional information on using the library at http://ecampus.oregonstate.edu/faculty/manual/library-services.htm.
You may also want to try the 24/7 live reference service staffed by OSU librarians and other librarians in Oregon, and employees of the Tutor.com virtual reference service. Just click on the library's L-Net icon that takes you to the live reference service.
---
COURSE HIGHLIGHTS
Fall term registration is ongoing; classes start September 26, 2005.
- New Courses for Fall 2005
HDFS 201 Contemporary Families in the US (3)
An introduction to families with application to personal life. Focuses on diversity in family structure, social class, race, gender, work and other social institutions. One dominant theme in this course is that of socialization and change over time, including family structures and roles; social class, ethnicity and cultural differences; gender; and work and other institutions. (Bacc Core Course)
- Fall Highlighted Courses
CH 411 Advanced Inorganic Chemistry (3-4)
This new online course will cover the fundamental principles of inorganic chemistry including atomic structure, bonding models for molecules and solids, symmetry, acid/base chemistry, oxidation-reduction, and metal-ligand complexes. PREREQ: One year of college-level chemistry. REC: College-level physics.
WS 320 Gender and Technology (3)
This course explores women's contributions in the field of technology. It analyzes the gendered nature of technology, and studies the theory and practice of technologies. Satisfies Bacc Core credit.
Visit our online schedule of classes for more information on these courses: http://ecampus.oregonstate.edu/soc/
---
Thank you for reading this edition of OSU E-News. Please send any comments or questions to the editor: Linda.Wallace@oregonstate.edu. To customize your subscription, or unsubscribe from this newsletter, please go to: http://ecampus.oregonstate.edu/enews

OSU Extended Campus
http://ecampus.oregonstate.edu
800-667-1465

Features and Navigation
Media inquiries
If your publication would like to feature an OSU Ecampus online program, student or instructor, please contact Tyler Hansen.
For journalists
Gather quick facts about OSU Ecampus, our history and students on our webpage for members of the media.
Award-winning electronic newsletter
Where Ecampus is making the news
Staff, student and course honors
Ranked top 10 in the nation
OSU Ecampus earned a top 10 ranking for the fifth year in a row on a list of America's best online bachelor's programs. Learn more »