Oregon State University Ecampus • OSU Degrees Online
---
Ecampus fact
1,300+ classes online
Explore all of Oregon State's online course offerings.

Ecampus E-News
"Your Electronic Link to Learning at a Distance"
Published by: OSU Extended Campus
Oregon State University, Corvallis, Oregon; Vol. 8, #5
June 23, 2006
http://ecampus.oregonstate.edu --> Check us out!
800-667-1465
---
IN THIS ISSUE ~ Summer 2006
- Summer Term Notables
- Registration Update
- Free Online Tutoring Service Renewed
- About Your Courses in Blackboard
- Don't Get Fined! – Return Your Course Videos/DVDs
- Marine & Environmental Studies Program – Starts June 26
- Summer Education Courses Offered in Portland Area
- New Courses for Summer and Fall
- Ecampus Graduates Make the Trek to Commencement
- Cindy Lehto – A New "Smiling Voice" on the Phone
- Ecampus Website Redesign – We Want Your Input
- Go Beavs! OSU Baseball Team Plays for National Baseball Title
---
CALENDAR
- Please keep the following dates and deadlines in mind for summer term:
Through June 25: Registration for summer term continues without late fee
June 26: Most summer term classes begin (Note: Summer term consists of six sessions. Visit
http://summer.oregonstate.edu/calendar/register/deadlines.htm for all registration and drop dates.)
June 26: Late registration for summer term begins ($50 late fee assessed)
July 4: Fourth of July holiday – no classes
Through September 24: Fall registration continues
September 25: Fall classes begin
September 25: Late registration for fall term begins ($50 late fee assessed)
---
BULLETIN BOARD
- Registration Update
SUMMER: Most summer courses start June 26. You can register for courses through the first day of classes with no late fee. NOTE: Summer term consists of six sessions, so be aware of the deadline dates pertinent to your session(s). Visit: http://summer.oregonstate.edu/new-visiting/register/deadlines.htm.
FALL: Registration is currently underway for fall term. Classes start Sept. 25. For updated fall tuition information, visit: http://ecampus.oregonstate.edu/services/tuition/default.htm.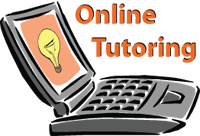 - Free Online Tutoring Service for 2006-07
After a one-year trial period with Smarthinking, Ecampus Department and Student Services is pleased to continue offering online tutoring for our students! Registered Ecampus students can receive up to 15 hours of free tutoring in subjects like writing, math, biology and more. For information, visit: http://ecampus.oregonstate.edu/services/student-services/online-tutoring/.
- Your Courses in Blackboard
If you are unable to get into your summer term Blackboard course after you register, don't panic! Most courses are not accessible in Blackboard until the first day of classes – June 26. If you log into my.oregonstate.edu and your course is not listed, first check to make sure you are registered for an Extended Campus course (section 400-499). If you are, and are still unable to access your course in Blackboard please call Extended Campus at 541-737-9204 or 800-235-6559 between 8 a.m.-5 p.m. Pacific Standard Time.
- Course Videos and DVDs
AVOID LATE FEES! If you rented videos for a spring term course, you must return them by the end of June 2006 to avoid late fees! Please contact Vickie at 541-737-9813 or 800-235-6559 if you have questions.
---
COURSE HIGHLIGHTS
- Marine & Environmental Studies Program at the Coast – Starts June 26

There are still slots available in this marine biology and ecology program, taught on-site at OSU's Hatfield Marine Science Center in Newport, Oregon. Courses are offered in one- and two-week formats, as well as intensive weekend formats, and one-day workshops. They are hands-on integrative courses, taught by experts at HMSC. More information is available at: http://summer.oregonstate.edu/courses/hatfield/.
- Summer Courses in Education
OSU students who live in the Portland area can take courses in Education and Counseling at the Wilsonville Training Center this summer starting June 26. Visit: http://summer.oregonstate.edu/wilsonville.
- New courses for Summer and Fall
Ecampus adds new courses every term. For all the new listings for summer and fall terms, visit our Course Flash web pages at: http://ecampus.oregonstate.edu/enews/course-flash/summer_06.htm and http://ecampus.oregonstate.edu/enews/course-flash/fall_06.htm.
---
ECAMPUS NEWS
- Ecampus Graduates Make Trek to Commencement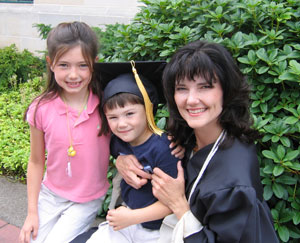 Ecampus student Gina Kerzman from Pendleton, Oregon, poses with her children Mikayla and Lathan after receiving her OSU degree in General Agriculture.
Sunday, June 18 dawned a perfect day for Oregon State's 137th commencement in Corvallis. A record class of 4,410 OSU students graduated, with over 2,000 in attendance for commencement. As students prepared to line up in the quad, Extended Campus staff, advisors and faculty welcomed a group of distance students and their families at a small reception.
For Ecampus students, attending commencement is not a given – it involves traveling to a campus that most have never set foot on. To participate in Sunday's festivities, students journeyed from Wisconsin, Wyoming, California and Idaho, as well as several locations throughout Oregon. But the student traveling the greatest distance to commencement was Sarah Van Middlesworth, who completed her OSU degree in Natural Resources while living in London, England.
The number of students completing OSU degrees from locations around the state, nation and globe has increased dramatically in recent years. During the 2005-06 academic year, 71 students finished their degrees through Extended Campus, as compared to 49 in 2004-05. Ecampus students attending commencement received bachelor's degrees in General Agriculture, Environmental Sciences, Liberal Studies, and Natural Resources, as well as master's degrees in Education. Seven of the Ecampus students who attended commencement were awarded travel reimbursement funds for their responses to essay questions.
To read more about our Ecampus graduates, visit:
http://ecampus.oregonstate.edu/about/learn-more/students/graduation2006/
- Cindy Lehto – Your New Student Services Representative
Cindy Lehto is our new Ecampus Student Services Representative, and her main responsibility is to act as a liaison between Ecampus students and instructors/departments around campus. Cindy will be happy to answer your questions regarding programs, admission, registration, petitions, proctoring and much more. She's a whiz at these subjects as she came to Ecampus from the OSU Registrar's office where she worked for the past 5 ½ years in student records and scheduling classes, finals, events, etc.
Cindy and her husband have three children – one in college, another who just graduated from OSU and was a student worker in Ecampus, and a senior in high school. Cindy also counts as family their dog Marley, who thinks she's a person. Cindy loves movies, books, travel, and of course, Beaver football!
- Ecampus Website Redesign – Help Us Improve Our Website
We're undertaking an Ecampus website redesign, and would like to hear from you! What do you want to see on our website that is not there now (see http://ecampus.oregonstate.edu)? Are there particular services that you wish we offered online? How can our website improve your overall "OSU Experience"?
Please email Jessica.DuPont@oregonstate.edu with any ideas you have for the next generation of our website.
---
OSU NEWS
- Second Time's a Charm…Beavers to Play for College World Series Title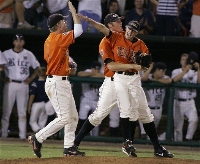 Beavers celebrate victory over Rice.
On Wednesday evening June 21, before a record crowd of 30,335 in Omaha, Nebraska, the OSU baseball team showed once again they had what it takes to be in contention for the College World Series championship. The No. 8 ranked Beavers had just shut out No. 1 Rice, setting new OSU baseball records for defeating a No. 1 team and for most wins in a season.
The previous night the Beavers dominated Miami 8-1, forcing that team out of the series. It was sweet revenge for the Beavs as Miami had dealt the only losing blow to OSU (11-1) in their opening game in Omaha on Saturday night. After that initial loss, Beaver fans were hoping against a repeat of last year's events when the team's excitement about being in the CWS for the first time since 1952 was cut short by losing their opener and second game as well.
But everything changed Monday afternoon when the Beavers turned it around, beating Georgia 5-2. This was the first ever College World Series win for the OSU Beavers. And things kept improving as the Beavers hit their stride in both pitching and hitting.
Last night's second shutout against Rice (2-0) propelled the Beavers into the championship berth. Showing their hard-working style, the Beavers managed three hits against a tough Rice pitcher. OSU pitcher Jonah Nickerson showed true heart and durability as he pitched 7 2/3 innings after just two days' rest.
It's been a great year for OSU ball teams as just three weeks ago the No. 7 OSU softball team (43-16) traveled to Oklahoma City to make their first-ever appearance in the Women's College World Series. All eyes will be on ESPN Saturday afternoon, June 24 at 4:00 p.m. PDT when OSU and No. 9 North Carolina meet for the best-of-three games series for the national championship. For details, visit: "OSU Beats Rice, Will Play For Baseball National Title."
GO BEAVS!!!
---
Thank you for reading this edition of OSU E-News. Please send any comments or questions to the editor: Linda.Wallace@oregonstate.edu. To customize your subscription, or unsubscribe from this newsletter, please go to: http://ecampus.oregonstate.edu/enews

OSU Extended Campus
http://ecampus.oregonstate.edu
800-667-1465

Features and Navigation
Media inquiries
If your publication would like to feature an OSU Ecampus online program, student or instructor, please contact Tyler Hansen.
For journalists
Gather quick facts about OSU Ecampus, our history and students on our webpage for members of the media.
Award-winning electronic newsletter
Where Ecampus is making the news
Staff, student and course honors
Ranked top 10 in the nation
OSU Ecampus earned a top 10 ranking for the fifth year in a row on a list of America's best online bachelor's programs. Learn more »