Oregon State University Ecampus • OSU Degrees Online
---
Explore Ecampus
Compare bachelor's degrees
Oregon State Ecampus delivers 25+ undergraduate degrees online.

Ecampus E-News
"Your Electronic Link to Learning at a Distance"
Published by: OSU Extended Campus
Oregon State University, Corvallis, Oregon; Vol. 8, #1
January 5, 2006
http://ecampus.oregonstate.edu --> Check us out!
800-667-1465
---
IN THIS ISSUE ~ Winter 2006
- Winter Term Notables
- It's Time to Fill Out Those Financial Aid Forms
- OSU K-12 Online – Register Now for Spring Semester
- New and Highlighted Courses for Winter 2006
- Visit with Ecampus Representative at Upcoming Transfer Fair
- Chemistry Sequence and Labs Now Offered Online
- Health Care Administration Graduate Certificate Offered in Southern Oregon
- Sociology Instructors Connect International Students and Cultures
- Take our Survey and Win $50!
- OSU Student Health Services Website - A Valuable Resource
---
CALENDAR
Please keep the following dates and deadlines in mind for winter term:
January 1: Federal financial aid forms accepted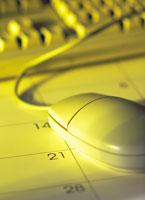 January 8: Registration for winter term continues
January 9: Winter term classes begin
January 9: Late registration begins ($50 late fee assessed)
January 15: Last day to add a class by Web
January 15: Tuition bills e-mailed
January 20, 5 p.m.: Last day to register or add a class (instructor and dept. approval required)
January 20, 11:55 p.m.: Last day to drop a class by Web
January 16: Martin Luther King Day observed (university closed)
February 24, 5 p.m.: Last day to change to or from S/U grading (approval required)
February 24, 11:55 p.m.: Last day to withdraw from a course (W entered on transcript)
March 20-24: Finals week
March 24: End of winter term
March 29: Grades available via Web or kiosk
---
BULLETIN BOARD
- It's Time to Fill Out Those Financial Aid Forms
January 1st is the magical date for applying for federal financial aid. Applying early is the best way to ensure eligibility for limited funding. Visit the OSU Financial Aid web pages for all the details on federal and other financial aid: http://oregonstate.edu/admin/finaid/index.html
And remember, if you are completing your degree through Ecampus, you might also qualify for financial aid through Extended Campus! Visit this page to see if you qualify:
http://ecampus.oregonstate.edu/services/tuition/financial-aid.htm

- OSU K-12 Online – Register Now for Spring Semester
The spring semester of OSU K-12 Online begins January 30 - registration is open now. OSU K-12 Online offers over 35 high school and middle school courses in all subject areas. New courses recently added to the high school offerings include marine science, Spanish I and II, and advanced television production. Visit the website at http://k12online.oregonstate.edu/. Read a recent press release about another exciting OSU K-12 Online collaboration: http://oregonstate.edu/dept/ncs/newsarch/2005/Oct05/K-12.htm
---
COURSE HIGHLIGHTS
- New Courses for Winter 2006
Extended Campus adds new courses to its online inventory every term. For winter term, new courses have been added in business, biology, sociology, language (Japanese), and other subjects. Visit our Course Flash page for the complete list of new and highlighted Ecampus courses for winter term: http://ecampus.oregonstate.edu/enews/course-flash/winter_06.htm. For additional classes still open for winter term, visit our online schedule of classes: http://ecampus.oregonstate.edu/soc/.
Winter term registration is ongoing; classes start January 9, 2006.
---
ECAMPUS NEWS
- Visit with an Ecampus Representative at Oregon Community Colleges

Mary Caughey
Representatives from OSU will be on the road soon for the annual Oregon Transfer Fair Tour. Representing Extended Campus will be Community College Pathways Coordinator Mary Caughey. Mary will be visiting your local community college to answer questions on admission to OSU, degree partnership programs (concurrent enrollment at OSU with participating community colleges), courses and programs offered through Ecampus, and possible degree planning strategies. Either Mary or Kay Bell, our Enrollment Coordinator, should be able to assist you or point you in the right direction. If you plan to visit Mary and have specific questions, you can contact her in advance at mary.caughey@oregonstate.edu, or 503-725-2555. Kay Bell can be reached at kay.bell@oregonstate.edu or 800-667-1465.
Transfer Fair Schedule - (Please check with your local transfer counseling office for Transfer Fair times).
Portland CC - Cascade campus, Mon., January 23
Portland CC - Rock Creek campus, Tues., January 24
Portland CC - Sylvania campus, Wed., January 25
Clackamas CC - Oregon City, Thurs., January 26
Clatsop CC - Astoria, Mon., January 30
Tillamook Bay CC - Tillamook, Tues., January 31
Oregon Coast CC - Newport, Wed., February 1
Linn-Benton CC - Albany, Thurs., February 2
Columbia Gorge CC - The Dalles, Mon., February 6
Chemeketa CC - Salem, Tues., February 7
Mt Hood CC - Gresham, Wed., February 8
Lane CC - Eugene, Thurs., February 9
Southwestern CC - Coos Bay, Mon., February 13
Rogue CC - Grants Pass, Tues., February 14, a.m.
Rogue CC - Medford, Tues., February 14, p.m.
Umpqua CC - Roseburg, Wed., February 15
Klamath CC - Klamath Falls, Thurs., February 16
Central Oregon CC - Bend, Tues., February 21
Treasure Valley CC - Ontario, Wed., February 22
Blue Mountain CC - Pendleton, Thurs., February 23
- Chemistry Sequence and Labs Offered Online
Through Ecampus, the OSU Chemistry Department offers Chemistry 121, 122, and 123 as a full-year online general chemistry sequence intended for students who need an elementary introduction to chemistry. All of these courses include an online laboratory experience, online group discussions and online testing.
Are you wondering how an online chemistry lab works? Similar to a campus lab, online students follow procedures, record their observations and complete a lab report. Sample directions in the online lab environment might include, "Click and drag the 50 mL glass beaker to the workbench below." Students then type in the amount of liquid to go into a designated beaker. Labs are hosted on a website called Late Nite Labs. To preview a sample lab, go to http://www.latenitelabs.com/. Dr. Richard Nafshun, who teaches the sequence above, has received glowing reviews from his past students, which are viewable on RateMyProfessors.com – check it out!
Ecampus also offers Organic Chemistry (CH 332) and Inorganic Chemistry (CH 411) online. For more information, visit:
http://ecampus.oregonstate.edu/online-degrees/undergraduate/online-chemistry-lab-course/.

- Health Care Administration Graduate Certificate Now Offered in Southern Oregon
For professionals in the health care industry, OSU's Health Care Administration program is an effective way to upgrade their skills and learn about current trends in the industry. The program, delivered as a combination of online courses and on-site classes at health care facilities, is now being offered at Asante Health System in Medford, Oregon beginning winter term. Current partners in the program are Samaritan Health Services in Western Oregon and St. Charles Medical Center in Central Oregon. For more information on this program, read the recent press release at
http://oregonstate.edu/dept/ncs/newsarch/2005/Dec05/southernore.htm or visit http://ecampus.oregonstate.edu/hca.

---
FACULTY SPOTLIGHT
- Sociology Instructors Connect International Students and Cultures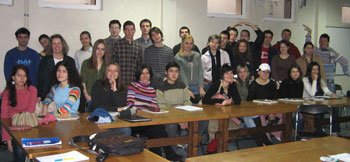 Becky Warner's classroom in Bulgaria; Warner appears in back row, 3rd from left
Ecampus instructor Olga Rowe is passionate about teaching online, and says she's not afraid to try new things in her virtual classroom. One such venture was the recent electronic merging of her introductory sociology class with Becky Warner's SOC 204 class. Although online communication via forums is the norm in distance education, this instance was unique in that Warner's classroom was on-site at the American University in Bulgaria (AUBG). Warner, who is chair of the sociology department at OSU, was in Bulgaria on sabbatical when the two instructors came up with the idea of combining their classrooms and conducting a kind of cultural experiment to study the conversations and reactions of students from their different cultural standpoints.
The students first introduced themselves in Blackboard, the online educational portal used by OSU. Then students were instructed to read Horace Miners' "Body Rituals Among the Nacirema," a classic anthropological article on the strange behaviors and rituals of a mysterious culture. Rowe urged her students to read the article in an objective way, paying close attention to the text, and then discuss this culture with the others. Although Rowe said it's common for students who converse online to openly share their opinions, the resulting conversations surprised even her. The content of the reading created strong reactions from some students, including an American student who commented that one particular ritual sounded extremely painful. That ritual ended up being a visit to the dentist – the culture studied in the writing was American culture. (Nacirema is American spelled backwards.) Discovering that also stirred up emotions. Rowe said it was a powerful learning experience for each student to slowly unravel the cover on this familiar culture.
Warner said she enjoyed watching her students in Bulgaria assist and learn from one another and their online counterparts. "Students learn that there is as much diversity within national cultures as there is across them. Not all Americans are alike; not all Bulgarians are alike." She noted that within her classroom at AUBG she had students from eight different countries including Romania, Serbia and Mongolia. One interesting anecdote Warner shared was a Romanian student who said it was less confusing to communicate online than on-site. That was because in Bulgaria nodding up and down means "no" and side to side means "yes," whereas in Romania it is the opposite, as in the US.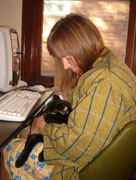 Olga Rowe
Olga Rowe received her Ph.D. from her native country of Ukraine, and has been teaching distance education courses for eight years. She said she appreciates the flexibility the online learning environment provides both the student and the instructor. She also feels online learning has two major benefits to students; one, it provides the opportunity for education to students who might not otherwise have it, and two, the way business is being performed online today, getting their education online prepares students for real-world possibilities.
"I feel great about the possibilities with teaching online, how it can be pedagogically innovative. This project would have been nearly impossible without technology. It would have been limited only to privileged students. Online education is the opportunity to combine many different cultures…it is really bridging the world."
---
TECH TIPS
- Take our Survey and Win $50!
Because we strive to make E-News and our Ecampus website accessible and useful to those who use it, we periodically survey our students and readers to gather information about their technology use and interests. If you take a moment to answer our short, 10-question survey you will qualify for a drawing to win a $50 gift certificate to the OSU Bookstore! You can access the survey here: https://surveys.bus.oregonstate.edu/BsgSurvey2_0/main.aspx?SurveyID=1165&cmd=survey
---
YOUR HEALTH
- OSU Student Health Services Website - A Valuable Resource
By Jean Stillwell, OSU Student Health Services
OSU's Student Health Services provides comprehensive primary health care, disease prevention and treatment services, and extensive health promotion programs for students on the OSU campus and beyond. Off-campus students can access the Student Health Services website at http://studenthealth.oregonstate.edu.
The Student Health Services website is a wealth of information on many health topics. There are three web-based services that could be of great interest to Extended Campus students. Health Topics A-Z is a section on the website that provides details regarding specific health issues, services or concerns. By clicking on the topic of interest, visitors can gain knowledge on everything from acupuncture to warts!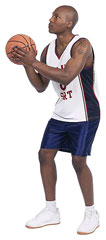 The Student's Self Care Guide is a helpful tool for students looking for more information about symptoms they might be having. The visitor, prompted by a number of questions, is provided information and then directed to call or contact a health care provider if needed. For example, if the student feels depressed or sad, which is common in the winter in the Pacific Northwest, he or she could click on "depression" and the self care guide will help the visitor determine if the symptoms warrant further treatment.
AnswerSpot is another great tool for individuals who might want to ask a health care question anonymously. The questions are answered by professional health care staff members and posted to one of the following categories: alcohol and drugs, emotional health, fitness and nutrition, general health, medical conditions and problems, sexual health or Student Health Services programs and services. If a question doesn't fit within any of those categories, it will still be answered. Most questions are answered and posted within 72 hours. The link for this service is http://studenthealth.oregonstate.edu/answerspot/.
OSU's Student Health Services hopes you'll visit our website and find the information you need. We also wish you a happy and healthy New Year!

---
Thank you for reading this edition of OSU E-News. Please send any comments or questions to the editor: Linda.Wallace@oregonstate.edu. To customize your subscription, or unsubscribe from this newsletter, please go to: http://ecampus.oregonstate.edu/enews

OSU Extended Campus
http://ecampus.oregonstate.edu
800-667-1465

Features and Navigation
Media inquiries
If your publication would like to feature an OSU Ecampus online program, student or instructor, please contact Tyler Hansen.
For journalists
Gather quick facts about OSU Ecampus, our history and students on our webpage for members of the media.
Award-winning electronic newsletter
Where Ecampus is making the news
Staff, student and course honors
Ranked top 10 in the nation
OSU Ecampus earned a top 10 ranking for the fifth year in a row on a list of America's best online bachelor's programs. Learn more »