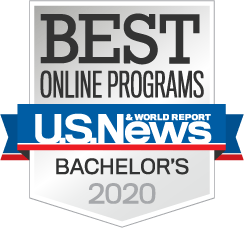 Here is a showcase of Oregon State University faculty and OSU Ecampus staff, students and courses that have won awards, or faculty and Ecampus staff who have been appointed or elected to prestigious positions outside the university.
Recent Ecampus awards
View a spotlight page of recent awards won by OSU Ecampus as well as a chronological list of stories about Ecampus awards (2015-present).
Awards archive
Visit our awards archive for older Ecampus awards and appointments (2002-2014).
---
Faculty excellence helps OSU earn another top-5 national ranking for online education
Jan. 14, 2020 – For the third time in six years, Oregon State University is ranked as one of America's five best providers of online education by U.S. News & World Report.
The annual report features Oregon State Ecampus at No. 5 out of more than 350 institutions in the category of Best Online Bachelor's Programs. Oregon State's high ranking largely reflects the expertise of its faculty and Ecampus' ability to prepare those instructors to teach online.OSU has placed in the national top 10 every year since 2015.
Read more about the top 10 ranking for OSU Ecampus.