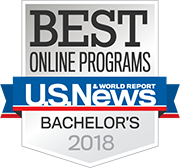 Here is a showcase of Oregon State University faculty and OSU Ecampus staff, students and courses that have won awards, or faculty and Ecampus staff who have been appointed or elected to prestigious positions outside the university.
Recent Ecampus awards
View recent Ecampus awards and appointments (2015-present).
Awards archive
Visit our awards archive for older Ecampus awards and appointments (2002-2014).
---
Ecampus earns another top 10 national ranking from U.S. News
Jan. 9, 2018 – For the fourth straight year, Oregon State University is ranked in the top 10 nationally for online education by U.S. News & World Report in rankings released today.
Oregon State Ecampus, the university's online education division, is ranked sixth out of more than 350 higher education institutions in the category of Best Online Bachelor's Programs. Among land grant universities on the list, OSU is third. The full rankings are available online at usnews.com/online-education.
Schools were assessed based on student engagement; faculty credentials and training; student services and technology; and peer reputation. Read more about the top 10 ranking for OSU Ecampus.