Oregon State University Ecampus • Degrees Online
Business of Viral Content Creation – Online Microcredential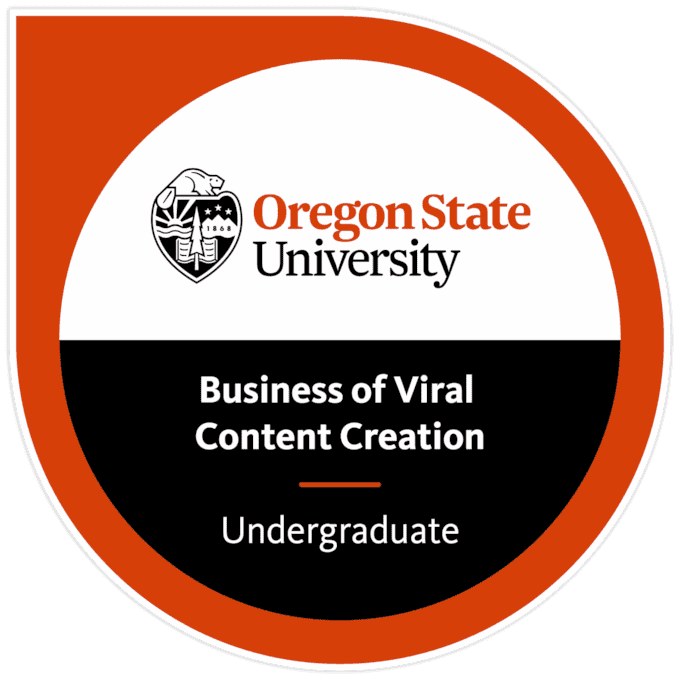 Learn what it takes to build your content creation enterprise
Content is king, as the saying goes. And to carve out your place in the dynamic age of digital communication, you need to sharpen your skills in gathering, evaluating and writing content for digital media publication.
Earning a microcredential in the business of viral content creation online from Oregon State University will put you in a position to strategically analyze and produce content with the intention of building your own content platform and brand.
Coursework
Required courses (9 credits)
Skills
The in-demand skills you'll develop as a student in this microcredential will give you what you need to stand out and level up in your career.
Content creation
Content development
Data analysis
Editing
Journalism
Marketing
Search engine optimization
Social media
Start working toward a digital communication arts degree
Once you earn a microcredential in the business of viral content creation, you can apply the 9 credits directly toward Oregon State's online bachelor's degree in digital communication arts. Learn more about the innovative DCA program.
If you plan to apply these credits toward a full degree, we encourage you to first contact the program to learn about the degree requirements. Please note that acceptance into a microcredential does not guarantee acceptance into a degree program.

Want more info?
Let us know and we'll send you the details you need.
Important dates
Winter term starts
Jan. 8, 2024
Spring term starts
April 1, 2024
See our academic calendar for our full quarter term schedule.
Find application deadline
Ready to apply?
Once you've gathered the information you need to know before you apply to Oregon State University, take the next steps.
---