Oregon State University Ecampus • Degrees Online
Engineering Mechanics – Online Microcredential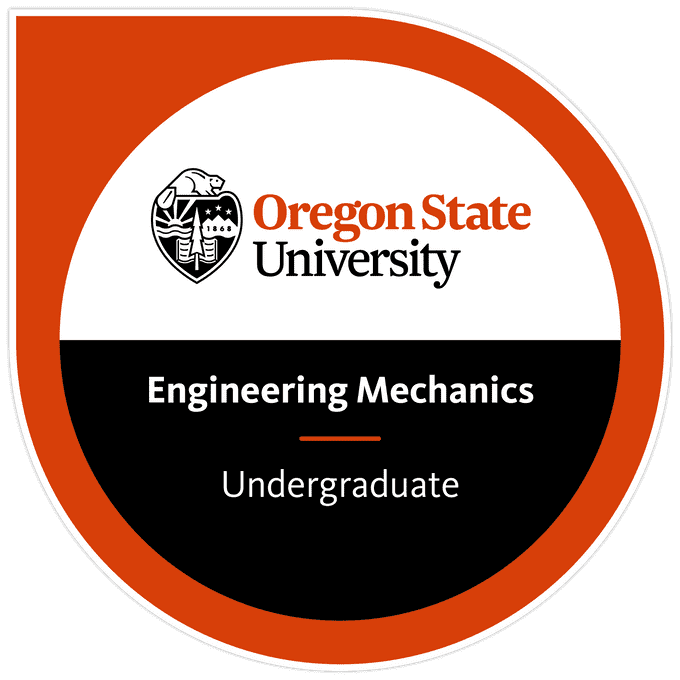 Learn the principles of mechanics to solve real-time engineering problems
Pursuing an engineering education at the university level is a wise career decision. Earning a digital credential in the process that will serve you well professionally is even wiser.
By enrolling in Oregon State University's online microcredential in engineering mechanics, you'll gain the foundational knowledge every engineering student needs — whether you're enrolled at Oregon State or another institution. You'll also develop the skills to adeptly work with engineering technology, complete first-line engineering tasks and more.
Coursework
Required courses (9 credits)
Prerequisite courses
Skills
The in-demand skills you'll develop as a student in this microcredential will give you what you need to stand out and level up in your career.
Applied mechanics
Calculus
Geometry
Materials science
Problem solving
Trigonometry
Verbal communication
Written communication
Start working toward an engineering bachelor's degree
The course credits you earn in this microcredential can be directly applied toward a full Oregon State engineering bachelor's degree program that is offered on campus in Corvallis or Bend or at another institution.
If you plan to apply these credits toward a full degree, we encourage you to first contact the program to learn about the degree requirements. Please note that acceptance into a microcredential does not guarantee acceptance into a degree program.

Want more info?
Let us know and we'll send you the details you need.
Important dates
Fall term starts
Sept. 27
Winter term starts
Jan. 8, 2024
See our academic calendar for our full quarter term schedule.
Find application deadline
Ready to apply?
Once you've gathered the information you need to know before you apply to Oregon State University, take the next steps.
---