Oregon State University Ecampus • Degrees Online
Engineering Project Management – Online Graduate Microcredential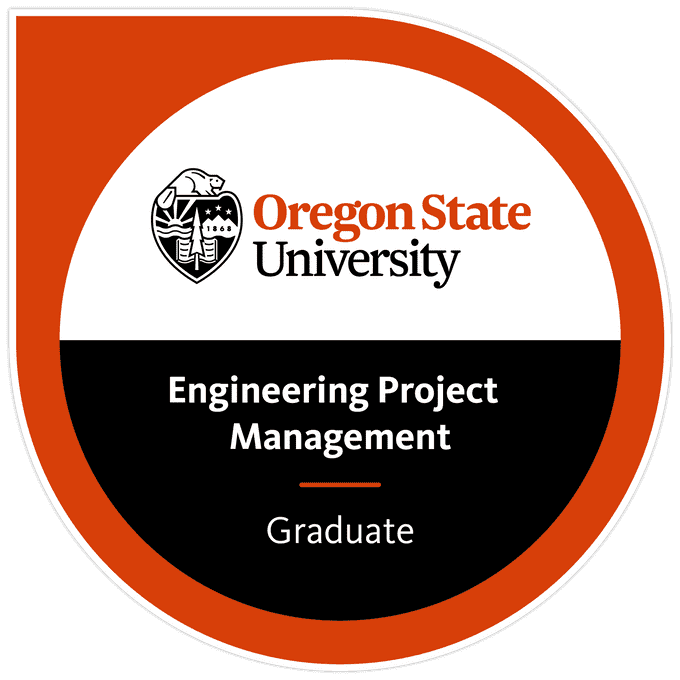 Start on the road to managing complex projects
To elevate your role in your organization and prepare for an in-demand position in project management, you need to learn essential concepts, systems and techniques that are tailored to engineering professionals. And you can make it happen online in Oregon State University's graduate-level microcredential in engineering project management.
In this 11-credit microcredential, you'll learn how to break complex tasks into pieces and then correctly sequence those parts to ensure that a project meets time, budget and performance requirements.
You'll also develop the skills to steer projects to completion by balancing the needs and objectives of your organization with the resources at your disposal.
Coursework
Required courses (11 credits)
Skills

The in-demand skills you'll develop as a student in this microcredential will give you what you need to stand out and level up in your career.
Accounting

Budgeting

Collaboration

Decision making

Engineering management

Forecasting

Project planning

Risk management
Apply your credits toward a master's degree
If you're interested in this microcredential, you may want to learn more about OSU's online Master of Engineering in Industrial Engineering with an option in Engineering Management. To stack a graduate microcredential into a graduate program, please review policies governing all graduate programs.
Specifically, up to 22 graduate credits may be transferred toward a 45-credit master's degree. Up to 9 graduate credits may be transferred toward an 18-credit graduate certificate.
If you plan to apply these credits toward a full degree, we encourage you to first contact the program to learn about the degree requirements. Please note that acceptance into a microcredential does not guarantee acceptance into a degree program.

Want more info?
Let us know and we'll send you the details you need.
Important dates
Winter term starts
Jan. 8, 2024
Spring term starts
April 1, 2024
See our academic calendar for our full quarter term schedule.
Find application deadline
Ready to apply?
Once you've gathered the information you need to know before you apply to Oregon State University, take the next steps.
---