Oregon State University Ecampus • Degrees Online
Military Ambassadors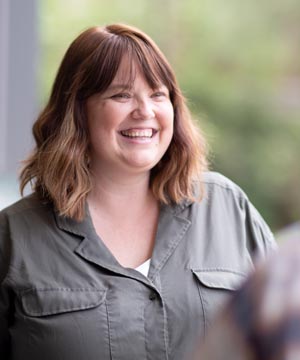 Janine Romero
Degree: B.A. in Liberal Studies, minor in writing
Currently living: Okinawa, Japan
Military affiliation: U.S. Air Force, spouse
Role in military: I'm not sure I have a "role," honestly. My husband is active duty, and I support my husband like I think any spouse would in any profession. Many spouses of service members are responsible for maintaining the entirety of the household (finances, chores, car and home maintenance, etc.) while their service member is deployed or TDY. I take all of this on when he's gone, for sure – but I do not consider this support to be particularly noteworthy; I'm in a partnership, and stepping up when needed is a part of that.
Current employment: I am a freelance reviewer for the Culturally Responsive Education department of Westchester Educational Services, which places emphasis on diversity, equity and inclusion in K-2 educational materials. I work in collaboration with a team of reviewers hired by educational publication companies to ensure that their educational content meets the standard of inclusion and equality.
I absolutely use my Oregon State degree every single day. Everything I learned as an OSU student has provided me with the tools I need to unpack the educational materials that I review for my job. I'm so grateful that my time at OSU prepared me for a position like this. I truly believe I'm able to make a difference in my job and within my larger community because of my education at Oregon State University. And I'm thankful for that, every day.
Ask me about: Work/life balance, managing time, moving with the military while in school, full time vs. part time, connecting with military classmates, being an adult learner, online college vs. on-campus college, OSU online resources, and really anything. I can respond to the best of my abilities or can try to point you in the right direction of someone who can.
---
Connect with Janine Romero

Want more info?
Let us know and we'll send you the details you need.
Important dates
Winter term starts
Jan. 8, 2024
Spring term starts
April 1, 2024
See our academic calendar for our full quarter term schedule.
Find application deadline
Ready to apply?
Once you've gathered the information you need to know before you apply to Oregon State University, take the next steps.
---