Oregon State University Ecampus • OSU Degrees Online
---
Ecampus fact
100+ subjects to study
Explore all of Oregon State's online course offerings.
Chemistry – Online Minor
Earn a minor in chemistry online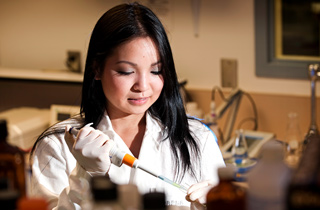 Oregon State University's Department of Chemistry and Oregon State Ecampus invite you to discover the flexibility and value of completing a chemistry minor online as part of your undergraduate degree program.
Chemistry plays a vital role in many scientific career fields. Chemicals are in everything around us that can be touched, smelled, tasted or seen. Pursuing a chemistry minor answers the question of how to transform these everyday events into spectacular breakthroughs that touch all aspects of our lives.
Sharpen your skills in chemistry
The Oregon State chemistry minor provides a base knowledge in various areas of chemistry and also gives students a chance to choose chemistry courses that match their interests and will support their career goals.
Adding a minor in chemistry is a good companion to other Ecampus online degree programs with a science background, such as fisheries and wildlife sciences, natural resources, and environmental sciences.
The general chemistry course sequence, including the labs, can be completed entirely online through Ecampus. Watch the variety of interactive tactics OSU faculty use to teach chemistry online.
Course work
The chemistry minor online requires a minimum of 27 credit hours. Visit the chemistry minor curriculum page for information on requirements and course options, or view the course descriptions of all Oregon State's online chemistry courses.

Features and Navigation
Academic calendar
Currently it's spring term. See academic calendar for our quarter term schedule.

Summer term starts June 25.
Fall term starts Sept. 20.
Ranked top 10 in the nation
OSU Ecampus earned a top 10 ranking for the fourth year in a row on a list of America's best online bachelor's programs. Learn more »