Oregon State University Ecampus • Degrees Online
Ecampus fact
28,000+ students worldwide
Learn alongside students in all 50 states and more than 60 countries.
Leadership - Online Minor
If applying as a postbaccalaureate student for summer 2023, the deadline to apply is May 1, and classes start June 26.
Earn a leadership minor through Ecampus
Oregon State University offers a leadership minor online to students in all departments and programs, giving you the flexibility to gain essential skills as you complete your undergraduate degree. The leadership minor is delivered by OSU Ecampus, one of the nation's top-ranked providers of online education.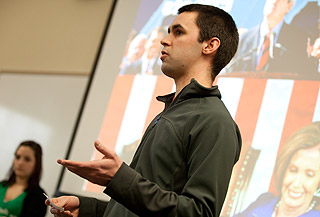 Building tomorrow's leaders today
Effective leadership is vital to the growth and success of society. Whether it's landing your dream job, starting a business, volunteering in your community or organizing a family, earning a minor in leadership online from Oregon State University will help you realize your personal and professional life goals. The minor is designed to provide opportunities to learn and develop your leadership potential.
As a participant of this minor, you will experience and explore a diverse framework of leadership. Our advisors work with you personally to outline coursework and customize hands-on experiences that will equip you with practical leadership skills. This unique design to our leadership minor allows us to serve students from all departments and programs to complement their current studies.
28-credits needed to complete the minor
The leadership online minor requires you to complete a total of 28-credit hours. Courses are offered throughout the year, including summer term.
The bulk of the courses are designed to allow you to incorporate your interests and passions into your education, including serving in your local community, working in an area business or simply enhancing your careers skills and personal effectiveness. The minor makes it possible for these invaluable experiences to appear on your college transcripts in a manner that is verifiable and easily understood by potential employers.
To meet the minor requirements, leadership courses must be selected from the following three areas:
Leadership theory (8 credits)
Trait and skill development (10 credits)
Applied leadership development (10 credits)
Additional information can be found on the College of Agricultural Sciences leadership minor website.
Ready to add this minor to your studies?
If you are ready to declare the minor, you need to set up an appointment with an advisor. For questions or to set up an appointment please email leadershipminor@oregonstate.edu or call 541-737-2661. Please be sure to include your OSU student ID number and phone number in an email to assist us in scheduling an appointment.

Features and Navigation
Academic calendar
See academic calendar for our quarter term schedule.

Spring term starts April 3.
Summer term starts June 26.
Ranked top 10 in the nation
OSU Ecampus earned a top 10 ranking for the ninth year in a row on a list of America's best online bachelor's programs. Learn more »