Graduate Certificate in Sustainable Natural Resources – Online
Now accepting students for summer 2013. Classes start June 24.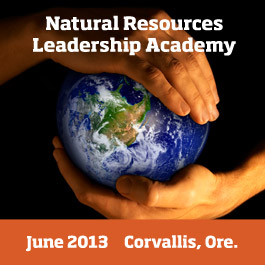 Now you can earn a graduate certificate in Sustainable Natural Resources from Oregon State University, a research institution renowned for its expertise in natural resources. This 18-credit online certificate is designed for all students, especially company, industry or agency employees who desire training in solving complex sustainability problems.
Students complete an integrated course of study in a dynamic learning community, under the mentorship of professionals, to design workable solutions for complex natural resource issues of local, state, regional, national and international importance.
Advantages of an Oregon State University online program:
All classes are taught by OSU's renowned faculty, who are known worldwide for their research, expertise and innovation.
OSU is regionally accredited by the Northwest Commission on Colleges and Universities.
OSU Ecampus is a member of the Natural Resources Distance Learning Consortium (NRDLC). We are one of 10 universities who work together to provide more than 250 online courses and degrees to natural resource agency professionals.
Online students receive the same transcript as on-campus students.
Students can study from anywhere in the world with an Internet connection.
With more than 800 online courses in over 80 subjects, discover how OSU Ecampus can turn your passion into a lifelong career.