Online Courses and Degrees in Natural Resources for Agency Professionals
Oregon State University is a proud member of the Natural Resources Distance Learning Consortium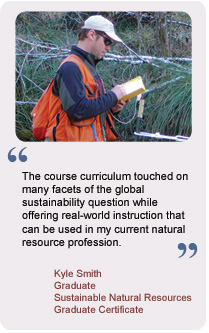 With flexible online learning options, your career goals are within reach
Oregon State University is a member of the Natural Resources Distance Learning Consortium (NRDLC), which includes 10 universities who work together to provide over 250 online classes and degrees covering a variety of natural resource management disciplines aimed at agency professionals. The NRDLC is a partner with the US Forest Service and Bureau of Land Management (BLM).
OSU is a nationally-recognized premier teaching, research and service outreach institution located in Corvallis, Oregon renowned for its expertise in Natural Resources and Forestry. Through Ecampus, OSU brings quality contemporary education to you in the convenience of your own environment.
Throughout the year, we offer over 700 Accredited Courses in more than 60 subjects which are taught by OSU's distinguished faculty. All OSU online courses feature a vibrant learning atmosphere supplemented by videos, streaming media, podcasts and interaction with others in online discussion. Visit the Schedule of Classes.
Quarter term advantage
Since OSU is on the quarter term academic calendar, you have four chances to begin taking classes each year. Unlike longer semester terms, OSU offer courses in a condensed 11-week period. Winter term classes start in January, Spring term starts in April, Summer Session starts in June, and Fall term starts in September. Registration typically starts two months prior to the start of the term. Check the Schedule of Classes for more info.
Additionally, students pay the same Tuition & Fees for online classes, no matter if they're from Oregon or out-of-state.
We currently offer courses and degrees in a variety of fields that might interest you:
Course subjects samples
Graduate certificates - 18 credits
Undergraduate degrees
Interagency Fire Program Management (IFPM)
Contact our Student Services Center to discuss your personal educational needs.
Ecampus students and graduates in natural resources disciplines
A large number of agency professionals have graduated from one of our online degrees, or have simply taken courses for professional development. Meet more agency employees who continued their education through OSU Ecampus courses and programs. Click on the names below to read their stories.
Read more about Ecampus students on the
Student Profiles
page.
You can also view this YouTube video produced by OSU for NRDLC's BLM broadcast on April 15, 2009.