University Exploratory Studies Program (UESP)
UESP is the academic home at OSU for students who want to explore their major options before declaring. While we aren't a degree-granting major, UESP is similar to OSU's academic departments in that we provide support to assure that our students are making satisfactory progress toward a degree.  Our primary goal is to help our students get the information and feedback they need to make an informed decision about a major. Ecampus students who are unsure of which online major they want to pursue have the option of starting with UESP while they consider which academic pathway best fits their interests, values and abilities.

The Major Exploration Process
UESP and its advisors are very invested in our students having a successful exploration experience, and we promote frequent advisor-advisee contact as one avenue to this end.  We do not put an official time limit on how long students can stay in the program, but the goal is to get students connected with a major in a timely fashion. In other words, we are designed to be a temporary home for our students while they engage in an intentional exploration process that is based on this decision making model: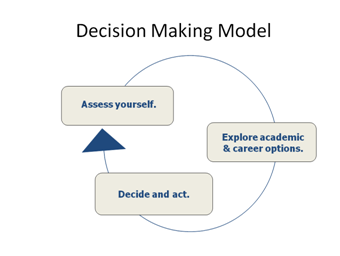 The first part of this process is self assessment, which translates into having a strong understanding of one's likes and dislikes, values, and skills and abilities.  UESP advisors dialogue with students about these traits as a way to help clarify them.  Many UESP students also opt to take ALS 114 Career Decision Making, a 2-credit course with specifically designed classroom activities around both self-assessment and the second part of the process, career and major research.  

Effective exploration is predicated on gathering information about options and thinking critically about those options.  For UESP students, much of this information gathering comes via academic experiences. UESP does not have a specific curriculum.  While in UESP, a given student's academic experiences are shaped by a couple of factors – university requirements and that student's interests. Regardless of what OSU degree a student ultimately pursues, he/she is required to complete 51 credits of Baccalaureate Core (general education) requirements as part of that degree.  The sheer breadth and depth of options in the Baccalaureate Core make it a wonderful site for exploration to occur.  When possible, we also encourage students to sample classes from the Ecampus major and minor areas they are considering.  

Exploration can and should also occur outside of the classroom.  Faculty, departmental advisors, working professionals, friends and family, other students, and career counselors in the Career Services office can provide much needed perspective to help with the decision making process.  Also, any OSU student can garner access to Discover, an online career exploration tool that we support in conjunction with other offices on campus.

Want to Learn More?
For more information: