Oregon State University Ecampus • OSU Degrees Online
---
Credits required
N/A
Oregon State University is on a quarter-term system. There are four quarters each year and classes are 11 weeks long.
Delivery
Online
You can complete all courses online. Some courses may require proctored exams in your local area.
Assess
The first part of this process is self-assessment, which translates into having a strong understanding of your likes and dislikes, values, skills and abilities. UESP advisors discuss these traits with you to help clarify them. Many UESP students also opt to take ALS 114 Career Decision Making, a 2-credit course online with specifically designed classroom activities around both self-assessment and the second part of the process – career and major research.
Explore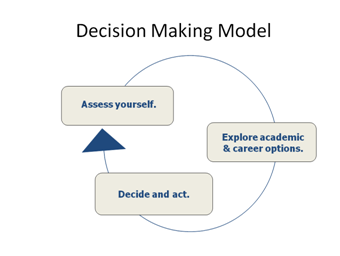 Effective exploration involves gathering information about options and thinking critically about them. Much of this assessment comes through academic experiences while completing your baccalaureate core requirements. The sheer breadth and depth of courses in the baccalaureate core make wonderful opportunities for exploration.
UESP does not have specific curriculum. When possible, we encourage students to sample classes from the Ecampus major and minor areas they are considering.
Exploration can and should also occur outside of the classroom. Faculty, departmental advisors, working professionals, friends and family, classmates and OSU Career Services counselors can provide much needed perspectives. You can also access a comprehensive web-based career-planning program that can help you learn more about yourself and the world of work
Decide
UESP serves as a liaison to help you get connected with your new major. That means getting you in touch with your program advisor. We either connect you with Ecampus student services or provide an advisor's name.
Decision-making is an ongoing process
Deciding on a major and acting upon that decision by declaring is a big step, but you'll continue to make choices within your major related to your interests, values, and skills.
For example, if your major has options, which one will you pursue? Will you have an internship? If so, what kind of experience best fits your interests? What skills do you want to continue to cultivate through your academic choices within your major?
Want to learn more?

Important dates
Winter term starts
Jan. 8, 2018
Spring term starts
April 2, 2018
See our academic calendar for our full quarter term schedule.
Degree details
* cost per credit and total cost are calculated using tuition per credit for the current academic year. It does not include associated fees, course materials, textbook expenses, and other expenses related to courses.
† You can complete all courses online. Some courses may require proctored exams in your local area.
Find application deadline
Ready to apply?
Once you've gathered the information you need to know before you apply to Oregon State University, take the next steps.