Oregon State University Ecampus • Degrees Online
Ecampus fact
24,000+ students worldwide
Oregon State Ecampus serves students in all 50 states and more than 50 countries.
Each year, our national reputation grows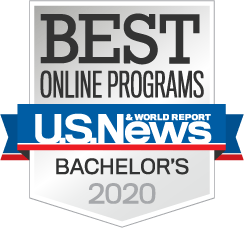 Oregon State Ecampus is widely considered one of America's best providers of online education. In January 2020, OSU's online bachelor's programs were ranked No. 5 in the nation by U.S. News & World Report, making it Ecampus' sixth straight year in the top 10.
The following honors have been bestowed upon Ecampus in recent years:
Why is OSU Ecampus one of the nation's best?
Our national prestige is based on rigorous criteria, which takes into consideration these factors and many others:
faculty credentials and training
student engagement
student services and technology
student retention rate
degree selection diversity
academic quality
Discover OSU's expertise in our online degree programs
Oregon State is widely regarded as a nationwide leader in many disciplines, and Ecampus delivers degree and certificate programs in many of them.
Agricultural sciences
Oregon State's College of Agricultural Sciences has been ranked No. 1 in the U.S. for its work and is Oregon's principal source of knowledge for agricultural and food systems. In 2020, OSU was further recognized as a world-class leader in the industry, ranking in the top 25 in an international survey of more than 3,000 universities. Earn an OSU bachelor's degree online in agricultural sciences, horticulture, or environmental economics and policy.
Business
Oregon State's College of Business is AACSB-accredited and is known for excellence and innovation. The college increasingly attracts high-achievers with particular excellence in areas such as accounting, business information systems, finance and marketing.
OSU's online bachelor's of business administration program features courses taught by faculty who have vast real-world business experience in the program's focus areas. At the graduate level, the Oregon State MBA is one of the nation's top-ranked online MBA programs. It's available in Corvallis and Portland, with three opportunities for you to complete your degree: online, fully in person or a blend of online and in person.
Engineering
Oregon State's College of Engineering offers master's degrees online in engineering management and radiation health physics, and in 2020 the programs were again recognized as being among the best of their kind in the nation – earning a No. 12 ranking from U.S. News & World Report.
Environmental sciences
Housed in the College of Earth, Ocean and Atmospheric Sciences, Oregon State's online and on-campus environmental sciences bachelor's programs have established high standards for excellence. In 2020, U.S. News & World Report ranked Oregon State No. 44 in the world in its Best Global Universities for Environment/Ecology list.
Fisheries and wildlife sciences
OSU is considered a worldwide leader in both fisheries and wildlife, and Ecampus enables you to study online for a B.S. in Fisheries and Wildlife Sciences, earn a Graduate Certificate in Fisheries Management or a Professional Science Master's in Fisheries and Wildlife Administration.
FW professors Stan Gregory and Brian Sidlauskas have each been honored in recent years for their outstanding work as educators.
Liberal arts
With more than a dozen undergraduate and graduate degree programs available online, Oregon State has been labeled America's best university when it comes to delivering a high-quality liberal arts education online.
Natural resources
We are America's natural resources university, and our historic commitment to studying and conserving the natural world continues today through instruction, research and service. Oregon State offers both a bachelor's program, a Master of Natural Resources program and a Graduate Certificate in Sustainable Natural Resources online.

Features and Navigation
Academic calendar
Currently it's winter term. See academic calendar for our quarter term schedule.

Spring term starts March 29.
Summer term starts June 21.
Ranked top 10 in the nation
OSU Ecampus earned a top 10 ranking for the sixth year in a row on a list of America's best online bachelor's programs. Learn more »