Oregon State University Ecampus • OSU Degrees Online
---
Ecampus fact
24,000+ students worldwide
Oregon State Ecampus serves students in all 50 states and more than 50 countries.

Taking Distance Education to Another Level:
Teaching "On the Road"
Ecampus students aren't the only ones who appreciate the flexibility of online learning; Ecampus faculty with hectic lives benefit as well. One such case, taken to the extreme, was the recent journey by OSU/Ecampus instructor Pam Van Londen.
Van Londen teaches WS 320 Gender and Technology (online), and CS 195 Beginning Web Authoring (on the Corvallis campus). From September 2005 to May 2006, Van Londen and her young daughter did what most busy families only dream of doing – exploring the US, one state at a time, in a motor home. And she never had to miss a class. We asked Van Londen a few questions about her trip…
What prompted you to sell your house, buy a motor home, and drive across America with your daughter?
Single mothers are always trying to figure out a way to spend more time with their children and with whatever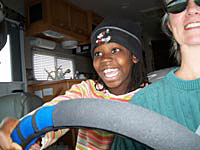 passion they have. Reinventing myself every few years is sometimes frightening, but necessary and gets me closer to meeting each goal I set for myself. So, after several conversations with friends about traveling by motor home around the country with the children, I realized the opportunity was right in front of me...Wow, it's amazing what can happen when you allow yourself to dream.
I sold almost everything we would not need for the trip and purchased small versions of dishes, games, and computers (we brought two laptops). All of our music was transferred to iPods so we could make physical room for schoolbooks.
What were the details and goals of your trip?

Our bon voyage party was scheduled for Labor Day weekend 2005 and a few days later we headed north. I finally had time to visit all the great sites of Seattle... Experimental Music Project, Seattle Art Museum, and the Space Needle. Then we traveled mostly south and east after a quick stop back in Corvallis. We hit all the major sites...a play in Ashland, Redwoods, San Francisco, Yosemite, Disneyland, Sedona, Grand Canyon, Monument Valley, Santa Fe, NASA, Gulf and Atlantic Coast beaches, Voting Rights Museum in Selma, MLK Center in Atlanta, Washington DC, NYC, and back home again. After eight months and 16,000 miles, (and thousands of dollars in gas), we arrived in Oregon again in May 2006.
My goals for the trip were many...Paint a lot of landscapes, study art at major and minor galleries (especially the art of women), homeschool my 4th grader in writing, history of the South and her people, and all major sciences; enrich (and teach) my Gender and Technology online course.
How did you stay "connected" to your students?
The motor home and other technologies we came across provided an opportunity to discuss technology that is perhaps new to my students, which I added to my travel blog (i-journey.us) as well as a new course blog (ws320.wordpress.com). For instance, what tools and techniques are involved in towing a 31-foot motor home down the Yosemite Canyon? (Answer...hydraulics, remotely-activated tail lights, and nerves of steel!)
Staying connected with students during the trip was straightforward...enough RV parks have wi-fi access to allow me to work from my RV's sofa. On rare occasions, I worked from Starbucks or Borders, where I could purchase connection time. And while in NYC, we used the public library. Every now and then, we'd use a community's city connection, such as in Brenham, TX. Though satellite Internet is readily available for motor homes, the cost is still prohibitive for the speed and connection quality.
What did you learn from your adventure?

I've learned that two gals can handle the LA freeway in a motor home even if the 30 amp power cord is swinging wildly out of its cargo unit. That even if the street sign pole is wedged between the bike and the bumper, we can still drive away unscathed. And that even if I burn out a transmission, I can get another one.
All mishaps aside, we learned that even though our country has incredible gifts, there are still too many families that will never see them. International visitors have more opportunity to see our great gifts than our own people. The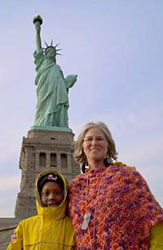 number of families still living in shacks in the rural South is a shock. Whatever our European and Asian neighbors are doing to afford long vacations abroad should be looked into.
Our land is a gift. Our people are a gift. Our freedom is a gift. We traveled 16,000 miles and walked where our greatest leaders walked, we tromped through the cotton fields where our families once toiled, and we read the documents that continue to inspire the world. I feel educating our youth is best done by experience, not always by reading and discussion. Travel is a great way to soak up knowledge and acquire skills but most of all, living, working, and playing among our diverse cultures enriches all of us. Don't be afraid to take the bus if you want to see the backbone of America.
Read Van Londen's trip blog at http://i-journey.us or her Women Studies course blog at http://ws320.wordpress.com. Gender and Technology is offered again fall, winter and spring terms.



Features and Navigation
Media inquiries
If your publication would like to feature an OSU Ecampus online program, student or instructor, please contact Tyler Hansen.
For journalists
Gather quick facts about OSU Ecampus, our history and students on our webpage for members of the media.
Award-winning electronic newsletter
Where Ecampus is making the news
Staff, student and course honors
Ranked top 10 in the nation
OSU Ecampus earned a top 10 ranking for the fifth year in a row on a list of America's best online bachelor's programs. Learn more »