Oregon State University Ecampus • OSU Degrees Online
---
Ecampus fact
24,000+ students worldwide
Oregon State Ecampus serves students in all 50 states and more than 50 countries.
Ecampus Student Spotlight

---
Giving back: Natural Resources degree changes a life and perhaps, the world.
Read more about getting your
Natural Resources degree online
through Ecampus...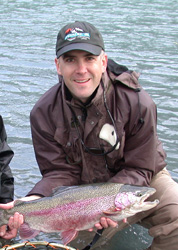 James Broderick fishing on the Kenai River, Alaska
Soon after 9/11, Jim Broderick sat in a drift boat in northwest Montana and wondered how he might leave his mark on the world...how could he leave it a better place than when he arrived?
The answer for Broderick was to make a career out of protecting and conserving the natural resources that were such a big part of his life. But to do this would require further education; Broderick had received his first degree in Sports Management and Communications 12 years earlier at the University of Michigan. Because he did not want to uproot his family, he began searching for schools that offered a Natural Resources degree online. That's when he discovered OSU Extended Campus.
"The primary reason I chose OSU Extended Campus was the ability to complete almost every degree requirement through one school," Broderick said. "I felt the comprehensive array of courses offered would provide me a broad background in natural resources while positioning me well for a future career in the field."
Broderick took online courses for 2 1/2 years to finish his Natural Resources degree. When asked what he liked about completing his education online Broderick admitted, like so many other distance students, to loving the freedom and flexibility online courses provide. This delivery method allowed him to work on his coursework from a remote fishing lodge in Alaska, an isolated beach in Hawaii, on a train en route to New York, and in the backcountry of Yellowstone National Park.
But Broderick said his online experience offered even more.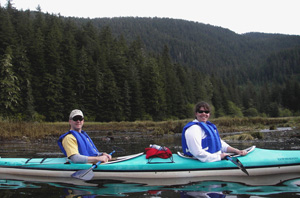 James and wife Becky sea kayaking in Sitka, Alaska
"The greatest aspect of an online education is the ability to participate as fully as one might desire. Online classes essentially meet or are "open" 24 hours a day, seven days a week. Fellow students are often encouraged to answer the questions posed by other students, thus reinforcing their own knowledge of a particular subject and providing what I found to be a vast array of "real world" experience."
Broderick, who now lives in Jackson, Wyoming with his wife Becky, finished his NR degree in June 2006. When asked how this degree has enhanced his life he replied, "While we have little hope of completely understanding the environment due to its immense complexity, learning as much as we can about it provides hope. I think my degree from OSU has provided me the basis for reaching my goal. As such, I am starting my own company in the field of natural resource management and conservation."


Features and Navigation
Media inquiries
If your publication would like to feature an OSU Ecampus online program, student or instructor, please contact Tyler Hansen.
For journalists
Gather quick facts about OSU Ecampus, our history and students on our webpage for members of the media.
Award-winning electronic newsletter
Where Ecampus is making the news
Staff, student and course honors
Ranked top 10 in the nation
OSU Ecampus earned a top 10 ranking for the fifth year in a row on a list of America's best online bachelor's programs. Learn more »