Oregon State University Ecampus • OSU Degrees Online
---
Bringing world views to OSU Extended Campus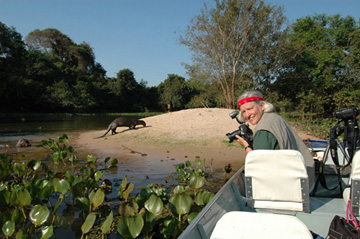 Sept. 2006 - Dr. Nicole Duplaix photographing the giant river otter in the Pantanal region of Brazil © Nicole Duplaix
Ecampus instructor Nicole Duplaix, who teaches FW 325 - Global Crises in Resource Ecology, received her master's and doctorate degrees from the University of Paris, France, where she conducted her doctoral research on the giant otters of Suriname. This was the first time this endangered species had been studied in the wild. Three decades later she is still studying these creatures; she now focuses on the giant otters throughout South America.
Duplaix is the founder and former chairman of the IUCN-SSC Otter Specialist Group. She co-founded TRAFFIC, an organization that monitors and documents international trade in endangered and protected species, with 14 offices around the world.
She also serves as scientific advisor to the Oceanic Society and has conducted field research on dolphins and coral reef monitoring at their research station in Belize.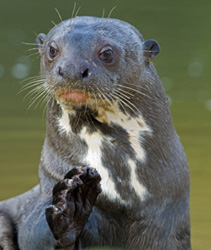 Pantanal otter © Nicole Duplaix
Duplaix's research was highlighted in National Geographic magazine. This opened the door for her to become a contract photographer with National Geographic Society's Image Collection. She has since published thousands of photographs of her work in environmental conservation around the world. Her photographs can be found not only in National Geographic Image Collection's website, but AllPosters.com and Getty Images.
Duplaix is happy to have recently landed in Oregon, which she considers one of the friendliest places in the U.S. Besides teaching for Ecampus, Dr. Duplaix's research travels over the next six months will include stints in Brazil, Korea, northern Australia and South Africa. And "visiting" her home in Paris.
About her goal in teaching she says, "I want to give students the facts and understanding of the problems affecting our planet today, and teach them to analyze these problems. The bottom line is for students to become informed and effective "activists," meaning to care enough to act on issues and know how to do it effectively."
Read more about Dr. Duplaix, including her first article in National Geographic, and her Ecampus course in FW 325.

Features and Navigation
Media inquiries
If your publication would like to feature an OSU Ecampus online program, student or instructor, please contact Tyler Hansen.
For journalists
Gather quick facts about OSU Ecampus, our history and students on our webpage for members of the media.
Award-winning electronic newsletter
Where Ecampus is making the news
Staff, student and course honors
Ranked top 10 in the nation
OSU Ecampus earned a top 10 ranking for the fifth year in a row on a list of America's best online bachelor's programs. Learn more »