Oregon State University Ecampus • OSU Degrees Online
---
Hear from Your Peers: Tips for Success from Gail Fullerton, student in GIScience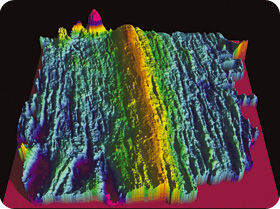 Gail Fullerton is pursuing a Graduate Certificate in Geographic Information Science. She just started her first OSU Ecampus courses when she was deployed with FEMA's Hazard Mitigation Cadre as a GIS Specialist to Lexington, Kentucky to assist with recovery operations following severe storms, flooding, mudslides and tornadoes.

Gail's initial work schedule was 12-hour shifts, Monday through Sunday. She says balancing her Ecampus courses with her work schedule was incredibly difficult.

Despite minor setbacks, Gail's story is exemplary, and other Ecampus students can learn from her experiences. Here's why:

1. Communication: While conducting disaster relief in Kentucky, Gail communicated with her professors about her newly-developed work demands. She did have to drop one course, which she took again fall term, 2010. But she managed to communicate and work with a professor in another course to receive an exceptional deadline extension due to her extreme and unique circumstances.

2. Get friendly on the discussion boards. Gail says most of her questions get answered when she posts them on course discussion boards. Other students often have the same questions, and she feels it saves faculty time and results in collaborative learning when questions and answers are shared through this channel.

3. Time management: Back in the Pacific Northwest, Gail still has a full schedule of classes and work. She says she loves taking online courses because she can get ahead if she works hard (and if no tornadoes or floods ravage the country). "Do the stuff you don't want to do, first," she advises. "When a task seems overwhelming, break it into smaller pieces. Focus on one small piece at a time; complete it. Then begin the next one. Before you know it, the entire task will be done."

4. Utilize your resources: OSU Ecampus students have the same resources available to them as on-campus students, from tech support to career services. Gail discovered this when she was stationed in the south and experienced a technical problem uploading a website for a course project. After a bit of stress, she called OSU's tech support. "They took remote control of my computer from across the country and fixed my problems within a couple of hours. It would have taken me days. I didn't realize all the services that were available to me through Ecampus."

5. Save. Re-Save. Back-up. No matter where you're located, back up your work. Gail says she invested in a portable hard drive, which makes hauling across the country a relatively easier task.

Features and Navigation
Media inquiries
If your publication would like to feature an OSU Ecampus online program, student or instructor, please contact Tyler Hansen.
For journalists
Gather quick facts about OSU Ecampus, our history and students on our webpage for members of the media.
Award-winning electronic newsletter
Where Ecampus is making the news
Staff, student and course honors
Ranked top 10 in the nation
OSU Ecampus earned a top 10 ranking for the fifth year in a row on a list of America's best online bachelor's programs. Learn more »