Oregon State University Ecampus • OSU Degrees Online
---
Explore Ecampus
Compare bachelor's degrees
Oregon State Ecampus delivers 25+ undergraduate degrees online.
New advisor helps online students find their footing before they start
By Tyler Hansen
OSU Ecampus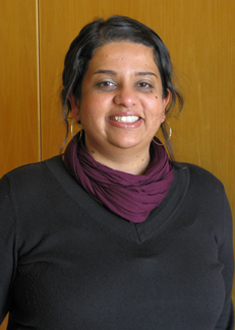 Few decisions in life are as important as the one to go to college or enroll in a new university. Decisions of that magnitude should always be accompanied by a consultant who helps you understand your options.
Enter Urjita Parekh, the new pre-admissions advisor for Oregon State University Ecampus and the person who assists students as they determine which educational path at OSU is best for them.
Understandably, many students – whether they're transferring from another institution, are returning for another degree or are new to the college scene entirely – have a lot of questions.
Thankfully, Urjita has a lot of answers.
"Pre-admissions advising gives you an opportunity to discuss more of your in-depth questions and concerns as you try to pick the right major program for you," she said.

We recently sat down with Urjita to find out more about how she helps students get started at OSU and what they need to know in the application process:
Applying to a university or transferring to a new institution can be an intimidating process, so how do you make the transition to OSU easier for Ecampus students?
My objective in working with Ecampus students is to help them take the first step toward achieving their educational goals. I want to help students discover Ecampus' programs which are good fits for their interests, aptitudes and career aspirations. I know that Ecampus students are active consumers of their educations.
I try to provide in-depth information about OSU admissions requirements and policies, the sometimes-confusing process of transferring credits from other institutions and the general education course requirements that apply to all OSU bachelor's degrees.
Because there are so many different pieces to the application process, what's the best place for a student to start?
I think the best place to start is by looking at Oregon State's admissions requirements. These requirements are a prerequisite for being admitted to OSU and for enrolling in any of our degree programs. Once a student has applied and has been admitted to OSU, Ecampus has outstanding academic advisors in each of our degree programs who will help students create academic plans that are attainable and focused on degree completion.
What advice would you give to someone who earned a lot of credits in one area of study, but now wants to change her major upon coming to OSU?
In this type of situation, I think it can often be helpful to work "backwards." I first recommend exploring your career objectives by conducting informational interviews with people in the fields in which you are interested. Once you narrow down your career objectives, I can work with you to find an Ecampus program which can both support your career goals and utilize some of your incoming transfer credits.
For students who are still exploring their career options, Ecampus has a career counselor, Kyle Cassady, who provides support and information through this discovery process.
So now that students know the role you play, how can they get in touch with you?
The first step is to contact Ecampus Student Services by calling 800-667-1465 or via email. Our specialists can provide you with information about our various degree programs and can help you determine if pre-admissions advising is right for you.
Any final words for prospective Ecampus students?
I think it's important for prospective students to know that there is a whole team of folks at Ecampus who are dedicated to helping you succeed. We know that Ecampus students often have numerous life priorities outside of school, and we value the life experiences that you bring to your education. If you determine that Ecampus is a good fit for you, we want you to know that we're here to help you achieve your goals.

Features and Navigation
Media inquiries
If your publication would like to feature an OSU Ecampus online program, student or instructor, please contact Tyler Hansen.
For journalists
Gather quick facts about OSU Ecampus, our history and students on our webpage for members of the media.
Award-winning electronic newsletter
Where Ecampus is making the news
Staff, student and course honors
Ranked top 10 in the nation
OSU Ecampus earned a top 10 ranking for the fifth year in a row on a list of America's best online bachelor's programs. Learn more »