Oregon State University Ecampus • OSU Degrees Online
---
Explore Ecampus
Compare bachelor's degrees
Oregon State Ecampus delivers 25+ undergraduate degrees online.


Published by Oregon State Ecampus
Oregon State University, Corvallis, Ore.; Vol. 15, No. 4
Spring edition — April 12, 2013
ecampus.oregonstate.edu
800-667-1465
Want Course Flash in your inbox? Subscribe to OSU E-News today!
---
Important dates and information
Registration for summer term begins this Sunday, and now is the time to start planning your summer with OSU Ecampus. This newsletter -- complete with course highlights and a list of new and improved Ecampus classes -- will help you do just that.

As a bonus, we also have information about an opportunity to study in Costa Rica this fall.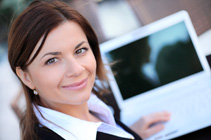 Summer term
Registration for all students begins Sunday, April 14
Most classes begin June 24
View the summer schedule of classes
Fall term
Priority registration begins May 19
Classes begin Sept. 30
View the Ecampus schedule of classes
---
65 years later, Gandhi's philosophy lives on
PHL 315 – Gandhi and Nonviolence



Few historical figures made as resounding an impact as Mohandas K. Gandhi, and this baccalaureate core class dissects how the activist and author used a nonviolent movement to help transform the world -- and how his philosophies still influence society today.

Using a mixture of texts, films, writing assignments and vibrant discussions, you and your classmates will conduct an analysis of Gandhi's role in the struggle for Indian independence in the 20th century. Instructor Stuart Ray Sarbacker, Ph.D., will guide your examination of the principles, practice, values and limitations of satyagraha, Gandhi's nonviolent resistance.

PHL 315 is offered during Session 1 (June 24-Sept. 6).

Download the sample course syllabus..
---
Food makes the world go 'round, but how?
FST 260 – Food Science and Technology in Western Culture



Food is the world's great equalizer: Everyone needs it, wants it and many of us never stop thinking about it. And in this bacc core course, you'll explore how food science and technology have impacted and will continue to influence our lives and lifestyles.

We often don't think about the history or science behind what's on our plate, but instructor Dan Smith will introduce you to milestones in the development of food technologies, the scientific basis of commercial food preservation techniques, new technologies that could impact our food supply and our lives, and plenty more.

FST 260 is offered during Session 4 (July 22-Aug. 16).

Download the sample course syllabus.
---
Student says grad school prep starts here
IST 420 – Graduate School Preparation

We won't tell you this class provides all the resources you'll need to successfully apply to graduate school. We'll let student Matt McMahen do it for us.



"This is a great course to help guide you from the exploration phase, planning, applying, funding and how to be successful once you're in graduate school," says McMahen, an OSU finance senior who took IST 420 through Ecampus last winter. "I would recommend it to anyone considering going to graduate school."

This class is designed to help guide students through a series of important steps: writing a personal statement, analyzing the options to finance your education, researching various programs of interest, selecting advisors/mentors who align with your interests, developing a professional presence and, ultimately, applying to a graduate program of your choice.

IST 420 is offered during Session 3 (June 24-Aug. 16).

Download the sample course syllabus.
---
Popular natural resources seminars return to OSU
Natural Resources Leadership Academy

Oregon State is America's leading natural resources university, and we're extending the expertise of our faculty this summer to graduate students and professionals in the field for a pair of weeklong leadership seminars.



The second annual Natural Resources Leadership Academy (NRLA) is scheduled for June 17-21 and June 24-28 on the OSU campus in Corvallis. Here are two reasons why you should sign up:

1. Check off your program requirements in a flash. Register for one week, or both, and earn 3 to 4 credits per course. The academy is also the perfect opportunity to make your first visit to the OSU campus if you haven't been here yet.

2. Make connections that will enhance your career. There will be ample opportunities to network with natural resources students and professionals in class, during group projects, social activities and field trips.

Pre-register for the academy today to save your spot.
---
A better grasp of Spanish grammar will broaden your horizons
SPAN 311 – Advanced Spanish Grammar



This course is so much more than its name suggests. After you complete the class, you'll be able to demonstrate an understanding and appreciation of the diversity of human experience -- historical, cultural and social -- and reflect on how your life experiences relate to the complex nature of the human condition in different places.

And, of course, your grasp of the Spanish language and its intricacies will enhance greatly under the instruction of Maralisa Morales Ortiz. A comprehensive review of Spanish grammar will stimulate your written communication skills, help you exchange opinions verbally and in writing, more readily remember grammatical structures and present information clearly and effectively.

Taught in Spanish, SPAN 311 is offered during Session 2 (June 24-July 19).
---
Study sustainability, then travel to Costa Rica this fall
FOR 365 -- Current Issues in Natural Resources

Want to see where your bananas and coffee come from -- and at the same time knock out a bacc core requirement? Well, here's your ticket to paradise.



Offered this fall, this hybrid class (part online, part face-to-face) explores current and historical human uses of resources and how we can develop sustainable solutions to curb resource consumption. The course will be conducted online for nine weeks before you and your classmates travel to Costa Rica for 11 days.

You'll tour fruit and coffee plantations, learn about sea turtle conservation and dive into the environmental, economic and social issues covered online in class.

Most of the costs of the class and the trip are allowable educational expenses and covered by financial aid. Contact instructor Ron Reuter for information. (Professor Reuter is currently on sabbatical, but include "FOR 365" in your email subject line, and he'll respond.).
---
Engage with Ecampus on the interwebs
The best way to stay in touch with Ecampus and hear about news and events is through our online communities on Facebook, Twitter and Google Plus. Learn more about the benefits of taking courses online, browse photos, ask questions, meet other Ecampus students and be the first to know about upcoming events, contests and more.
---
Find more new, updated online courses
Whether you need a bacc core course or an engaging elective, Ecampus offers plenty of new and updated online courses this term.

Take advantage of our step-by-step registration guide for a seamless process to enroll in courses, and don't forget to order your textbooks early from the OSU Beaver Store to receive them before the term starts.

Contact Ecampus Enrollment Services via email or call 800-667-1465 for more information.
Want Course Flash in your inbox? Subscribe today.

Features and Navigation
Media inquiries
If your publication would like to feature an OSU Ecampus online program, student or instructor, please contact Tyler Hansen.
For journalists
Gather quick facts about OSU Ecampus, our history and students on our webpage for members of the media.
Award-winning electronic newsletter
Where Ecampus is making the news
Staff, student and course honors
Ranked top 10 in the nation
OSU Ecampus earned a top 10 ranking for the fifth year in a row on a list of America's best online bachelor's programs. Learn more »