Oregon State University Ecampus • OSU Degrees Online
---
Ecampus fact
100+ subjects to study
Explore all of Oregon State's online course offerings.
2019 Oregon State University Graduation
Commencement is June 15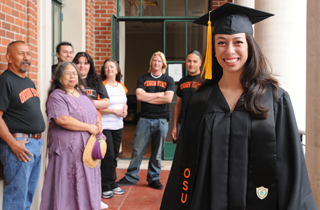 150th annual commencement
Oregon State University
10:30 a.m. Saturday, June 15, 2019
Reser Stadium
Visit the official OSU commencement page for complete event details and other important information.
OSU Ecampus graduation reception
Ecampus students and their families and friends are invited to attend an informal reception before commencement from 7:30 to 9 a.m. on June 15, in the Valley Library on campus. Enjoy a light breakfast and refreshments, pick up a graduation gift from us and meet Ecampus instructors, advisors and staff. You can come and go as you please.
Lineup for commencement will take place at 9 a.m. just outside on the Memorial Union Quad for undergraduate students and on The Valley Library quad for graduate students after the reception.
We can help cover your travel costs
If you are traveling to commencement from a distance greater than 30 miles from Corvallis, you are eligible to receive a travel award from Ecampus. The travel award can help you cover a portion of your travel costs. The deadline to apply is Friday, May 3.
Note: If you are chosen for a travel award, you may be selected to answer a couple of questions for a short video and/or have your photo taken at the reception. Portions of your answers, along with your photo, may be used for Ecampus marketing purposes including in print, web and video.
Find your way around campus
Oregon State's Corvallis campus can be tricky to navigate if it's your first time visiting. Use the map on this page to get a grasp on where to go for the Ecampus graduation reception, where you'll lineup as an undergraduate or graduate student, and where the commencement ceremony will take place.
Send us an email if you have any questions, or check out the full campus map if you want to explore more places at OSU.
Order your cap, gown and announcements
All graduation candidates must wear a traditional cap and gown to the commencement ceremony. You can order yours online beginning in mid-April through the OSU Beaver Store.
Ecampus graduation archive and graduates' stories
Browse our year-by-year archive of graduation coverage, complete with video recaps of the Ecampus reception, news stories and lists of all graduate names. And make sure you check out our catalog of articles and video profiles on Ecampus alumni.

Features and Navigation
Academic calendar
Currently it's spring term. See academic calendar for our quarter term schedule.

Summer term starts June 24.
Fall term starts Sept. 25.
OSU Ecampus earned a top 10 ranking for the fifth year in a row on a list of America's best online bachelor's programs. Learn more »