Oregon State University Ecampus • OSU Degrees Online
---
Explore Ecampus
Compare bachelor's degrees
Oregon State Ecampus delivers 25+ undergraduate degrees online.
Ecampus E-News Summer 2013

Published by: Oregon State Ecampus
Oregon State University, Corvallis, Ore., Vol. 15, No. 4
Winter edition – July 8, 2013
ecampus.oregonstate.edu
800-667-1465
---
Our favorite event honors nearly 400 grads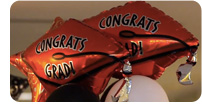 We're admittedly biased, but we think the best day of the year is always a Saturday in mid-June. This year was no different.

On June 15, Oregon State Ecampus held a reception in honor of the 386 students who earned their degrees online from OSU this year, and 75 of those new graduates traveled to Corvallis with their families and friends to take part in the festivities.

Here are some highlights from the event:
Congratulations again to the Ecampus class of 2013, and we look forward to celebrating the life-changing accomplishments of hundreds more students in 2014..
---
New MBA track offers a career advantage

Our research tells us which degree programs pique your interest most, and we're excited to unveil another high-quality offering that gives students an opportunity to enhance their careers.

In partnership with OSU's College of Business, Ecampus now offers an MBA Executive Leadership track that combines online learning with in-person meetings in Portland. The hybrid track is specifically designed for those with a desire to lead in the world of modern business.

You can get an overview of the program and its curriculum while also listening to MBA staff answer questions in a webinar that was conducted last week.

The program is accepting students for fall term, so go online for information on how to apply.
---
Take summer classes and graduate sooner

Here's why summer with Ecampus is so great: You can go on vacation and still take care of degree requirements. We'll come with you.

With that in mind, there is still time to sign up for either (or both) of the two remaining sessions of OSU's summer quarter. Session 4 is a four-week term that runs from July 22 to Aug. 16, while the three-week Session 5 lasts from Aug. 19 to Sept. 6.

Take a look at the Ecampus schedule of classes and register today.

---
Alumna uses education for the greater good

If you've ever wondered how an OSU education can be applied directly to your daily life, look no further than the example set by Mary Ellen Hurley.

Hurley graduated last month with a B.S. in Sociology, but even before then she used the knowledge she gained in her rural environmental sociology coursework to impact her community on the island of Kauai.

"When I went back to school, I wanted a degree that would get me more than just a job," she said. "I wanted a career where I could go out and help people."

Read how Hurley overcame a lifetime of health issues and decades away from the classroom to earn her college degree and build a rewarding career in community outreach.
---
Natural resources academy a big hit with Ecampus students

OSU's second annual Natural Resources Leadership Academy was a major success last month, with nearly 50 graduate students and natural resources professionals from all over the map in attendance.

Eight Ecampus students were among the attendees for one or both weeks of the academy, traveling to Oregon from places such as Indiana and Louisiana -- and earning as many as 7 graduate credits in just two weeks.

And when they weren't engaged in enriching classroom discussions, many went on field trips to nearby areas. Take a look at the photo gallery from the Week 1 excursion to the city of Bend, where students and instructors visited several sites in the Deschutes River Watershed Project and heard experts discuss key natural resources issues.
---
Immerse yourself in the OSU community

The best way to stay in touch with Ecampus and hear about news and events is through our online communities on Facebook, Twitter and Google Plus. Learn more about the benefits of taking courses online, browse photos, ask questions, meet other Ecampus students and be the first to know about upcoming events, contests and more.
---
Thanks for reading Ecampus E-News. Want E-News in your inbox? Subscribe to Ecampus E-News today!

Features and Navigation
Media inquiries
If your publication would like to feature an OSU Ecampus online program, student or instructor, please contact Tyler Hansen.
For journalists
Gather quick facts about OSU Ecampus, our history and students on our webpage for members of the media.
Award-winning electronic newsletter
Where Ecampus is making the news
Staff, student and course honors
Ranked top 10 in the nation
OSU Ecampus earned a top 10 ranking for the fifth year in a row on a list of America's best online bachelor's programs. Learn more »