Oregon State University Ecampus • OSU Degrees Online
---
Explore Ecampus
Take a test drive
Preview online learning at Oregon State with our course demo.

Ecampus E-News
"Your Electronic Link to Learning at a Distance"
Published by: OSU Extended Campus
Oregon State University, Corvallis, Oregon; Vol. 8, #3
March 29, 2006
http://ecampus.oregonstate.edu --> Check us out!
800-667-1465
---
IN THIS ISSUE ~ Spring 2006
- Spring Term Notables
- Graduation 2006 – Have You Applied for Graduation Yet?
- E-News Survey Results – Thanks for Your Input!
- New and Highlighted Courses for Spring 2006
- Important Information on Ecampus Reception and Travel Awards
- OSU K-12 Partners with Siletz Valley Early College Academy
- Summer Session Registration and Summer-Only Program Highlights
- Ecampus Grads - Where Are They Now?
- Keep Your Data Safe – Computer Security Tips
- A History of Traditions and Changes, OSU Commencement
---
CALENDAR
Please keep the following dates and deadlines in mind for spring term:
Until April 2: Registration for spring term continues without late fee
April 3: Spring term classes begin
April 3: Late registration for spring term begins ($50 late fee assessed)
April 9: Last day to add a class by Web
April 5: Tuition bills sent
April 14, 5 p.m.: Last day to register or add a class (instructor and dept. approval required)
April 14, 11:55 p.m.: Last day to drop a class by Web
April 17: Begin $100 late registration fee for spring
April 17: Registration begins for Summer Session
May 19, 5 p.m.: Last day to change to or from S/U grading (approval required)
May 19, 11:55 p.m.: Last day to withdraw from a course (W entered on transcript)
May 29: Memorial Day holiday
June 12-16: Finals week
June 16: End of spring term
June 18: Commencement
June 21: Grades available via Web or kiosk
---
BULLETIN BOARD
- You can still register for spring term courses through April 2 with no late fee. Visit our online Schedule of Classes and select spring term to see what courses are still available.
- Graduation 2006: Have You Applied for Graduation Yet?
According to the registrar's office, prospective graduates should apply for graduation two terms prior to when they plan on finishing: http://oregonstate.edu/registrar/ApplyGrad.html
Undergraduates - If you plan on graduating spring or summer term and have not yet applied for graduation, contact the registrar's office at registrars@oregonstate.edu or 800-291-4192, option 2 as soon as possible to get the graduation audit process started.
Graduate Students - Contact your academic advisor or the OSU Graduate School ASAP at graduate.school@oregonstate.edu or 541-737-4881.
- E-News Survey Winner and Results
Thanks to all of you who filled out the short survey we sent via our winter issue. And congratulations to Susan Gilmont of Newport, Oregon who won a $50 OSU Bookstore gift certificate in a random drawing of survey respondents!
FYI - Here are a few tidbits of the information we gathered:
47% of E-News readers are prospective students and 30% are current Ecampus students; the majority of Ecampus students reading E-News are seeking Liberal Studies degrees with Natural Resources close behind; 63% of survey respondents have never taken courses on-site in Corvallis; 44% of respondents use broadband cable to connect to the Internet, 31% use DSL and 21% are on dial-up; 55% prefer the HTML version of E-News while 45% prefer to read the plain text version; 73% of respondents use Internet Explorer as their browser of choice and 12% use Firefox; 36% of readers access their email via Outlook, and 46% use Web-based mail.
---
COURSE HIGHLIGHTS
- New Spring Courses and Highlights
Visit the spring issue of Course Flash for more new courses…
ANS 485 Consensus and Natural Resources Issues (3)
New for spring 2006! Gain skills that will be valuable to the workplace when dealing with potentially contentious natural resources issues. Course begins with an overview of recent fisheries, forestry, land-use change, and urban sprawl issues from varying perspectives. Groups will explore a natural resources topic using systems practice, and strive for consensus on solutions to their issue. Crosslisted as FW 485/FW 585 and SOC 485/SOC 585. (Bacc Core Course)
ANTH 319 Peoples of the World: Japan and Korea (3)
New for spring 2006! Learn about important issues of cultural and social life in Japan and South Korea, from the point of view of anthropologists and native Japanese and Koreans. Gain knowledge and the ability to evaluate North Korea in regard to its intended societal goals, its ensuing problems with famine, and international response to the nuclear question. Emphasis is placed on dispelling stereotypic images, both past and present. (Bacc Core Course)
GEO 350 Population Geography (3)
Learn the basic vocabulary, concepts and themes of population geography. Use critical thinking skills to evaluate competing claims regarding population projections, family planning programs, national and international population policies. Analyze contemporary global population issues, such as migration and urbanization. Explain social, economic, political and environmental implications of population change. GEO 350 is open to all juniors and seniors, and does not require any particular mathematics background.
WS 230 Women in the Movies (3)
Now a Bacc Core course! This class examines ways women are depicted in the movies and how those depictions are created by, and create, larger social constructions of women. Special attention is given to the intersections of race, class, sexual identity, and age with gender. Formerly WS 299.
WS 320 Gender and Technology (3)
This course explores women's contributions and focuses in technology fields, and analyzes the gendered nature of technology. By the end of the class, you will have installed a blog, edited a wiki, built a database, assessed your finances, and improved your online communications style.
"I just wanted to say that [WS 320] was a breath of fresh air, and it far exceeded my expectations. I enjoyed the course focusing on project work, and I loved being pushed past my own comfort zone to learn and begin working with new technologies." Student from WS 320, winter 2006.
---
ECAMPUS NEWS
- Graduating This Spring? Attending Commencement? This is a Must-Read!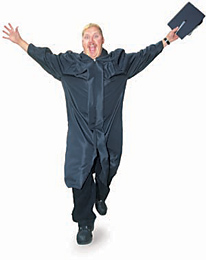 OSU Graduation 2006 is swiftly approaching! If you are graduating this spring or summer term and plan to attend commencement in Corvallis, please read the following important information:
Contact Us
We ask that you please contact ecampus@oregonstate.edu or call us at 800-667-1465 so we can make sure you're on our Ecampus graduation list. If you have already graduated this past year (since fall 2005), please contact us so we can add you to our graduation website in June!
General Graduation/Commencement Information
Can be found on http://oregonstate.edu/commencement/. More information will appear on the site as it becomes available.
Caps and Gowns
Ecampus distance students who are planning on attending commencement can order their regalia by phone or online after April 27. Contact the OSU Bookstore by calling 541-737-0034 or 800-595-0357, or by emailing Trish Parker at trishp@osubookstore.com. The Bookstore can hold the regalia for you or ship it to you for a $10 shipping fee. Graduation announcements can be ordered online at www.jostens.com.
Graduation Travel Award
OSU Extended Campus is again providing travel awards to selected Ecampus students who travel to commencement. Up to $400 for out-of-state students, and $200 for in-state students in travel reimbursement funds will be awarded. Note: Students who travel from within 30 miles of campus do not qualify. To qualify for the travel award funds, winners must agree to let Ecampus use their quotes and photographs for marketing purposes. To apply for the travel award, Ecampus students should visit this link and fill out the three-question form: http://ecampus.oregonstate.edu/forms/TravReimb.aspx
Ecampus Graduation Reception
All Ecampus students attending commencement are invited to attend an informal reception before graduation on Sunday, June 18 from 12:00 – 1:00 in the student lounge (located at the east end of the Memorial Union building near the OSU Bookstore). Refreshments will be provided, and several Ecampus staff, faculty and advisors will be on hand to meet you and congratulate you in person!
- OSU K-12 Partners with Siletz Valley Early College Academy
During a ceremony on February 13, 2006, OSU K-12 Online officials signed a partnership agreement to help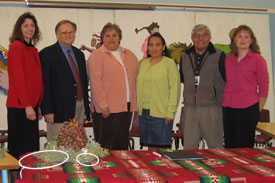 establish the Siletz Valley Early College Academy, a new charter high school located in Siletz, Oregon on the Confederated Tribes of the Siletz Indians land.
Per the agreement, OSU K-12 Online will develop and deliver approximately 45 new online high school credit courses to help the academy fulfill its curriculum requirements. These courses will supplement face-to-face courses taught onsite at the high school, and will be developed and taught by highly qualified high school teachers to meet Oregon Content Standards and American Indian Content Standards. The courses will also help prepare students for the rigors of college courses.
The K-12 Online program, part of OSU Extended Campus P-12 Outreach, offers accredited online courses for middle school and high school students, which often supplement gaps in local program offerings. The Siletz Valley Early College Academy courses will benefit not only Native American students, but will be available to high school students everywhere. The academy will open in the fall of 2006.
For more information about this innovative program, see a recent news article:
http://www.newportnewstimes.com/articles/2006/02/15/news/news05.txt
- Summer Session Registration and Summer-Only Program Highlights
Summer Session registration begins Monday, April 17. Check out these unique opportunities offered during Summer Session!
The Wallowa Resources Field Program
This five-course field program is designed to give undergraduates and professionals hands-on experience in dealing with current issues in natural resources. This program on sustainable resource management and community-based forestry is taught entirely in Wallowa County in northeastern Oregon, and is offered June 19 - September 1, 2006. For more details: http://summer.oregonstate.edu/courses/wallowa/
Live and study on the Oregon Coast!
Take classes at the OSU Hatfield Marine Science Center in Newport, Oregon. All courses in the Summer Program in Marine & Environmental Studies are hands-on marine science courses taught by experts in the field in intensive one- to two-week formats (3-4 quarter credits each). Most courses start on June 26, 2006. More information is available at: http://summer.oregonstate.edu/courses/hatfield/
A Taste of College for High Schoolers
High school students can get a head start on college by attending A Taste of College, the two-week summer residential program offered through OSU Extended Campus P-12 Outreach. High school students, grades 10-12, will stay on-campus in a residence hall, attend college classes, meet with OSU advisors, visit Hatfield Marine Science Center in Newport, and earn two college credits. Participants do not need to be Oregon residents. For more information, visit: http://k12online.oregonstate.edu/tastecollege.
---
STUDENT SPOTLIGHT
Ecampus Grads…Where are They Now? Rebekah Porter, BS Liberal Studies – 2006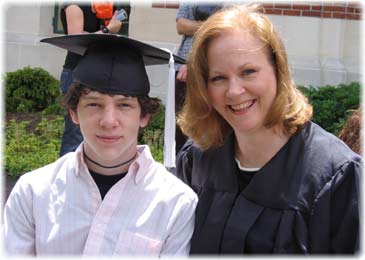 Rebekah Porter at commencement with son Joseph
When Rebekah Porter of Helena, Alabama, graduated with her OSU Liberal Studies degree through Extended Campus in June 2006, she and her family made a holiday of the event. While Porter and her husband Will flew from Alabama to attend commencement, her parents and her two children, Joseph, 16 and Maggie, 10, drove to Oregon following the route of the Oregon Trail. Porter's uncle and sister also attended commencement ceremonies in Oregon.
Why such a big deal? Finishing her bachelor's degree was just the first step in Porter's educational goal of becoming a lawyer. Porter, who has been working as a legal secretary for the past eight years, was recently accepted to law school at Thomas M. Cooley Law School in Lansing, Michigan. She'll begin her next three years of study in fall 2006.

"My dream of finishing my undergraduate degree became a launching pad for other dreams I didn't even know I had. I quickly gained a thirst and enthusiasm for higher academic pursuits beyond what I was working on through Ecampus."
Porter's story is representative of many Ecampus students who return to college as adults. She had attended college after high school, only to leave when she got married and began a family. When she decided to finish her degree via the Web, she searched for public universities online. She was looking for a traditional, major university; she didn't feel the private online university approach was for her.
What helped her decide on Oregon State University was the fact that she had fallen in love with Oregon while visiting the state with family. Porter transferred her credits to OSU at the senior level, and chose Liberal Studies as it was the most direct route for her to finish her degree and go on to law school.
"You can be sure I'm Ecampus's number one fan because it perfectly fit my life, allowing me to work full time along with a full-time course load. Ecampus also helped me see more than just the immediate future – I saw the possibilities past that, and an endless array of choices out there for me for the taking."
Rebekah Porter is excited and proud to have been accepted at Thomas M. Cooley. And she feels lucky to have the kind of supportive family that will uproot itself and move to Michigan for the next three years to help her fulfill her dream of becoming a lawyer.
Then again, that's not surprising, considering the lengths they went to see her graduate!
---
TECH TIPS
- Six Tips for Home Computer Protection
by Ian Cavalier, Ecampus Website and Design Specialist
Here are six important things you can do to protect your home computer, your personal information, and your confidential electronic documents.
* Use antivirus protection
Make sure you have up-to-date antivirus software, such as Norton (Symantec) or McAfee, installed on your computer. Reason: New viruses are discovered daily and without the ability for your computer to detect them, your computer is vulnerable to virus infections and other types of malicious code that could result in operating system attacks, identity theft by hackers, and/or the destruction of your electronic files.
* Know your source
Before opening an email attachment, make sure you are confident of the source. Beware of email spoofing and phishing techniques used by fraudulent individuals posing as reputable companies. Reason: These scammers attempt to trick users into releasing sensitive personal and financial information. The spoofing of banks, credit card companies, online merchants, eBay, and PayPal is common. Also, never run or install a program unless you know it to be authored by a person or company that you trust.
* Use a firewall
Install a software firewall to protect your computer from intrusions by hackers; there are many free and inexpensive programs available, such as Norton Personal Firewall, ZoneAlarm, and BlackICE. A hardware firewall is also recommended as extra protection for any home network. Reason: Intruders are constantly scanning home user systems for known vulnerabilities. Firewalls are especially important for broadband (cable, DSL) users because those connections are "always on" and are most at risk due to static or infrequently changing IP addresses.
* Maintain software updates
Regularly download and install software patches for your operating system (e.g. Windows) and applications. Reason: These patches are often released due to security vulnerabilities. A recent example is the critical Flash media player flaw reported by Adobe. If you have not updated to the patched 8.0.24.0 edition of Flash, you may be vulnerable to drive-by downloads (i.e. you may automatically download malicious files without even knowing it). Upgrade your Flash player now: http://www.macromedia.com/go/getflashplayer
* Backup your data
Regularly backup your files to an external storage drive, CD, or DVD. Reason: Hard drives and other electronic media can become physically damaged, destroyed, stolen, or lost.
* Use a surge suppressor
Plug all of your computer equipment into a surge protector or uninterruptible power supply (UPS) instead of a regular power strip or outlet. Reason: Power surges, blackouts, and brownouts can cause physical damage to hard drives and other electronic components.
For more detailed tips on home computer protection, see http://www.cert.org/homeusers/HomeComputerSecurity/ or http://www.microsoft.com/athome/security/
---
OSU ARCHIVES
- OSU Commencement – A History of Traditions and Changes
Facts and photo courtesy OSU Archives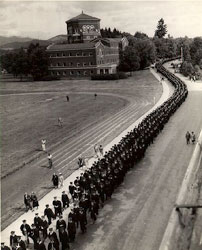 Processional of graduates, OSU Commencement, 1952
1889 - First commencement held on the current campus was in the College Chapel in the Administration Building (now Benton Hall, home of the Music Dept.).
1907 - First professional degree (Master in Engineering) was awarded.

1935 - First Ph.D. degrees were awarded.
1950 - Commencement exercises were held in Gill Coliseum for the first time.
1950 - Families were requested not to bring babies or small children to baccalaureate services or commencement exercises. Childcare was provided in the Orchard Street Nursery School for a charge of 50 cents per day.
1962 - Sunday afternoon commencement ceremonies began.
1970 - Controversy erupted in 1970, when the university implemented a Faculty Senate requirement for seniors to take finals. This meant that commencement was moved back to the Sunday after finals week and that blank diplomas were given during the ceremony. A boycott of commencement was called by the student body. Ultimately the administration rescinded the policy.
1989 - The policy on seniors taking finals was re-implemented in 1989. However, great efforts by the Registrar's office enable most students to get their own diploma at the ceremony.
1991 - Eremurus flowers, grown especially for OSU commencement by the A.J. Stone Family of Amity, Oregon, decorated the Coliseum (and previously the Men's Gymnasium) from 1948 through 1991. The flowers are commonly called Desert Candle or Fox-tail Lily. Beginning in 1992, orange gladiolas have been used.
1993 - Bagpipers were first used in the procession.
2001 - First outdoor commencement ceremony in Reser Stadium held on June 17.


---
Thank you for reading this edition of OSU E-News. Please send any comments or questions to the editor: Linda.Wallace@oregonstate.edu. To customize your subscription, or unsubscribe from this newsletter, please go to: http://ecampus.oregonstate.edu/enews

OSU Extended Campus
http://ecampus.oregonstate.edu
800-667-1465

Features and Navigation
Media inquiries
If your publication would like to feature an OSU Ecampus online program, student or instructor, please contact Tyler Hansen.
For journalists
Gather quick facts about OSU Ecampus, our history and students on our webpage for members of the media.
Award-winning electronic newsletter
Where Ecampus is making the news
Staff, student and course honors
Ranked top 10 in the nation
OSU Ecampus earned a top 10 ranking for the fifth year in a row on a list of America's best online bachelor's programs. Learn more »