Oregon State University Ecampus • OSU Degrees Online
---
Ecampus fact
1,300+ classes online
Explore all of Oregon State's online course offerings.

OSU E-News
"Your Electronic Link to Learning at a Distance"
Published by: OSU Extended Campus
Oregon State University, Corvallis, Oregon; Vol. 6, #8
December 29, 2004
http://ecampus.oregonstate.edu --> Check us out!
800-667-1465
Celebrate the New Year by stimulating your mind - there's still time to register for winter term courses! Happy New Year and best wishes for good health and happiness. (E-mail your feedback and ideas for E-News to the editor at Linda.Wallace@oregonstate.edu.)
---
IN THIS ISSUE ~ Winter 2005
- Winter Term Notables
- It's Not Too Late to Register for Winter
- Enrollment Coordinator to Visit Community Colleges
- Tuition Bills Go Electronic
- Career Services Website, Updates
- About Browsers, and Checking Your System
- Tips for Beginning Your Classes
- New MetaFind Feature at the Library
- New Professional Certificate in Geographic Information Science
- OSU K-12 Online Offers New Courses
- Meet an Online OSU Philosophy Instructor
- Want to get Healthy? Then Get a Move On!
- Beavers Dominate 38-21 in Insight Bowl
---
CALENDAR
Please keep the following dates and deadlines in mind for winter term:
December 31: New Year's Holiday observed (campus closed)
January 1: Federal financial aid forms accepted http://oregonstate.edu/admin/finaid/
January 3: Winter term classes begin. (See "Tips" article below for additional information.)
January 3: Late registration begins ($50 late fee assessed)
January 9: Last day to add a class by Web
January 14, 5 p.m.: Last day to register or add a class (requires instructor and dept. approval)
January 14, 11:55 p.m.: Last day to drop a class by Web
January 17: Martin Luther King Day observed (campus closed)
February 18: Last day to withdraw from a course (W grade entered)
March 11: Last day for total withdrawal from the university
March 7-11: Dead week
March 14 - 18: Finals week
March 18: End of winter term
March 23: Grades available via Web or kiosk
---
BULLETIN BOARD
- It's Not Too Late to Register for Winter
You can still register for winter term classes, without a late fee, through January 2. Select winter term from our online Schedule of Classes to see what's still available: http://ecampus.oregonstate.edu/soc/default.htm or check out the Course Flash page for new and interesting courses for winter term:
http://ecampus.oregonstate.edu/enews/course-flash/winter_05.htm

- Enrollment Coordinator to Visit Community Colleges
Our Extended Campus enrollment coordinator, Kay Bell, will be heading out on the annual Oregon Transfer Fair Tour soon, so if you live near a community college campus listed below and would like to discuss issues face to face, now's your chance! Kay can assist you with the following: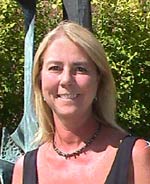 * Choosing an Ecampus online degree program or course(s)
* Degree planning strategies
* Admissions and registration procedures
* Ecampus student services
Kay Bell - Ecampus
Enrollment Coordinator
Transfer Fair Schedule - Please check with the local campus transfer counseling office for the times of the fairs.
Portland CC - Sylvania campus, Mon., January 24
Portland CC - Rock Creek campus, Wed., January 26
Clackamas CC - Oregon City, Thur., January 27
Clatsop CC - Astoria, Mon., January 31
Tillamook Bay CC - Tillamook, Tues., February 1
Oregon Coast CC - Newport, Wed., February 2
Linn-Benton CC - Albany, Thurs., February 3
Mt Hood CC - Gresham, Mon., February 7
Chemeketa CC - Salem, Tues., February 8
Columbia Gorge CC - The Dalles, Wed., February 9
Lane CC - Eugene, Thurs., February 10
Klamath CC - Klamath Falls, Mon., February 14
Umpqua CC - Roseburg, Tues., February 15
Rogue CC - Grants Pass, Wed., February 16, a.m.
Rogue CC - Medford, Wed., February 16, p.m.
Southwestern CC - Coos Bay, Thurs., February 17
Central Oregon CC - Bend, Tues., February 22
Treasure Valley CC - Ontario, Wed., February 23
Blue Mountain CC - Pendleton, Thurs., February 24
If you have questions or need assistance from Kay, contact her at: 800-667-1465, 503-725-2555, or kay.bell@oregonstate.edu.

- Tuition Bills Go Electronic
Soon you'll see a change in the way your tuition bill arrives. Beginning winter term, OSU will start billing you electronically through your ONID account. Because this is a new process, this term you'll receive both an electronic bill as well as a paper statement through the U.S. mail. These will go out the end of the second week of the term.
To make sure you are keeping track of charges that may apply to your account, be sure to review the OSU Academic Calendar and Tuition and Fees information.
http://ecampus.oregonstate.edu/services/registration/academic-calendar.htm http://ecampus.oregonstate.edu/services/tuition/default.htm

- Career Services Website, Updates
Ecampus is working with OSU Career Services to bring you more opportunities for online career services. Check out the Career Services website for job search tools, career information for your degree, opportunities for interviews (practice or the real thing), and advising from their career counselors. Career Services now has extended hours until 7:00 p.m. on Wednesday evenings, starting January 5.
For more information, visit http://oregonstate.edu/career or contact 541-737-4085. For a complete listing of events and workshops for Winter Term click on:
http://oregonstate.edu/career/fair/CAREER%20CONNECTIONS%20Winter%2005.doc

---
TECH TIPS
- About Browsers, and Checking Your System
by John Thompson, Ecampus Web Systems Coordinator
How do YOU browse? Hey, on today's World Wide Web that is a valid question. Much has changed since the days when most of us used either Internet Explorer or Netscape or perhaps a preview or beta of a new version once in a while. Now we can choose from any number of browsers. You might be using Mozilla, or Opera, or the increasingly popular Firefox, just to mention a few. AOL even has a test browser available which allows you to select Internet Explorer or Netscape by using a drop-down menu. Each browser has its own features and limitations. On the plus side, browser providers are working to develop more "Standards Compliant" browsers which means that sites will appear and work as intended in most modern browsers.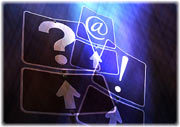 So which browser will work for online learning? Do you need to upgrade your browser or your computer's operating system? Now there is an easy way to find out! Just visit our new Computer Check section on our website, and follow the instructions:
http://ecampus.oregonstate.edu/services/testing-your-computer.htm
This new section will look at the computer system you are currently using to make sure that you have a new enough browser and operating system for your online course(s). This check will also look to see if you will allow pop-ups and if you have Java and RealPlayer that may be needed for some courses.
When you run the check, your system will be graded on a pass/fail basis. Once you have received passing grades, you are ready to learn online. If you are using a browser which does not pass, but you feel it should, please drop me a line and let me know what brand and version it is. I will test it to see if it will work and add it as a "pass" if it does. John.Thompson@oregonstate.edu
---
STUDENT RESOURCES
- Tips for Beginning Your Classes
by Brett Jeter, Ecampus Student Services Program Specialist
Welcome to OSU Extended Campus for Winter Term 2005! Our courses meet online in the Blackboard portal system. In Blackboard you will find course information and assignments, and interact with instructors and classmates. If you need help getting into Blackboard, be sure to check out our "Starting Your Course" section to help guide you through the process. http://ecampus.oregonstate.edu/services/start/default.htm
As you are preparing for the term or in the process of taking your courses, you should be aware of deadlines set by the university in regard to your courses. For more information, please review OSU's Academic Calendar. http://ecampus.oregonstate.edu/services/registration/academic-calendar.htm
OSU follows a "Tuition and Fee Reduction Schedule" for any refund for course tuition. If you need to drop or withdraw from a course, make sure you look over the information on the following page about your possible refund. http://ecampus.oregonstate.edu/services/tuition/fee_reduction_schedule.htm
Please refer to our website http://ecampus.oregonstate.edu and the Student Services Center resource page http://ecampus.oregonstate.edu/services/student-services/default.htm for services that will help you succeed in your online education. Our website also features a new Online Communication Center, "Ask Ecampus," with live chat, a searchable knowledge base, and forums. If you have additional questions or need help finding information, you can call us toll free at 800-667-1465 or e-mail ecampus@oregonstate.edu.

- New MetaFind Feature at the Library
by Maureen Kelly, Extended Campus Librarian
MetaFind is a new, experimental search engine that allows you to simultaneously search multiple library databases. Use it to find which databases are best for your research, or to do a quick search to find a few items. Enter keywords in the MetaFind box on the library home page, oasis.oregonstate.edu/search~S12/ to search across five databases: The OSU Libraries Catalog, the Oregonian newspaper, Academic Search Premier, LexisNexis Academic (major national newspapers) and Business Source Premier.
For subject specific research, click on the Advanced MetaFind button at the top of the MetaFind page. From the Advanced search screen you can search all databases in a category by checking the box next to the heading, such as agriculture or education, or choose individual databases within categories. Uncheck the OSU Libraries if you do not want to include books.
If you are doing in-depth research, use MetaFind to identify the best databases for your topic and then search those databases individually. Each database has its own vocabulary and interface; keywords that work well in one database may not work in another. Check the subject headings to see which terms get the best hits in a specific database. Keep in mind that some important databases are not currently available through MetaFind, such as PsycINFO and BIOSIS.
MetaFind is a work in progress, and the library welcomes your feedback. Click on the "Tell us what you think!" link at the top of the MetaFind page to give feedback on this new tool.
---
ECAMPUS NEWS
- New Professional Certificate in Geographic Information Science
The use of GIScience technologies, including but not limited to GIS (Geographic Information Systems), has become pervasive throughout the scientific community, natural resource management, government, industry, and business. Launched this past fall, the GIScience professional certificate from OSU is designed to provide in-career professionals or continuing students with an introduction to GIScience technologies.
Courses taken for the certificate may enhance and expand existing skills, or help prepare participants for a completely new career that involves working with GIS, remote sensing, or other geospatial technologies. The program is flexible in offering many course alternatives, and students are encouraged to select courses that match their interests, as well as the needs of current or potential employers.
The majority of the GIScience professional certificate program, with the exception of one course, is available online. For a curriculum overview, admissions requirements, and more information about the GIS professional certificate, visit http://www.geo.oregonstate.edu/gcert/ and select "Professional" under "Curriculum" on the left navigation. Or call Ecampus at 800-667-1465.
- OSU K-12 Online Offers New Courses
OSU K-12 Online will begin its second semester of the 2004-05 school year on January 31. Several new courses have been added, including a new Life Science course, Wildlife and Forestry of Oregon, http://k12online.oregonstate.edu/classes/course-descriptions/science.htm, and Marine Science. In addition, K-12 Online offers 18 different integrated thematic middle school units. Some course titles include Lewis & Clark, NASA Project, and Energy Crisis (Fossil Fuel Alternatives).
For more information, visit the website at http://k12online.oregonstate.edu/.
---
FACULTY HIGHLIGHTS
- Meet an Online OSU Philosophy Instructor
Ecampus Philosophy and Women Studies instructor Dr. Madronna Holden recently shared her insight into the relationship of instructor and students in an online environment.
"Online students are often re-entering classes because they are ready for life changes; that gives online teachers a special responsibility - and special power. Online courses provide a special connection between students and teachers, and it is the responsibility of faculty to provide detailed feedback on student work. I am gratified when I hear students will be keeping papers returned in my courses because they treasure the dialogue we shared during this class.
"Teaching courses online implements one of my goals for the classroom: providing students with an experience they can take out of the classroom and into their lives. Engagement is a key word for me - engagement of students and myself in the subject matter of my classes, engagement in the interaction between faculty and students, and also engagement between students in discussion forums. I find online students to be among the mostly highly motivated group of students I have taught."
Dr. Holden's current classes are:
PHL 443/543 World Views and Environmental Values
A journey through the cultures of the world and our human roots to explore cross-cultural ways of perceiving and valuing the natural world. (Offered winter and spring 05).
WS 450/550 Ecofeminism
An exploration of the environmental stance that links women's values and perspectives with care for the natural world. (Offered spring 05)
---
YOUR HEALTH
- Want to get Healthy? Then Get a Move On!
by Susan Poole, OSU Student Health Services
With the coming of 2005, many of us look to New Year's exercise resolutions. Walking is something most of us can do. Good exercise planning can help ensure success!
How to succeed in exercising…
* Keep it simple. Buy some good walking shoes; your equipment doesn't have to be elaborate and you don't have to join a gym.
* Make it doable. Carving 30 minutes out of your day by "scheduling" time to walk will support your goal.
* Take a friend. If you are committed to a partner in your plan, you may be less likely to bow out. And, you both benefit!
* Don't make excuses. Weather can be a factor, but unless temperatures are very cold, or hot to an extreme; you can dress accordingly and adjust your exposure.
* Record your time and/or miles. You'll be amazed at how quickly it accrues.
* Be safe. Make sure that you dress to be seen, and that you can see where you are going. Avoid headphones and poorly lit and isolated areas.
* Stay with it! It may take several months to see significant effects. If you find you fall away from your plan, get back on track.
How much exercise is enough? To be F.I.T. consider: Frequency = most days of the week; Intensity = brisk or at a level where you are slightly out of breath, not breathless; and Time = at least 30 minutes of continuous exercise in a day.
Did you know...Exercising before a meal, with gradual increases in intensity, will allow you to continue to burn calories and you may eat less. And a regular exercise program, like walking two miles in 30 - 40 minutes every day strengthens heart and lungs, muscles and bones; increases the level of HDL or "good " cholesterol in blood as well as productivity and energy level; lowers elevated blood pressure and risk of adult-onset diabetes; improves sleep, posture and appearance as well as overall sense of well-being; reduces stress and feelings of depression.
If you are out of condition or have health problems, be sure to consult your health care provider before beginning a vigorous program. For links to more information on walking and general health tips, visit Beaver Strides at http://studenthealth.oregonstate.edu/beaverstrides/links.php
---
OSU NEWS
- Beavers Dominate 38-21 in Insight Bowl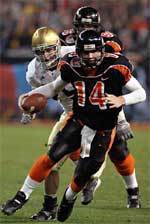 OSU sports fans rejoiced after the Beaver football team trounced the Fighting Irish of Notre Dame once again in Tuesday's Insight Bowl in Phoenix, Arizona. (They had previously defeated Notre Dame 41-9 in the Fiesta Bowl in 2001.)
The Beavers finished the year on a high note, winning the last six of their seven games and setting records for both the team, quarterback Derek Anderson (pictured left), and other players.
The 7-5 season for the Beavers was a culmination of determination and hard work after they started out with some heartbreaking losses early in their season.
Read game and team highlights in OSU's Barometer and the Oregonian newspaper:
http://osubeavers.collegesports.com/sports/m-footbl/recaps/122904aac.html
http://www.oregonlive.com/beaversfootball/oregonian/index.ssf?/base/sports/1104325308194700.xml
---
Thank you for reading this edition of OSU E-News. If you know others who would enjoy receiving this newsletter, please e-mail it to them, or tell them about our auto-subscribe function at: http://ecampus.oregonstate.edu/enews/
OSU Extended Campus
http://ecampus.oregonstate.edu
800-667-1465

Got an idea for a future article, or feedback on past editions?
Please email our editor, Linda.Wallace@oregonstate.edu

Features and Navigation
Media inquiries
If your publication would like to feature an OSU Ecampus online program, student or instructor, please contact Tyler Hansen.
For journalists
Gather quick facts about OSU Ecampus, our history and students on our webpage for members of the media.
Award-winning electronic newsletter
Where Ecampus is making the news
Staff, student and course honors
Ranked top 10 in the nation
OSU Ecampus earned a top 10 ranking for the fifth year in a row on a list of America's best online bachelor's programs. Learn more »