CORVALLIS, Ore. — A record number of distance students will receive degrees from Oregon State University on Saturday, June 14, after completing their coursework online.
Oregon State will graduate 508 students through its Ecampus on Saturday, nearly 100 more than the previous high set in 2012. This year's distance graduates hail from 42 states and seven countries, including Japan, Puerto Rico and the United Arab Emirates – further evidence that OSU's academic impact continues to grow globally.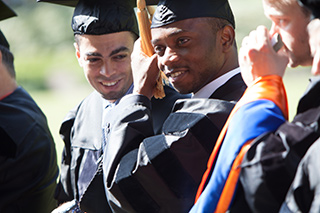 "The tireless dedication of our learners is a constant source of inspiration, and this record-setting class is a prime example," said Ecampus executive director Lisa L. Templeton. "We are committed to giving learners around the world access to a high-quality education, and our growth is a testament to the outstanding OSU faculty who develop our programs online."
Ecampus delivers 36 degree and certificate programs online, and more than 15,000 students took at least one OSU class online in 2013-14 – more than double the total from five years ago. Since last summer the university has launched programs online in sustainability, wildlife management and an Executive Leadership MBA track that combines online learning with in-person sessions in Portland.
The most popular of the Ecampus offerings is a postbaccalaureate program in computer science that can be completed in as little as one year. Launched in the summer of 2012, it now boasts 886 admitted students with 62 set to receive their diplomas Saturday – and some will transition immediately to the workforce.
Bryan Robinson studied online from Irvine, California while working full time and raising two young children with his wife. He turned his OSU degree into a new job as a reporting analyst for a computing company in Portland.
"Much of my background is in web development, but I found it difficult to get a job without a degree in computer science," Robinson said. "The OSU program was the perfect marriage because it was online and allowed me to work and raise my family, and it was from a reputable university that I knew a lot about."
Ecampus will host a reception Saturday morning in The Valley Library for 70 graduates who are traveling to Corvallis, some from as far away as Connecticut and Minnesota. It's the first – and only – time many of them will set foot on the OSU campus.
Linda Sanderford had no connection to Oregon State prior to enrolling with Ecampus in 2011. The Monroe, Louisiana resident was a college "stop-out" – a student who started a degree program but was unable to finish amid the responsibilities of raising five children – until she found OSU's agricultural sciences program online in her late 30s.
On Saturday, a journey that lasted more than two decades will reach its end.
"There were times when I didn't think that I was going to make it, but I did," Sanderford said. "I chose OSU because it's the best agricultural school in the United State. The courses required a lot of outside fieldwork, and I was challenged every step of the way. Graduating from OSU means the world to me."
The number of Ecampus graduates who will be awarded diplomas Saturday includes students who are expected to complete degree requirements this summer and fall.