U.S. News & World Report ranks Ecampus programs 4th nationally
CORVALLIS, Ore. — Oregon State was honored for its commitment to military service members last month when U.S. News & World Report ranked its online bachelor's degree programs No. 4 in the nation for veterans.

The rankings identify 185 programs that provide veterans with high-quality, flexible online bachelor's programs. Oregon State now delivers 20 such programs via OSU Ecampus, the university's acclaimed online education division.
"The Best Online Programs for Veterans are designed to help veterans balance applying, paying for and completing a degree, on top of their work and family commitments," Brian Kelly, editor and chief content officer at U.S. News, said in a news release.
To qualify for the veterans rankings, an institution must be certified for the GI Bill, and the online programs must belong to schools participating in the Yellow Ribbon Program or to public institutions that charge in-state tuition for all out-of-state veterans. OSU meets all criteria.
Institutions also had to be among the top 75 percent of schools in the overall 2015 Best Online Bachelor's Programs rankings, which were released in January. Oregon State is ranked fifth on that list.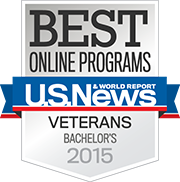 U.S. News is the latest publication to recognize OSU for its commitment to serving veterans and their families. The university earned three spots on G.I. Jobs magazine's 2016 list of Military Friendly Schools – one each for the Corvallis campus, OSU-Cascades in Bend and OSU Ecampus.
Like Ecampus, Oregon State has been honored each year since G.I. Jobs began producing the list in 2009.