Oregon State online bachelor's programs again make the top 10
For the second straight year, Oregon State University is ranked in the top 10 nationally for online education by U.S. News & World Report after the 2016 rankings were released today.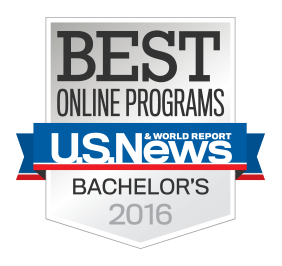 Oregon State Ecampus, the university's online education division, is ranked seventh out of nearly 300 higher education institutions in the category of Best Online Bachelor's Programs. Among land grant universities on the list, OSU is third.
The full rankings are available online at usnews.com/online.
"Oregon State's land grant mission calls us to provide educational opportunities to people throughout Oregon and beyond, and Ecampus continues to excel in that endeavor," OSU President Ed Ray said. "With more than 600 faculty partners and 10 academic colleges offering degrees online, this national honor is shared by all of OSU."
Oregon State scored 93 points out of 100 in the rankings. Schools were assessed based on student engagement; faculty credentials and training; student services and technology; and peer reputation.
Ecampus delivers 20 bachelor's programs online, including an undergraduate degree in business administration that launched last fall and already has admitted more than 130 students. An additional 23 OSU graduate degree and certificate programs are offered online.
In the 2014-15 academic year, nearly 17,500 Oregon State students took at least one Ecampus class. That number is expected to approach 20,000 this year, with OSU's distance learners in all 50 states and more than 40 countries.
"Providing an Oregon State education online helps the university serve a wider range of students and gives our learners the ability to advance their careers without uprooting their lives," said Ecampus executive director Lisa L. Templeton. "We view this ranking as validation of OSU's tireless efforts to develop high-quality learning experiences for students everywhere."
This is the sixth straight year Oregon State has been honored as one of America's best online universities.
-30-
About Oregon State Ecampus: Through comprehensive online degree programs, Oregon State Ecampus provides learners with access to a high-quality education no matter where they live. Ecampus delivers more than 40 undergraduate and graduate programs online to learners in all 50 states and more than 40 countries. Oregon State is consistently ranked among the nation's best providers of online education.