Oregon State University Ecampus • Degrees Online
Support
You can earn your Oregon State University degree online while honoring family and work commitments within your own community. But you are not alone. We will support you every step of the way.
Our dedicated professionals will work with you one-on-one to identify the degree program that fits your goals, identify support resources, improve your academic skills and address obstacles to your academic success.
Meet Marleigh Perez, your personal support contact
Marleigh Perez is the OSU Ecampus director of student success, and she will serve as the primary point of contact for Native communities. She will partner with you during your time as an Oregon State student to help you navigate the admissions process, secure financial aid and find solutions to any other challenges you face.
Marleigh's mission is to make sure you receive ongoing support and have access to the resources that will make your online learning experience engaging and rewarding. There is no question too big or too small. If she doesn't have the answer, she'll help you find out.
Marleigh spent eight years developing grant programs to increase the enrollment and graduation of underrepresented minorities in STEM fields, including work with Native students from all over the U.S. Her vast experience in building relationships with students from all communities will help increase your opportunities to participate and succeed at OSU.
If you are a Native American student who has questions, please contact her at Marleigh.Perez@oregonstate.edu.
Your designated point of engagement and support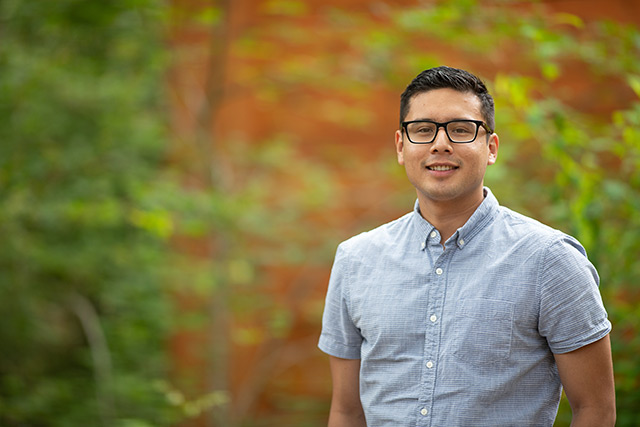 Eddie Rodriguez is the Student Engagement Program Manager who supports Native communities. He'll work with you to explore engagement opportunities, goal-setting, work-life balance, time management and motivation while connecting you to other vital student resources
Eddie is a first-generation college graduate and knows some of the complexities and obstacles you may be facing. He is bilingual in Spanish and English and has advised nontraditional students, transfers, undocumented students and veterans seeking to begin college at different stages in their lives.
Please contact him at eddie.rodriguez@oregonstate.edu if you have any questions.
Additional student resources
As an Oregon State Ecampus student, you'll have access to a host of valuable resources and services – free tutoring, library access, career services and more – so you can thrive while you work your way toward graduation.

Want more info?
Let us know and we'll send you the details you need.
Important dates
Winter term starts
Jan. 9, 2023
Spring term starts
April 3, 2023
See our academic calendar for our full quarter term schedule.
Find application deadline
Ready to apply?
Once you've gathered the information you need to know before you apply to Oregon State University, take the next steps.
---