Oregon State Ecampus provides students around the world with access to a high-quality education, and before you enroll we want to give you a sense of what it's like to be an online student at OSU.
Note: Oregon State University has selected a new learning management system. During 2015, all OSU courses are migrating from Blackboard to Canvas, including Ecampus courses. OSU will license both Blackboard and Canvas throughout 2015.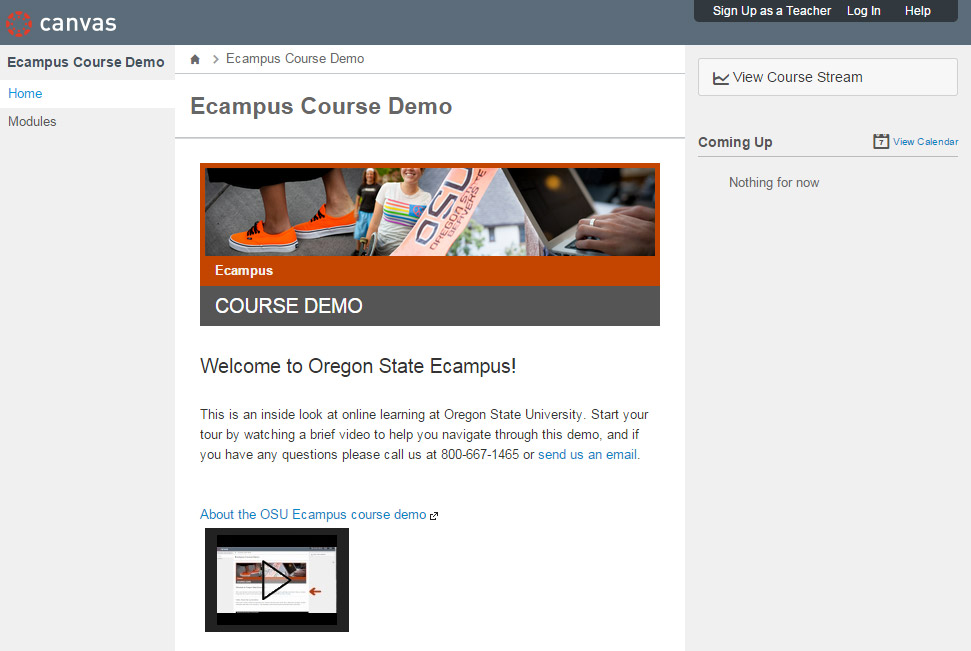 Course demo in Canvas
Take a self-guided tour of the online classroom inside Canvas – Oregon State's online learning portal. This sneak peek will allow you to:
See the kind of content regularly featured in Ecampus courses
Hear from some of the world-class instructors who teach OSU's online classes
Test some of the innovative technologies we use to enhance learning opportunities
Get answers to some of your most pressing questions about online education
Course demo in Blackboard
Since some Oregon State classes will be offered in Blackboard until fall term 2015, you may also take a self-guided tour of the online classroom inside Blackboard.
Log in to Blackboard to experience the Bb version of Ecampus Course Demo.
Username: dce_demos
Password: ecampus
(Login information is case sensitive.)

After logging in, click on "Ecampus Course Demo" under the My Organizations section.
Course demo trailer video
Before you log in to the demo, check out this 90-second video that gives a snapshot of OSU's online learning environment.