Oregon State University Ecampus • OSU Degrees Online
---
Credits required
62
Oregon State University is on a quarter-term system. There are four quarters each year and classes are 11 weeks long. This program's 62 quarter credits are equal to 41.33 semester credits.
Delivery
Online
You can complete all courses online. Some courses may require proctored exams in your local area.
Learn from professionally-accredited faculty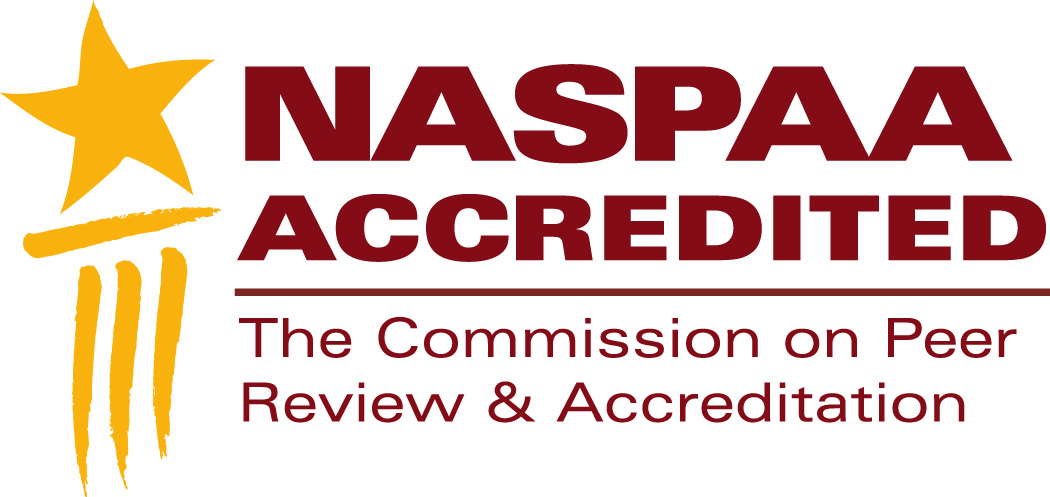 As an accredited program by the Network of Schools of Public Policy, Affairs and Administration (NASPAA), all faculty in the Master of Public Policy program (MPP) are required to meet rigorous academic or professional criteria. All course material is developed and taught by faculty in OSU's School of Public Policy.
62-credit master degree program
The MPP degree requires the completion of 46 credits in the following areas:
Core course work: 46 credits
Required course work provides you with practical experience in working collectively, in collaboration with the public and prioritizing the desires of citizens, communities and society at large. This is accomplished through:
Experience conducting original policy research that extends the knowledge of both policy and other social science disciplines.
Practical exercises navigating our increasingly interconnected world through connecting with stakeholders from various backgrounds and addressing policy fields relevant to a variety of populations.
The development of a public service ethic through service learning projects incorporated into courses that involve public partners in mutually beneficial, community-driven efforts.
Courses:
MPP 507 – Professional Development Seminar for First Year Students (1 credit)
MPP 507 – Professional Development Seminar for Second Year Students (1 credit)
ECON 517– Microeconomics for MPP (4 credits)
ECON 524 – Econometrics (4 credits)
ECON 539 – Public Policy Analysis (4 credits)
PS 571 – Public Policy Theory (4 credits)
PS 572– Public Administration (4 credits)
PPOL 521 – Understanding Social Research (4 credits)
PPOL 522 – Conducting Social Research (4 credits) -or- PPOL 523-Qualitative Research Methods (4 credits)
PPOL 524 – Applied Research Methods (4 credits)
Concentration Options:
You can select an area of focus in one of four established concentrations, graduate certificates, or self-design a concentration with an advisor and approval of the public policy graduate program director. All concentrations require at least 16 quarter credits.
Concentration options:
Energy policy
Environmental policy
Rural policy
Social policy
Graduate certificates approved for concentration options:
Students who successfully complete both the certificate program and the MPP, will receive the certificate in addition to the MPP degree.
Optional internship: 10 credits for pre-service students - or 10 credits of additional electives.
You will work with your advisor to create an internship or select from several options available through OSU.
Applied Policy Capstone (PPOL 501): 6 credits
The capstone (MPP essay) is a program requirement for graduation. The project should focus on a policy issue/problem of relevance to your current position or a policy area applicable to your career or public service aspirations.
OSU requires a final oral examination of all master's candidates. The examination is intended to test your ability to integrate and interpret material in the major and supporting fields with emphasis on the work presented in the capstone project. It is permissible for you and/or committee members to participate from a remote location.
For more information on curriculum and admissions, visit the Oregon State Public Policy website, or contact:
Scott Akins
Associate Professor
sakins@oregonstate.edu
541-737-5370

Important dates
Winter term starts
Jan. 8, 2018
Spring term starts
April 2, 2018
See our academic calendar for our full quarter term schedule.
Degree details
* cost per credit and total cost are calculated using tuition per credit for the current academic year. It does not include associated fees, course materials, textbook expenses, and other expenses related to courses.
† You can complete all courses online. Some courses may require proctored exams in your local area.
Find application deadline
Ready to apply?
Once you've gathered the information you need to know before you apply to Oregon State University, take the next steps.