Oregon State University Ecampus • OSU Degrees Online
---
College Credit for High School Students - FAQs
Below you will find a list of Questions and Answers for High School students about enrolling in and taking distance courses through OSU Extended Campus:
Q1: What is "College for High School Students"?
A: College for High School Students is a program that gives academically-ready high school students the opportunity to take Oregon State University courses for college credit from anywhere in the world.
Visit Classes for High School Students to see the list of courses available for the next two terms.
Q2: How do I know if I am ready to take college level courses?
A: If you answer "YES" to the following questions, you will probably fit well in college-level courses:
Have you successfully completed one or more challenging classes in high school?
Do you have a GPA of 3.0 or above?
Are you a self-motivated and responsible student?
Do you feel comfortable using the internet?
If you wonder whether you are academically prepared, you should talk to your parents, your teachers and/or school counselor, and perhaps the instructor of the class(es) you are interested in. Our goal is to have all students be successful in these classes, and we will help you any way we can.
Q3: Why would I want to take college courses now?
A:We have found that high school students opt to take college courses for a variety of reasons, including:
Students headed to college in a year or so are at a huge advantage by getting a head start on classes that they would have to take anyway or that might help them decide what college major interests them.
Students who have completed most of their graduation requirements may decide to take college courses to fill their schedule with worthwhile courses.
Some students are interested in college courses so they can explore interests not available in their high school.
Q4: How do I know if the course(s) I am interested in are right for me?
A: Some courses have specific prerequisites that must be met prior to registration. For instance, if you want to take Calculus, you must meet certain math requirements. Specific prerequisites are listed under the description for each class.
To determine the right courses for you, rely on your own judgment and the judgment of your parents, high school teachers or counselors and the college instructor. It is important to examine the curriculum requirements for different college degree programs, especially if you have a specific college major in mind already.
Our Enrollment Services can help answer any questions. You can reach them by phone at 800-667-1465 or 541-737-9204. You may also e-mail an advisor via our Contact Us page.
Q5: What are distance courses and how do I take them?
A: Courses are offered on the Web, via video and DVD, interactive TV and independent study. These courses may be taken from anywhere in the world. For most courses, you will need internet access, at least a 4.7x browser, and an email account.
Visit our Courses page for more information.
Q6: How do these courses differ from the high school classes I am used to?
A: You will need to assume a high level of responsibility for your own learning in these courses. Most likely, there will not be daily or weekly assignments but rather mid-term and final tests and major projects or written reports to finish by the end of the term. In most cases, you will not have someone constantly reminding you of work that needs to be done.
Remember that you (and your parent or guardian) are responsible for tuition and fees, no matter what the outcome. Be sure to discuss this decision carefully with your parent or guardian.
High school students have, on average, done very well in these courses. They have usually performed to the standard set by regular OSU students. In all cases, the instructors teaching are committed to making your experience a positive one. If you are motivated and seek assistance when you need it, there is no reason you won't excel at any course you choose.
Q7: Will I get high school credit for taking these classes?
A: These courses are not intended to replace regular high school curriculum. While many high schools give students high school credit for taking these college courses, others will not. Check with your school counselor to find out for sure.
Q8: Will I be taking these classes with regular OSU students?
A: Yes. In all cases, these are regular OSU courses.
Q9: How and when do I admit and register for these classes?
A: The registration period usually begins 5 to 6 weeks before the term begins. You must complete an online nondegree enrollment application to be admitted. Approval takes about 48 hours and then you are eligible to register for up to 8 credits per term.
You may Register Online. Visit Registration for more information and registration forms.
Q10: How much do these classes cost?
A: Tuition costs are the same for Oregon and out-of-state students taking distance courses. Students in some school districts have had success at getting the cost of these courses paid by their school district. You should contact your school administration to explore this option.
Visit Tuition and Fees for more information on OSU course costs.
Q11: When do courses start?
A: Distance courses follow the regular OSU quarter schedule.
Visit our Academic Calendar for more information.
Q12: Where do I get course materials?
A: You may order textbooks, printed packets and videos/DVDs by calling 800-595-0357 or visiting the OSU Bookstore online.
Q13: What student support services are available to me?
A: You will find a variety of services tailored to the unique needs of distance students including advising, our online newsletter OSU E-News, writing help, computer help and career services. Visit our Services for Students page for more information.
As a distance student, The Valley Library provides you with online access to more than 100 electronic journal indexes, full text articles from 1,000 journals and a gateway to other library catalogs.
Visit the virtual Valley Library.
Q14: How are grades determined?
A: Grades are determined in a manner prescribed by the individual instructor. High school students will be held to the same grading scheme and expectations as regular OSU students who take these courses. For specific information, you will need to refer to the syllabus of the particular course.
Q15: Will these classes transfer to any college or university I decide to go to?
A: In almost all cases, credits taken at accredited universities, like OSU, can be transferred to any other college or university. Students will be able to order an Oregon State University transcript.
Visit the Registrar's Office for more information on transcripts.
Note that you will need to get approval from your school district to obtain high school credit for these university courses.
Q16: To whom do I direct questions not covered here?
A: Our Enrollment Services personnel would be happy to talk with you further on any aspect of our programs.
Phone: 800-667-1465, Monday-Friday, 8 a.m.-5 p.m. PST
Email: ecampus@oregonstate.edu

Features and Navigation
Academic calendar
Currently it's fall term. See academic calendar for our quarter term schedule.

Winter term starts Jan. 8, 2018.
Spring term starts April 2, 2018.
Ranked top 10 in the nation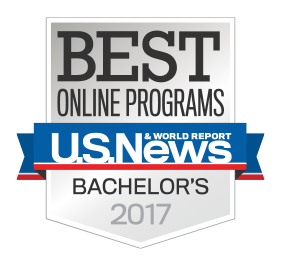 OSU Ecampus earned a top 10 ranking for the third year in a row on a list of America's best online bachelor's programs. Learn more »