Oregon State University Ecampus • OSU Degrees Online
---
Curriculum: B.A./B.S. in Business Administration – Online
The undergraduate program in business administration delivered online by Oregon State Ecampus is a complete 180-credit bachelor's program. This unique program is a general business option that is not offered on the Corvallis campus at Oregon State.
To earn this degree, students must complete their baccalaureate core and general university requirements, pre-business core requirements and College of Business courses within this program. At the completion of this program, students will earn an Oregon State University diploma in either a Bachelor of Science or Bachelor of Arts in Business Administration.
Curriculum overview
A total of 180 quarter credits are required to graduate, including 60 upper-division credits. Most students take four to six years to complete a bachelor's degree. Complete degree-requirement information about the business administration program is available on Oregon State's General Catalog.
Pre-business core requirements (48 credits)
Math, economics, communications and writing (22 credits)
Business core classes (26 credits) including financial accounting, managerial accounting, legal environment of business, intro to entrepreneurship, business process management and intro to statistical inference.
Professional school course requirements (64 credits)
Business core classes (36 credits) including international business, professional development, operations management, intro to financial management, business information systems overview, applied quantitative methods, marketing, and legal and ethical business solutions.
Option classes (28 credits) including family business management, environmental law and business, leadership, human resource management, consumer behavior, advertising management and retail management.
University general requirements/baccalaureate core (36 credits)
All Oregon State students pursuing a bachelor's degree must take university core classes – called the baccalaureate core – within five main areas: skills; perspectives; difference, power and discrimination; synthesis; and writing. And please check out the following pages if you need additional information about the baccalaureate core.
Electives (32 credits)
Depending on your career goals, you can choose elective courses from Oregon State that are specific to your interests. These are courses outside of the degree-completion requirements.
Specialization in supply chain and logistics management
As a student in this bachelor's program, you can specialize your studies by selecting the supply chain and logistics management option. This will give you an alternative focus and enable you to acquire a mastery of international operations and supply chain and logistics management concepts.
Transfer credits
Some of the degree requirements may be transferred from other colleges and universities. Please note that a minimum of 45 credits of the last 75 must be completed at Oregon State (online or on campus) to meet the academic residency requirement. Previously earned credits must be reviewed upon admittance to OSU for appropriate articulation. Additional information about transferring credits is available through the Single Course Search tool provided by OSU's Office of Admissions.
Add a minor
OSU Ecampus students have the ability to add a minor to their degree program. Oregon State offers a diverse selection of minors online. Combine business administration and a history minor, or business administration plus a fisheries and wildlife minor, to create an even more powerful résumé fit for today's job market.

Features and Navigation
Academic calendar
Currently it's summer intersession. See academic calendar for our quarter term schedule.

Summer term starts June 26.
Fall term starts Sept. 20.
Degree details
| | |
| --- | --- |
| Program | Business administration |
| Degree type | B.A. or B.S. |
| Credits needed to graduate | 180 |
| Cost per credit* | $300 |
* cost per credit and total cost are calculated using tuition per credit for the current academic year. It does not include associated fees, course materials, textbook expenses, and other expenses related to courses.
Ranked top 10 in the nation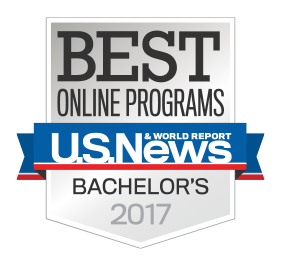 OSU Ecampus earned a top 10 ranking for the third year in a row on a list of America's best online bachelor's programs. Learn more »