Oregon State University Ecampus • Degrees Online
Ecampus fact
Online honors degree
Earn an honors baccalaureate degree alongside any undergraduate degree program.
2004 Ecampus Graduates
Christine Roberts - BS Liberal Studies
Christine Roberts was in some ways a typical Ecampus student -- returning to school to finish her degree after beginning a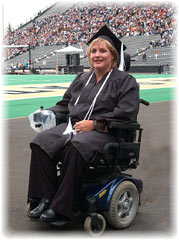 family. But for Roberts, taking courses online proved to be the only way she could finish. Born at just 3 pounds, Roberts was diagnosed with Cerebral Palsy at age two and underwent numerous surgeries to enable her to continue walking. During her first stint at college, she discovered that trying to negotiate the campus at San Diego State University was just too difficult, and she put her dream of becoming an English teacher aside.
But because books and writing were her outlet from a not-so-hospitable world, she stubbornly refused to let go of her goal. After completing her associate's degree, she found out about OSU Extended Campus and began taking classes online. Roberts persevered; even when emergency surgery to her neck left her unable to talk or write for a period of time, she completed her courses with the help of her daughter Sarah and husband John (son Joshua also provided moral support). Afterward, she had to adjust to the idea of being wheelchair-bound.
Roberts remarked about her experience in distance learning: "The most profound difference is that distance education allowed me to establish a different voice in the classroom; there aren't as many pretenses with online learning -- you either contribute and produce or you get lost. It's not like sitting in a lecture hall where no one realizes if you are present or not. I became more actively involved in discussions than I previously had been in a traditional setting.
"My final thought on distance education is, it matters not the vehicle that's used, the point is to get down the road. Having arrived at the finish line, my heart believes this program should be marketed to all students, but especially marginalized populations - those of us that have been counted out - who, if given the right tools would become the people others count on for leadership."
Roberts, who currently lives in Virginia, attended commencement in Corvallis. She was chosen as the OSU undergraduate speaker at a commencement dinner with OSU President Ed Ray, senator and former astronaut John Glenn and his wife Annie, and OSU faculty, administrators, and local dignitaries. She graduated summa cum laude with a degree in Liberal Studies and a minor in English, and was accepted at Hollins University in Virginia where she'll earn her Master's in Education. She hopes to teach others with special needs.
Christine Roberts poses at 2004 Commencement (photo at top), and meets with John and Annie Glenn (left).
Read more about Ecampus students on the Student Profiles page. 

Features and Navigation
Academic calendar
Currently it's fall term. See academic calendar for our quarter term schedule.

Winter term starts Jan. 8, 2024.
Spring term starts April 1, 2024.
Ranked top 10 in the nation
OSU Ecampus earned a top 10 ranking for the ninth year in a row on a list of America's best online bachelor's programs. Learn more »