Oregon State University Ecampus • Degrees Online
Ecampus fact
28,000+ students worldwide
Learn alongside students in all 50 states and more than 60 countries.
2004 Ecampus Graduates
Danny Orris - BS General Agriculture
On June 13, Danny Orris and a large caravan of proud family members arrived in Corvallis from Bosque, New Mexico to attend graduation. They made the trip in two days, then spent two more days at the Oregon Coast before arriving at Reser Stadium for the commencement activities. On that Sunday, the Ecampus student received his degree in General Agriculture, along with a minor in Natural Resources.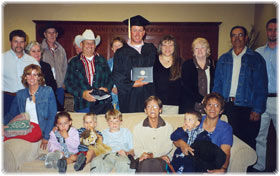 The journey for Orris was more than geographic, however. He always wanted to complete his college degree, but as a rancher and dairy farm manager with a young family, his responsibilities proved too great to commute to campus to attend classes. So, after attending a community college in Texas, and later the University New Mexico, he took a break from school. Six years quickly passed before he found out about the OSU Ecampus online degree in agriculture, and returned to school via distance education. He admitted that after being gone from college it was hard to get back into the "groove" of doing homework, but he was determined to take at least six credits per term, and he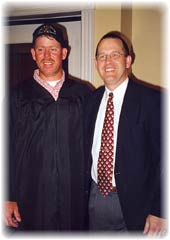 methodically worked his way through the requirements of his undergraduate degree.
'Relieved and happy' are the words 32-year-old Orris used to express his feeling about graduation. He would like to use his education to gain employment at a land management agency, preferably the Natural Resources Conservation Service or the New Mexico State Land Office.
This summer, with no homework waiting on his desk, Orris hopes to spend a bit more time with his family, and maybe even teach his children how to rope.
Danny Orris with his extended family (above) and College of Agriculture advisor Wayne Fanno (right).

Features and Navigation
Academic calendar
Currently it's fall term. See academic calendar for our quarter term schedule.

Winter term starts Jan. 8, 2024.
Spring term starts April 1, 2024.
Ranked top 10 in the nation
OSU Ecampus earned a top 10 ranking for the ninth year in a row on a list of America's best online bachelor's programs. Learn more »