Oregon State University Ecampus • Degrees Online
2005 Ecampus Graduates - Carmen deMeurers
"My degree will enable me to change the world one child at a time."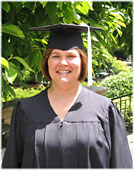 BA Liberal Studies - cum laude
Home: Keizer, Oregon
Future plans: Elementary school teacher

"Completing my degree is a triumph I didn't dare to dream about as a child. No one in my family ever had the opportunity to attend college before me. As a young woman I knew how much I loved teaching and working with young children. I wanted to earn a teaching degree more than anything else in the world, but so much stood in my way.
"I immigrated to the United States many years ago. I worked hard to learn both English and Spanish (my native language is Portuguese). I gained experience while working as an instructional assistant in an elementary school and slowly I began taking the coursework that would lead to both my degree and my teaching certificate.
"Now my long journey is complete! Distance learning is what made getting my degree possible. With the education I have gained, I met my lifelong dream of teaching young children. I know that in the years to come I will be able to reach out to the children I teach and make a positive difference in their lives. My degree will enable me to change the world one child at a time."

Features and Navigation
Academic calendar
Currently it's winter term. See academic calendar for our quarter term schedule.

Spring term starts April 3.
Summer term starts June 26.
Ranked top 10 in the nation
OSU Ecampus earned a top 10 ranking for the ninth year in a row on a list of America's best online bachelor's programs. Learn more »