Oregon State University Ecampus • Degrees Online
Ecampus fact
28,000+ students worldwide
Learn alongside students in all 50 states and more than 60 countries.
2005 Ecampus Graduates - Debbie Leek
"Through online education, I was able to enjoy the learning process."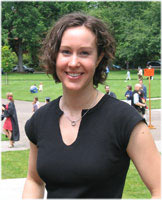 BS Environmental Science – magna cum laude
Home: Washougal, Washington
Future plans: Working for a "green" company, or independent consulting
"I was just planning on finishing up my degree, but I was very pleasantly surprised at the quality education I received online, and how interactive it was. The interaction online allows you the opportunity to think before you speak, and to learn from the diversity of the other students who post comments."

Features and Navigation
Academic calendar
Currently it's fall term. See academic calendar for our quarter term schedule.

Winter term starts Jan. 8, 2024.
Spring term starts April 1, 2024.
Ranked top 10 in the nation
OSU Ecampus earned a top 10 ranking for the ninth year in a row on a list of America's best online bachelor's programs. Learn more »