Oregon State University Ecampus • Degrees Online
Ecampus fact
28,000+ students worldwide
Learn alongside students in all 50 states and more than 60 countries.
2005 Ecampus Graduates - Heather Havens

"I am graduating this spring with a BS in agricultural sciences from a well-respected Ag school. I couldn't be more excited – it has been a dream come true!"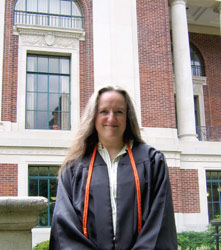 BS General Agriculture - cum laude
Home: Portland, Oregon
Future plans: High school science and ag teacher
"I went to college straight out of high school when I was 17. Unfortunately the pressures of life, work, and school became unbearable and I dropped out. I have regretted that decision ever since. A few years ago I decided I was at a point in my life to go back to school, and I began looking at all of my options. I have a very demanding and rewarding job in Portland, so working less hours or moving weren't options.
"I knew that I wanted a degree in agricultural science, but none of the local colleges offer that. I had almost given up hope when I ran into an instructor who told me about OSU's distance education program. I jumped right into the admission process and have been taking one class per quarter for about three years. Now, at age 36, I will finally have my degree! I hope to eventually become a high school science and ag teacher in a rural Oregon community. Getting my BS degree is a step in that direction.
"Online education was the only way I could live and work in Portland and get my degree, and it was affordable. It was so nice to be able to take exams and write papers at midnight! The online classes worked flawlessly, and I have gotten really good grades!
"Everyone that I have dealt with at OSU has been wonderful, and so helpful. Every instructor that I had was flexible and supportive, and the staff at Ecampus was awesome."

Features and Navigation
Academic calendar
Currently it's fall term. See academic calendar for our quarter term schedule.

Winter term starts Jan. 8, 2024.
Spring term starts April 1, 2024.
Ranked top 10 in the nation
OSU Ecampus earned a top 10 ranking for the ninth year in a row on a list of America's best online bachelor's programs. Learn more »