Oregon State University Ecampus • Degrees Online
2005 Ecampus Graduates - Kimberley Kelley
"This degree proves to me that anything is truly possible if you want it enough to pursue it. I believe in myself, my abilities and know now that I can reach much higher."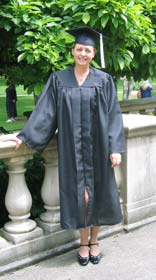 BA Liberal Studies
Home: Saint Helens, Oregon
Future plans: attending Walden University online for master's in E-Business

"The completion of my degree is genuinely a dream come true that started over 22 years ago. I am the first of my family fortunate enough to go to college, but was forced by circumstances to quit my junior year in 1983.
"My mother's wish was to see me graduate, but sadly, she passed away from cancer in 1996. It was then I made the decision to get back to school somehow and finish for myself and for her. I was thrilled to discover that online education could allow me to complete my degree from home, with flexible hours that fit into my hectic life. For the first time, online education allowed me to believe I could succeed.
"My advisor, Polly Jeneva, was very helpful and quick to respond to my questions, no matter how annoying I may have become as I challenged my way through. When I was diagnosed two years ago with cancer it was devastating, not only to deal with the illness, but to fear that I would not finish the dream. Polly was compassionate, assured me the time away was okay and told me to take care of myself first and continue when I was able. After one year away, I happily informed her I was ready to return and she warmly welcomed me back. Thank you Polly, I finally made it!"


Features and Navigation
Academic calendar
Currently it's fall term. See academic calendar for our quarter term schedule.

Winter term starts Jan. 8, 2024.
Spring term starts April 1, 2024.
Ranked top 10 in the nation
OSU Ecampus earned a top 10 ranking for the ninth year in a row on a list of America's best online bachelor's programs. Learn more »