Oregon State University Ecampus • Degrees Online
Ecampus fact
Online honors degree
Earn an honors baccalaureate degree alongside any undergraduate degree program.
2005 Ecampus Graduates - Rebekah Porter
"My life has already been greatly enriched by the past two years of study at Oregon State University, and I look forward to using this education as a launching pad for even greater heights for my family and me in the future."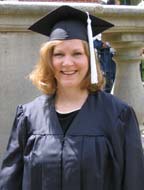 BS Liberal Studies
Home: Helena, Alabama
Future plans: Law school


"Completing my degree means I can now begin the next phase of my educational journey to my long anticipated dream of law school. I'm 41 years old, a wife, a mom, a legal secretary, and now, thanks to completing my Bachelor of Science degree in Liberal Studies, I have the opportunity to pursue graduate studies and further enhance my legal career as a lawyer. The satisfaction of achieving this goal is so very rewarding, especially given my age and having worked full-time while earning this degree. Also, it has been so important for me to exemplify to my children anything is possible, and while it takes extreme dedication and perseverance, the joy of dream building is one of life's greatest delights.
"I chose to complete my degree through Oregon State University's distance education program because I could complete the course requirements in the convenience of my home, or my office or anywhere I happened to be with my laptop computer. The cost of the coursework was reasonable…and the ease of obtaining financial aid, enrolling and getting started with the coursework was the pivotal factor for my final success. Everything came together for me so nicely and the organization of the program fueled my strength of self-directed study habits.
"My instructors were fabulous! Some in particular that stand out as being far superior to my expectations are David del Mar, who taught two of my history classes and Stephanie Bowers, who taught two of my Math classes."


Features and Navigation
Academic calendar
Currently it's winter term. See academic calendar for our quarter term schedule.

Spring term starts April 3.
Summer term starts June 26.
Ranked top 10 in the nation
OSU Ecampus earned a top 10 ranking for the ninth year in a row on a list of America's best online bachelor's programs. Learn more »