Oregon State University Ecampus • Degrees Online
Ecampus fact
Online honors degree
Earn an honors baccalaureate degree alongside any undergraduate degree program.
2006 Ecampus Graduates
Sarah Van Middlesworth - Landing the Dream Job
After completing her B.S. in Natural Resources, Sarah shares how her Ecampus degree helped her become an Environmental Scientist.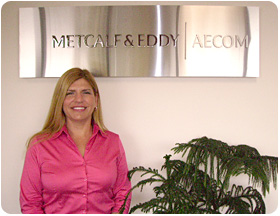 Career Update December 2007
Describe your Ecampus degree experience: When I started with the Ecampus, I lived in Hetzerath, Germany and I took courses part time. My career goal was to just get my degree, no matter how long it took. I was raising two small children and putting myself through school at night via the Web. We moved back to the States where I continued with my degree program in California. Finally, we moved to Thetford, United Kingdom, where I finished my degree in 2006. The online program was helpful to me, because where ever I was in the world, I could continue my program and accomplish my goal of getting a bachelor's degree.
Why did you choose OSU Ecampus and your specific degree program? I chose Ecampus because my family and I traveled around and moved a lot. I started my distance learning degree in the Natural Resources program. When I was looking at schools for online programs, Oregon State had the best and most comprehensive program around. I called the school and talked to former Ecampus advisor Bob Ehrhart about the programs. He answered my questions about distance learning and helped guide me so that I could reach my goal of getting a Bachelor's of Science. I looked at both the Environmental Sciences and the Natural Resources degrees, but found that the Natural Resources program was more suited to my interests. In the Natural Resources field, there are so many options to choose from, such as air, water, agriculture, organics, wind, endangered species, fire, etc. I love the outdoors and this career field lets me do my job outside most of the time.
Describe your current location and job search experience: I now live in Central California in a town called Santa Maria. We moved here from St. Louis, Mo. where we lived for a short stint. After graduation in June 2006, we moved to the St. Louis area where I got my first job working for the Missouri Botanical Gardens as an Invasive Species and Prairie Restoration Specialist. It was an awesome job. We then moved to the central coast of California where recently, I accepted a job working for Metcalf & Eddy as an Environmental Scientist. I found out about the job with Metcalf & Eddy by doing some voluntary work at an area Air Force Base Recycling and Diversion Center. I met my current supervisor, Dave Van Mullem, there. He and I talked, set up an interview, and two weeks later, I was hired.
What makes you enjoy your new job? Now, my typical work is as an air quality manager testing, sampling, and reviewing air permits for Vandenberg Air Force Base. I still get outside and I get to work in a wonderful office where the people and the company truly care about the environment. I can't believe that I am so lucky to have a job I truly enjoy.
What would you say to current Ecampus students who are still working toward their degrees and career goals? It is worth it! You are doing the right thing. The education that you will get from this school is one of the best. I learned so much while at school and these online programs helps you with your work ethic, working independently and personal growth. When you complete your degree, you will have the satisfaction of accomplishing something you thought you might never be able to do. It was the best thing I have ever done for myself.
Back to Sarah's Graduation Profile or Commencement 2006. Discover more about the Ecampus experience by reading Student Profiles.
Learn more about our online B.S. in Natural Resources.

Features and Navigation
Academic calendar
Currently it's fall term. See academic calendar for our quarter term schedule.

Winter term starts Jan. 8, 2024.
Spring term starts April 1, 2024.
Ranked top 10 in the nation
OSU Ecampus earned a top 10 ranking for the ninth year in a row on a list of America's best online bachelor's programs. Learn more »