Oregon State University Ecampus • Degrees Online
Ecampus fact
28,000+ students worldwide
Learn alongside students in all 50 states and more than 60 countries.
2008 Ecampus Graduates

Claudia Broderick Adkins - For My Mother, My Daughter and Me
B.S. Natural Resources
Hudson, OH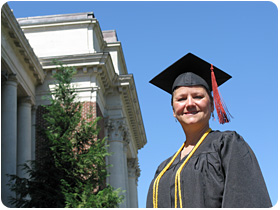 OSU Ecampus graduate Claudia Broderick Adkins knew she wanted to make a difference and a lasting impression in our surrounding environment. That's why 20 years ago she started college to pursue a degree in the field of natural resources.

But like many others, Claudia put her education on hold after one year of college to attend to personal commitments, including raising and supporting her daughter.

Claudia found that her family provided the extra motivation to complete her degree, and it was never too late for her to reach her goal.

"I completed this degree for my mother who never got to walk at her graduation," Claudia said. "At 60, she passed away while in her last semester. I also want to be an example for my 21-year-old daughter, who wants to become a veterinarian. Most of all, I completed this degree for my self, because I want to be the kind of person who believes that each one of us can make a difference."

Always one who dared to reach for a dream, Claudia knew she had to find a degree program in natural resources that would also allow her to continue running her own business. OSU Ecampus' online bachelor degree program in Natural Resources provided the perfect fit for Claudia's life.

"Ecampus offered degrees that interested me that were not offered at colleges close to where I live," Claudia said. "I soon came to learn that the quality of education far exceeded my expectations, and the professors at OSU are top-rate. I feel proud of the education that I received, and have really improved my technical skills using the many learning environments required with distance education."

Not only did Claudia find her education through Ecampus convenient, but provided innovative and unique learning experiences and perspectives.

"The online community comes to feel like personal friends and the professors take the time to get to know you and your work," Claudia said. "They expect a lot from you and offer many avenues for learning, from self-directed field trips to group projects. I feel that my education was very well-rounded and was actually enhanced through the diverse backgrounds of students from all over the world."

Claudia acknowledges two Ecampus faculty that made her online degree experience not only memorable, but possible: Bob Ehrhart and Marge Victor.

"Bob Ehrhart painstakingly made me a better writer and student," Claudia said. "His critique of my writing skills over the four terms that I spent with him have made a lifelong impression on me, and I am sure will contribute greatly to all of my future successes in the field of Natural Resources."

"I was also supremely lucky to have Marge Victor as my advisor," Claudia said. "Marge was an integral part of my success at OSU as an Ecampus student. She always had a way to encourage me when I was overwhelmed and knew just where to point me for the help I needed."

As Commencement 2008 approached for Claudia, she realized that even after 20 years, completing her degree was not an ending, but was just the beginning.

"I see this as a starting point and a necessary foundation on which to build a new future and a new world."
Back to Graduation 2008.
Learn more about our online B.S. in Natural Resources.

Features and Navigation
Academic calendar
See academic calendar for our quarter term schedule.

Spring term starts April 3.
Summer term starts June 26.
Ranked top 10 in the nation
OSU Ecampus earned a top 10 ranking for the ninth year in a row on a list of America's best online bachelor's programs. Learn more »