Oregon State University Ecampus • Degrees Online
Ecampus fact
100+ degree programs
Explore all of Oregon State's high-quality online degrees, programs and microcredentials.
2008 Ecampus Graduates

Justin Robson - A True Beaver Believer
B.S. General Agriculture
Sisters, OR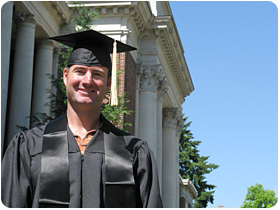 2008 Ecampus graduate Justin Robson can't wait to hang his black and orange diploma on his wall.  

As a Corvallis-native with two OSU alumni parents, Justin said OSU Ecampus' online undergraduate programs provided the access he needed to complete his degree.

Justin left school to serve in the military and found he was never really free from responsibilities to be able to go back to school full time.

"Having a four-year degree is required for me as an officer in the Army," Justin said.  "As much as I have to travel, I never thought I would be able to finish my degree at Oregon State. When I discovered OSU's online program, there was no delay in my returning to finish my degree. I had been working on my degree for over 14 years."

Along the way, Justin found that former General Agriculture advisor Wayne Fanno provided his connection to the OSU campus.

"It can be a little confusing and difficult as a distance student to ensure that all my paperwork was in order," he said.  "Wayne Fanno was instrumental in getting me on track to finish my General Agriculture degree."

Now, after completing this milestone, Justin isn't going to waste any time starting the next chapter in his life.

"Having this degree means more than meeting a requirement," Justin said.  "It will open doors to new careers outside of the military. Most importantly, it has inspired me to look into a master's program. Oregon State also has some very appealing online master's programs. I will be looking into those programs very soon."
Back to Graduation 2008.
Learn more about our online B.S. in General Agriculture.

Features and Navigation
Academic calendar
Currently it's fall term. See academic calendar for our quarter term schedule.

Winter term starts Jan. 8, 2024.
Spring term starts April 1, 2024.
Ranked top 10 in the nation
OSU Ecampus earned a top 10 ranking for the ninth year in a row on a list of America's best online bachelor's programs. Learn more »