Oregon State University Ecampus • Degrees Online
John Asher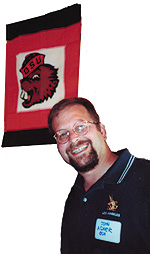 John Asher never thought he'd be doing homework alongside his 9-year-old, but "I looked at it as a job. It was a long haul, but definitely worth all the work." And he has an OSU degree, magna cum laude, to show for it.
"I wanted to go to college, but never thought I would have the opportunity." That "opportunity" came in the form of a layoff when the mill where he was working closed in 1996.
John talked with an advisor about his dream of going into education and launched his studies...two years at Central Oregon Community College earning his AA degree then into OSU's distance learning program taking weekend, Web, on-site and interactive television courses toward a Liberal Studies degree. "The professors knew we were unconventional students...I think the average in most of our classes was about 35. Since the on-site classes were small, the instructors could give us one-on-one attention...and they knew we had families and other commitments."
"I'm not sure of my goals now. I started out thinking I wanted to teach social studies in middle school, but working as a Youth Conservation Core Liaison for the Bend/Ft. Rock Ranger District, I've realized I like working with high school kids and at-risk youth." John's also thinking about alternative or adult education. "I know that I have lots of options now...and more confidence in myself now that I have my degree."
Meet more of Our Students!

Features and Navigation
Academic calendar
Currently it's fall term. See academic calendar for our quarter term schedule.

Winter term starts Jan. 8, 2024.
Spring term starts April 1, 2024.
Ranked top 10 in the nation
OSU Ecampus earned a top 10 ranking for the ninth year in a row on a list of America's best online bachelor's programs. Learn more »