Oregon State University Ecampus • Degrees Online
Ecampus fact
28,000+ students worldwide
Learn alongside students in all 50 states and more than 60 countries.
Carol Beatty
As her "nest" emptied, Carol Beatty considered her options. She wanted to do something that would contribute to the well-being of others, something fulfilling, perhaps working with seniors.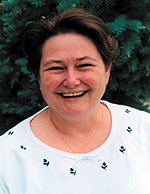 Today she's doing all of that...as case manager for the Central Oregon Council on Aging where she also runs the Meals on Wheels program and helps with Senior Center programs. "It's a dream job," she says "but I wouldn't have landed it without my degree."
"I went to Central Oregon Community College for almost four years...taking courses, exploring subjects that interested me in different areas...I ended up with more credits than I needed and a clearer idea of what I wanted to do. And with the option of completing an OSU degree from a distance, I knew I would finish." And with the support and encouragement from her husband of 29 years and three daughters, Carol met with an OSU advisor in Bend and mapped out a plan for her Liberal Studies Degree.
"I took OSU courses just about every possible way...some here in Bend, some on the Web, weekend courses and independent study," Carol said. She liked the variety of delivery methods but particularly enjoyed the small classes in Bend where she was part of a study group that formed lasting friendships. "Everyone was self-motivated and driven to study and we had great instructors who gave us a lot of opportunity to succeed. We really got a quality education." And she did a quality job. Carol graduated from Oregon State University magna cum laude.
Meet more of Our Students!

Features and Navigation
Academic calendar
Currently it's fall term. See academic calendar for our quarter term schedule.

Winter term starts Jan. 8, 2024.
Spring term starts April 1, 2024.
Ranked top 10 in the nation
OSU Ecampus earned a top 10 ranking for the ninth year in a row on a list of America's best online bachelor's programs. Learn more »