Oregon State University Ecampus • Degrees Online
Ecampus fact
Ranked top 10 in the nation
Oregon State is ranked on a list of America's best online bachelor's programs for the ninth year in a row.
Debbie Brown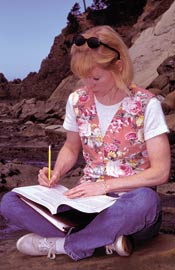 "There are a lot of women in this position," explains Debbie Brown. "I went to college right out of high school, then got married before I graduated, and we started our family right away. While raising our family I built a successful decorating and sewing business...but I always knew that some day, some way, I would finish my degree."
Debbie started sending her transcript with letters of interest to various schools and through Sally Atkin, OSU Area advisor in Coos Bay, learned about the possibility of completing her degree at a distance. In September, 1998, she bought a computer and started taking Web courses.
"I had some fantastic professors and interacted with them a lot through e-mail and the online class discussion. I probably asked more questions than I would have sitting in a class!"
Debbie says the support of her advisor, Sally Atkin, was immeasurable.
"She was always there to answer my questions, guide me through the process, and provide moral support. My degree has given me the opportunity to finally do what I have always dreamed of...teach,"
she explained proudly. Shortly after graduation, Debbie learned that she was hired as the only new teacher in her district for next year. She has her transitional license for three years and plans to complete her license and teach home economics in middle school.
Meet more of
Our Students
!

Features and Navigation
Academic calendar
Currently it's fall term. See academic calendar for our quarter term schedule.

Winter term starts Jan. 8, 2024.
Spring term starts April 1, 2024.
Ranked top 10 in the nation
OSU Ecampus earned a top 10 ranking for the ninth year in a row on a list of America's best online bachelor's programs. Learn more »