Oregon State University Ecampus • OSU Degrees Online
---
Craft your path
Peet's Coffee is committed to creating life-changing opportunities for its employees. That's why Peet's formed an exclusive collaboration with Oregon State University to give Peetniks the ability to affordably earn an undergraduate degree online from a top-ranked university without putting their lives on hold.
Ranked #5 in the nation
Oregon State Ecampus is ranked top 10 in the nation for the sixth straight year by U.S. News & World Report. Learn more »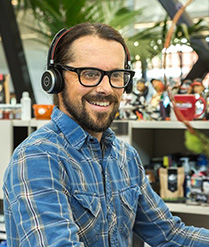 I know that so many people are trying to balance working as many hours as possible to pay for their school. This is that opportunity to balance that and have that access to education without all of the stress...
– Kenton Latham
Peetnik and Oregon State student
Choose from 25+ undergraduate degrees
Business
Oregon State University's online business administration bachelor's program prepares students for a professional life of innovative solutions to complex, global challenges.

Program topics include leadership, retail management, finance, marketing, project management, legal and ethical business practices.
This program offered by Oregon State's AACSB-accredited College of Business and delivered online by Oregon State Ecampus focuses on applying data science tools to specific business disciplines of marketing and consumer analytics.
Humanities
Frequently asked questions
Am I eligible for this program?
All employees who are eligible for Peet's benefits and who do not already hold a bachelor's degree are eligible to participate in the Peetnik Pathway to College program.
When can I start?
Oregon State is on a quarter-based calendar, which means we offer classes online in fall, winter, spring and summer. Most bachelor's programs start in any season.
Will my credits transfer?
Oregon State accepts credits from other regionally accredited institutions. Your previous coursework will be officially evaluated for transfer upon admission.
Who will support me?
As an OSU Ecampus student, you'll have access to student success coaches, an academic advisor, career guidance, free online tutoring, library services and other resources.
What's it like to be an online student?
Oregon State is ranked one of the nation's best online universities because its online programs and courses are highly engaging and rigorous. Preview the online learning experience.
How will I be reimbursed?
Upon the completion of each academic term, you will be reimbursed for the out-of-pocket tuition and fees charges that you paid at the start of the term.
What if I stop working at Peet's?
Only Peet's employees are eligible for this tuition assistance program. But if you stop working at Peet's, your status as an Oregon State student will not be affected in any way.
How do I apply to Oregon State?
Before applying, we suggest you speak with an enrollment specialist at Oregon State Ecampus to learn more about the university, financial aid, etc.
Application process
Before you apply to learn online with Oregon State University, we want to provide you with all the information you need make an informed decision. Visit our before you apply webpage to find helpful info about financial aid, transferring credits, your student support system and more.
Application schedule
At Oregon State, we admit students in each of our four quarterly terms. We encourage undergraduate degree-seeking Ecampus students to apply a minimum of nine weeks before the start of a term. Stay on track for applying by reviewing the undergraduate admission deadlines and other important information.
How do I get started?
Connect with Oregon State by signing up for more information. We're here to answer your questions before you apply.

Features and Navigation
Academic calendar
Currently it's summer term. See academic calendar for our quarter term schedule.

Fall term starts Sept. 23.
Winter term starts Jan. 4, 2021.
Ranked top 10 in the nation
OSU Ecampus earned a top 10 ranking for the sixth year in a row on a list of America's best online bachelor's programs. Learn more »