Oregon State University Ecampus • OSU Degrees Online
---

OSU Ecampus Faculty News
"Your Electronic Link to Teaching at a Distance"

Published by: OSU Extended Campus
Oregon State University, Corvallis, Oregon; Vol. 1, #2
October 26, 2004
http://ecampus.oregonstate.edu (Ecampus website)
/staff/departments/default.htm (Faculty website)
- Welcome to Your Second Issue of Ecampus Faculty News
Many of you said that you enjoyed reading our first issue of the Ecampus Faculty E-News, sent to all of you in August. We would like to thank you for your feedback and your enthusiasm on this project. If you wish to change your subscription, follow the instructions at the bottom of this newsletter. Thanks for reading!
Administrative Assistant, Department and Student Services
Paula Minear, Director of Department and Student Services
---
FEATURE ARTICLE
- Is Plagiarism an Epidemic?
- Library Resources
- Effective Assessments
- Using Images
- Effective Writing Assignments
- Blackboard Communication Tools
- Adding Images
- Instructor Manual
- OSU ID Conversion
- Faculty Survey
- Testing and Proctoring
- How to Subscribe or Unsubscribe
---
FEATURE ARTICLE
Is Plagiarism an Epidemic?
Many instructors have begun to take a closer look at the growing problem of plagiarism in school, from college-age students down to the elementary level.
Is plagiarism a problem, where does it start, and how often do plagiarizers get caught?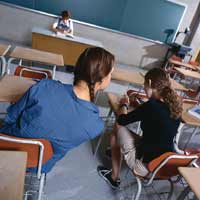 --According to a 2003 study by Donald McCabe, 38 percent of students admitted to cut-and-paste Internet plagiarism in the previous year (Rutgers University/Center for Academic Integrity Study, August 2003).
--More than 75 percent of the students admitted to cheating, but less than half of the college faculty said they had ever reported cheating. Even in elementary schools, cheating has become so common that in a recent writing contest in Atlanta, 3 of the 10 finalists were disqualified for plagiarizing.
--Ninety percent of students believe cheaters are either never caught or have never been appropriately disciplined (US News and World Report poll).
--Eighty percent of college-bound students admit to cheating on schoolwork, yet 95 percent of them never get caught (Who's Who Among American High School Students).
How easy is it for students to buy ready-made papers?
If you are not already alarmed at the potential to plagiarize using the Internet, take a look at Cheat House (http://cheathouse.com), which advertises "THOUSANDS OF FREE ESSAYS IN OVER 130 CATEGORIES. LEADING THE INDUSTRY SINCE 1995". A student has access to over 10,000 papers free if they agree to contribute to the database. Each article is "ranked" with a smiley face from previous customer satisfaction. Cheat House does not limit itself to sharing essays, it also advertises as a
"database of essays, term papers, reports, assignments, study notes, book reports and anything else you can imagine a student benefiting from seeing. CheatHouse is also a community of students, who comment essays, rate essays, share information and tips, help each other with homework, help each other understand concepts from school and is generally a good place to start if you are sometimes stuck with your homework."
What can instructors do to limit the incidence of plagiarism in their courses?
---- Design assignments that require each student to develop their own opinions or conduct an original project or analysis.
----Ask for a writing sample prior to assigning a research paper or essay exam. Each student's "voice" will have unique qualities and will become recognizable after they introduce themselves to the class and contribute to discussions online.
----Many instructors are able to win the battle against plagiarism by structuring their assignments to include early research and require several drafts due prior to submission of the final research paper. Students will be less likely to get into a panic, thus reducing the pressure to cheat.
----Suggestions for tightening security on Blackboard assessments are outlined in the new Ecampus Instructor Manual, which will be sent to instructors this term.
There are several Internet resources available for instructors to search for plagiarism in papers, although no system can guarantee 100 percent detection. Many instructors find it useful to search for a suspicious phrase in a search engine, such as Google.
Here are a few other services that provide extensive comparisons to Internet information and databases of published works (fees or membership are required).
My Drop Box http://mydropbox.com
Student documents are compared to (1) Internet, (2), published works in password-protected databases, newspapers, magazines, term paper mills, and online reference sites, and (3) institution's own databases to prevent peer-to-peer cheating (with an institutional license). Options include requiring that students submit their papers directly to the website or submit drafts of their written assignments to see which parts of their papers require proper referencing. Papers being reviewed by Drop Box will be sent to back to the instructor with plagiarized sections displayed using a different color for each source on the plagiarized document ($89.90 per year individual license, or institutional license option).
Eve2 http://www.canexus.com/eve/
EVE stands for "Essay Verification Engine." Submitted papers are compared to information on the Internet. If Eve2 finds evidence of plagiarized work, it will record the URL from which the material was copied and report the percentage of work plagiarized from each URL, indicated on the student's paper in red. You can download a trial version online prior to purchase (runs on Windows OS, $19.99 per license).
Turnitin http://www.turnitin.com
Turnitin is a website that checks for Internet plagiarism and is designed for students to submit reports and faculty to check students' work. Each submitted paper is checked against (1) 4.5 billion Internet pages, (2) extensive databases of published works, and (3) database of student papers previously submitted to Turnitin (pricing is by individual, department, or campus).
Turnitin has designed a module that would allow Blackboard users to use Turnitin's plagiarism prevention system without leaving the Blackboard online system. Ecampus will find out more about availability and cost of this module, if departments and instructors are interested in having this capability. (Please let us know your interest.)
(Ecampus would like to thank Beverly R. Schulz, PhD., for information provided for the plagiarism article above, from her presentation to the UCEA West Conference, 9/27/04, Guadalajara, Mexico.)
Jon Dorbolo, Department of Philosophy, will be speaking on "21st Century Plagiarism" for the Library Faculty Associations Seminar Series.
Date: November 19th
Time: 10:30 -12:00
Location: Willamette room, Valley library
Refreshments will be provided.
Jon suggests the following resources and readings:

WcopyFind (freeware)
This program examines and compares a set of documents files (such as Word files) in order to search for significant overlap of content. When two or more files are found to share significant phrases the program generates a report containing the document text with the matching phrases underlined. This makes it easy to check sets of submitted assignments for collusion (so long as they are submitted as document files). http://plagiarism.phys.virginia.edu/Wsoftware.html
Readings
The New Plagiarism: Seven Antidotes to Prevent Highway Robbery in an Electronic Age
by Jamie McKenzie
http://www.fno.org/may98/cov98may.html
Actions Do Speak Louder than Words: Deterring Plagiarism with the Use of Plagiarism-Detection Software, Bear F. Braumoeller
http://www.apsanet.org/PS/dec01/braumoeller.cfm
---
TRAINING OPPORTUNITIES
(Note: Instate Ecampus instructors may request travel reimbursement to attend these training events.)
FORUM: Library Resources
Extended Campus will be hosting a forum November 18, 2004 from 2:00pm-4:00pm (Autzen Classroom, 2082, The Valley Library). The topic of the forum will be "New Online Library Resources", presented by Maureen Kelly with OSU Cascades Campus. Pre-registration is not required but is encouraged to ensure a seat for everyone interested. If you have any questions about this forum, please contact Ecampus Department and Student Services at 541-737-9204 or 800-235-6559. We guarantee you will be impressed with the new services that the Library has brought online!
CLINICS: Blackboard
Extended Campus will be offering a series of monthly clinics that will focus on tips and techniques for developing and delivering distance courses. Each two hour clinic will include a short tutorial for a specific development/delivery technique (15-20 minutes), a demonstration by an experienced Ecampus instructor (15-20 minutes), and one hour of individual, hands-on assistance from Ecampus course developers and experts on any aspect of Blackboard you require.
November: Creating Effective Assessments in Blackboard
Friday, November 19, 2 - 4 pm
Barnard Classroom 5420, 5th floor of The Valley Library
Tentative schedule for Winter 05 Term (3rd Friday of the month)
January: Using Images in Blackboard
Friday, January 21, 2 - 4 pm
Barnard Classroom 5420, 5th floor of The Valley Library
February: Creating Effective Writing Assignments in Blackboard
Friday, February 18, 2 - 4 pm
Barnard Classroom 5420, 5th floor of The Valley Library
March: Efficient and Effective use of Blackboard Communication Tools
Friday, March 18, 2 - 4 pm
Barnard Classroom 5420, 5th floor of The Valley Library
Please contact Jackson Cassady (jackson.cassady@oregonstate.edu) with questions, suggested topics, or if you would like to demonstrate a valuable technique you have employed in your courses. Pre-registration is not required but is encouraged so that we may have a seat for everyone interested.
---
BLACKBOARD TIPS
Ecampus Project Development & Training
Adding Images to Blackboard from Word or PowerPoint
Many instructors like to incorporate images to add some flair to their lectures. To convert either a Word document with images or a PowerPoint presentation into WebPages for posting in a Blackboard site follow these steps:
On your computer -
- Create a master folder to contain all of your files for your Blackboard images.
- Open the Word or PowerPoint file containing the images.
- Save the Word or PowerPoint file as a web page (.htm) to the master folder, then close the file
- Create a zip file of the master folder by right-clicking on the folder and selecting WinZip, then 'Add to Zip'.
In your Blackboard course -
- Go to the Content Area where you'd like to add the file.
- Add an Item in Blackboard.
- Browse to and select the newly created zip file.
- Name the link.
- For Special Action select Unpackaged this file.
- Click Submit.
- Select Entry Point as main .htm file.
- Click Submit.
The above steps will allow you to attach files with images in a format (.htm) that will be accessible to all your students. If you have any questions or comments, please contact Jackson Cassady (jackson.cassady@oregonstate.edu) at Ecampus or by calling 737-9341.
---
OTHER ECAMPUS NEWS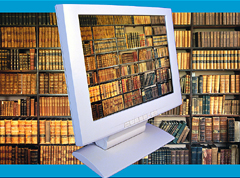 Instructor Manual
Department and Student Services will be distributing the first Ecampus Instructor Manual, which will serve to answer many questions you may have regarding policy and procedures at OSU and Ecampus. The manual will also be available online with updates posted regularly. Please check for future updates at http://ecampus.oregonstate.edu/faculty
OSU ID Conversion
OSU is changing from the (default) use of Social Security Numbers as IDs to a randomly generated ID number. For the most part, all reports will contain student or employee's new ID numbers and will not list SSNs.
Early November
Replacement ID cards will be distributed. Faculty and staff will receive replacements through departments. On-campus students will pick up replacement ID cards at the Memorial Union. This change also affects distance students. They will be receiving new generated ID numbers when on-campus students receive theirs.
November 14, 2004
Generated ID numbers will be activated in all systems. Old ID cards with SSN will be inactivated on ID card network.
November 15, 2004
In most instances, old ID cards will no longer be acceptable. Old ID numbers (SSN-like) may still is used for access to Banner forms and Banner self-service modules. Direct access to SSN numbers will be substantially restricted.
For additional information: http://oregonstate.edu/admin/idconversion/
Faculty Survey
Ecampus will once again be sending out a survey to all departments and instructors to monitor our services and to improve wherever possible. The faculty survey will be sent to you in paper format with instructions and a return envelope at the beginning of winter term. We value your opinion and feedback about our services.
Testing and Proctoring
As a reminder, Ecampus Student Services will assist with arrangements for proctored exams. Student information about test proctoring is provided at http://ecampus.oregonstate.edu/services/proctoring/default.htm. We will mail paper exams to designated proctors upon your written request to Student Services. If your exam requires a computer or password access, Ecampus will help students find suitable testing locations in their area. If you would like more information, please contact our Ecampus Student Services Center at 541-737-4166 or 800-667-1465.
---
HOW TO SUBSCRIBE OR UNSUBSCRIBE
To unsubscribe from our Faculty E-News, check or change your password, customize your email client, or sign up for additional Ecampus newsletters, please go to http://ecampus.oregonstate.edu/newsletter/Login.aspx.
---
Repeating features of this newsletter will include Blackboard tips, training opportunities, reminders, research synopses, and information on new services or projects at Ecampus that may affect you or your students. Feel free to suggest other topics you would like to see in future E-News.
Thank you!
OSU Ecampus Department & Student Services
http://ecampus.oregonstate.edu

Features and Navigation
Ranked top 10 in the nation
OSU Ecampus earned a top 10 ranking for the sixth year in a row on a list of America's best online bachelor's programs. Learn more »