Oregon State University Ecampus • OSU Degrees Online
---
Explore Ecampus
Take a test drive
Preview online learning at Oregon State with our course demo.
National trend - Growth in online learning
Ecampus reports stunning enrollment increase in past seven years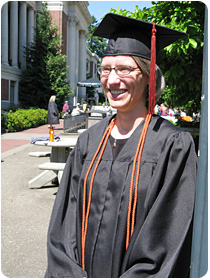 A message from Lisa Templeton, Ecampus Interim Executive Director and Director of Marketing & Communications
As many of you are aware, the demand for online courses and programs continues to grow as adult learners look for ways to continue their education without having to leave their jobs and families and relocate to Corvallis. These learners appreciate the flexibility and convenience that online courses provide. As a result of this trend impacting our society, OSU Extended Campus has experienced a tremendous growth in our enrollment totals.

Breaking down the numbers
Head count
In 2000: Approximately 700 students took Ecampus courses each term.
In 2007: Approximately 2,500 students took an Ecampus course each term.

Student credit hours (SCH)
In 2000: Approximately 14,000 Ecampus SCH
In 2007: Over 51,000 Ecampus SCH

For every year between 2000 and 2007, SCH enrollment grew between 10 to 40 percent and continues to escalate. This is over a 350 percent total increase of SCH in a seven-year period.

While the majority of our online and distance students live in Oregon and the Northwest, last year we had Ecampus students representing all 50 states and 14 foreign countries. We also experienced a large increase of Corvallis resident students opting to take our online courses.
Global impact

This growth isn't just occurring at OSU. Research shows that the demand for online education is an increasing trend nationwide.
According to the Sloan Consortium:

Almost 3.5 million students were taking at least one online course during the fall 2006 term, a 9.7 percent increase over the number reported the previous year.
This 9.7 percent growth rate for online enrollments far exceeds the 1.5 percent growth of the overall higher education student population.
Nearly 20 percent of all U.S. higher education students were taking at least one online course in the fall of 2006.
Our learners are a diverse group of students from all parts of Oregon, the country and world. Through OSU Extended Campus, we are providing these learners access to an OSU education, which includes our outstanding academic resources and acclaimed faculty and staff.
Please feel free to contact me, Lisa Templeton, if you have any questions about the trends in online education or have interest in developing a new online/distance course or program.
Back to Ecampus eFaculty News.

Features and Navigation
Ranked top 10 in the nation
OSU Ecampus earned a top 10 ranking for the fifth year in a row on a list of America's best online bachelor's programs. Learn more »